Tata Workers' Union Begins Centenary Year Celebrations
Jamshedpur, March 04, 2019
The first Union in the Country to Complete a Hundred Years of Existence
         Inaugural Function Highlights Landmark Achievements of the Union as a Beacon of Light in the Industrial Progress of India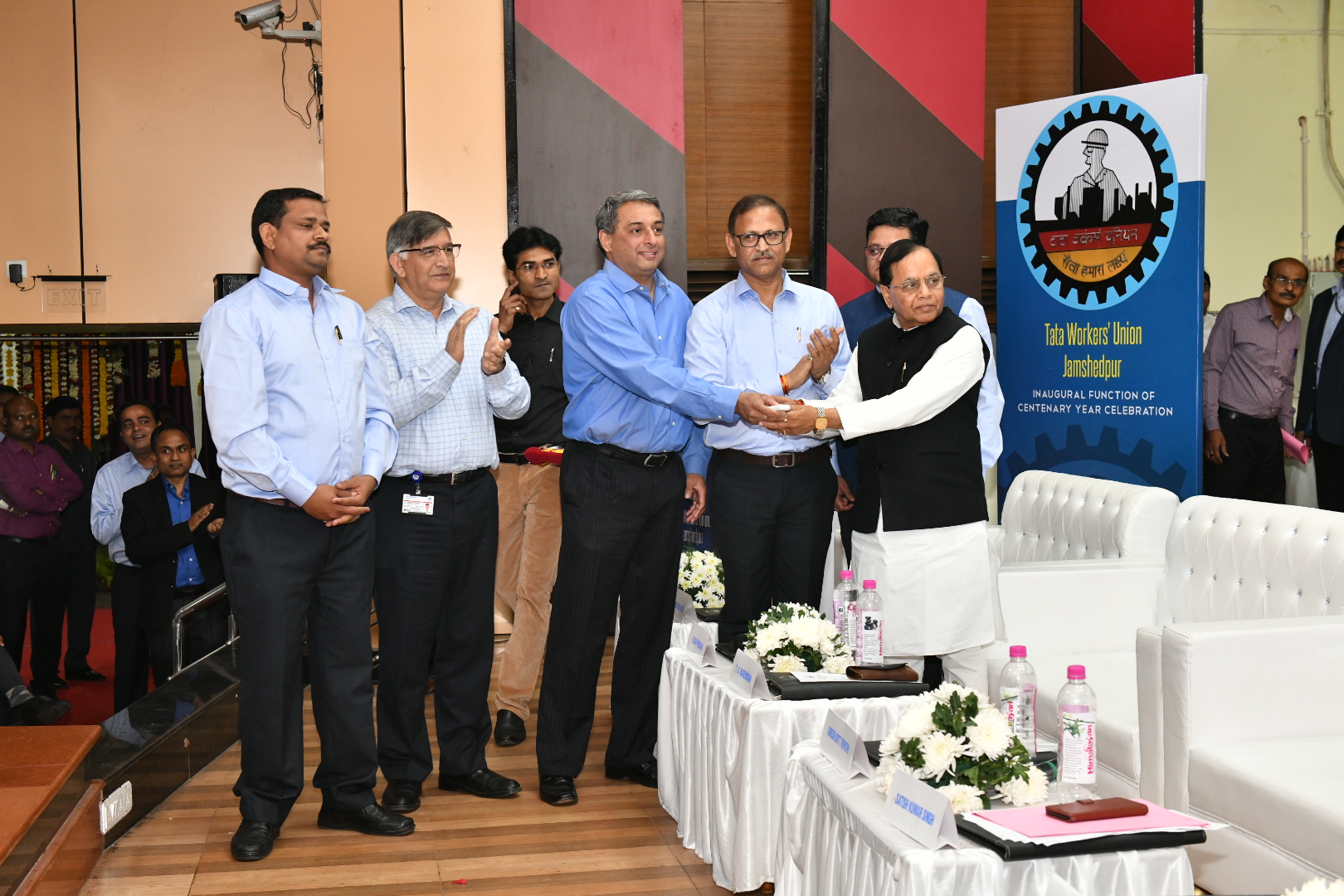 Tata Workers' Union (TWU) which was one of the earliest trade unions founded in India and one which continues to be a role model for achieving industrial harmony through pioneering practices and frameworks, today launched its centenary year celebrations at the Michael John Auditorium, Jamshedpur.
Mr. TV Narendran, CEO&MD, Tata Steel graced the occasion as Chief Guest, Mr. Rajendra Prasad Singh, General Secretary, INTUC was present as Guest of Honour and Mr. Suresh Dutt Tripathi, VP HRM, Tata Steel was the Special Guest.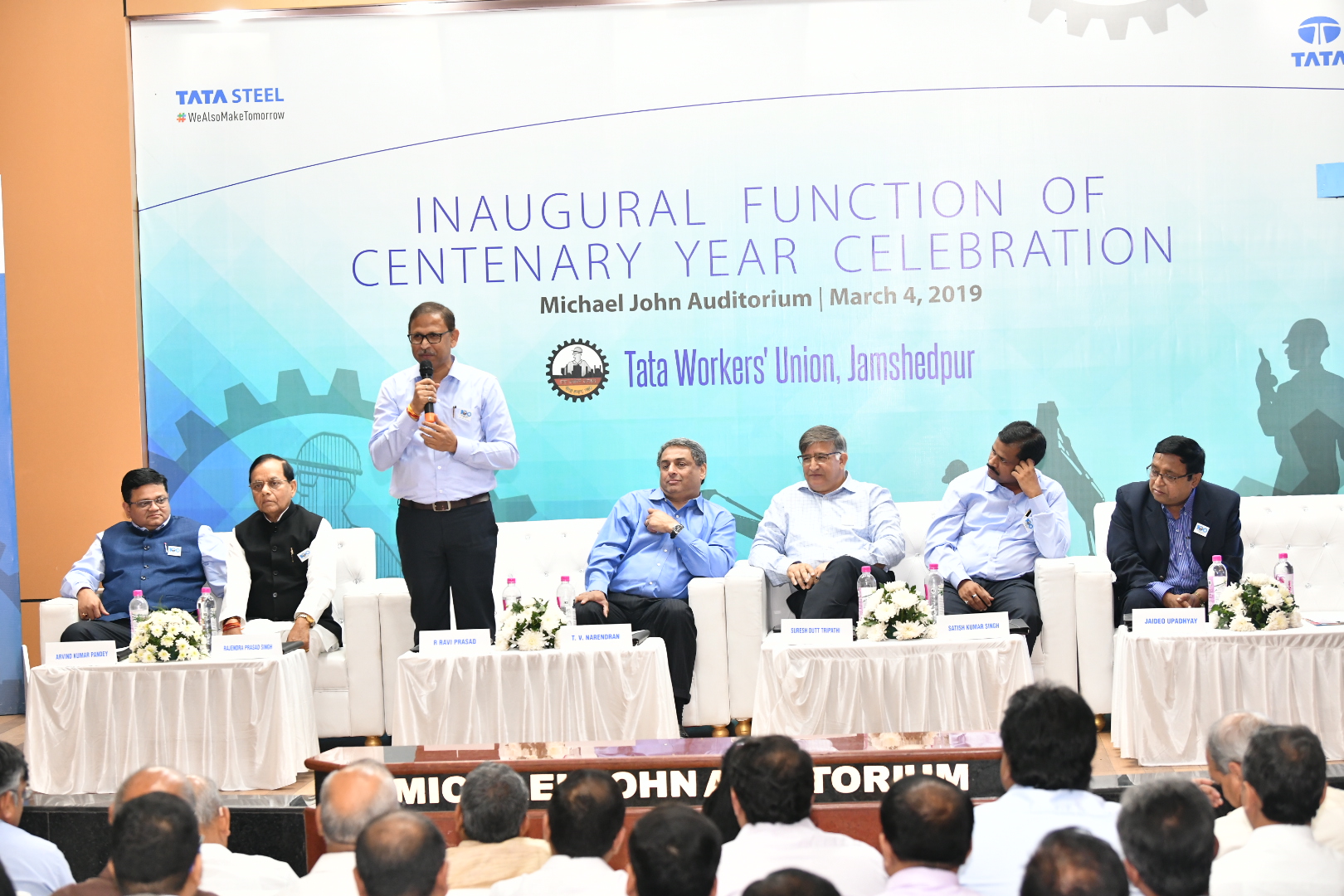 Speaking on the occasion, Mr.T.V.Narendran said; "A 100 year old Union itself is a rarity and we are privileged to celebrate the occasion today. In the last hundred years there have been only eleven President's and this reflects the strength and maturity of Tata Workers' Union. Along with celebration of the glorious past, we also need to think about the future and focus on people, process, culture and capabilities."
Mr. Rajendra Prasad Singh spoke about the unique strengths of TWU and said; "TWU is the only one amongst our affiliated Unions which will be completing a hundred years and it is indeed a momentous occasion for us. I congratulate both TWU and Tata Steel Management on this stupendous achievement"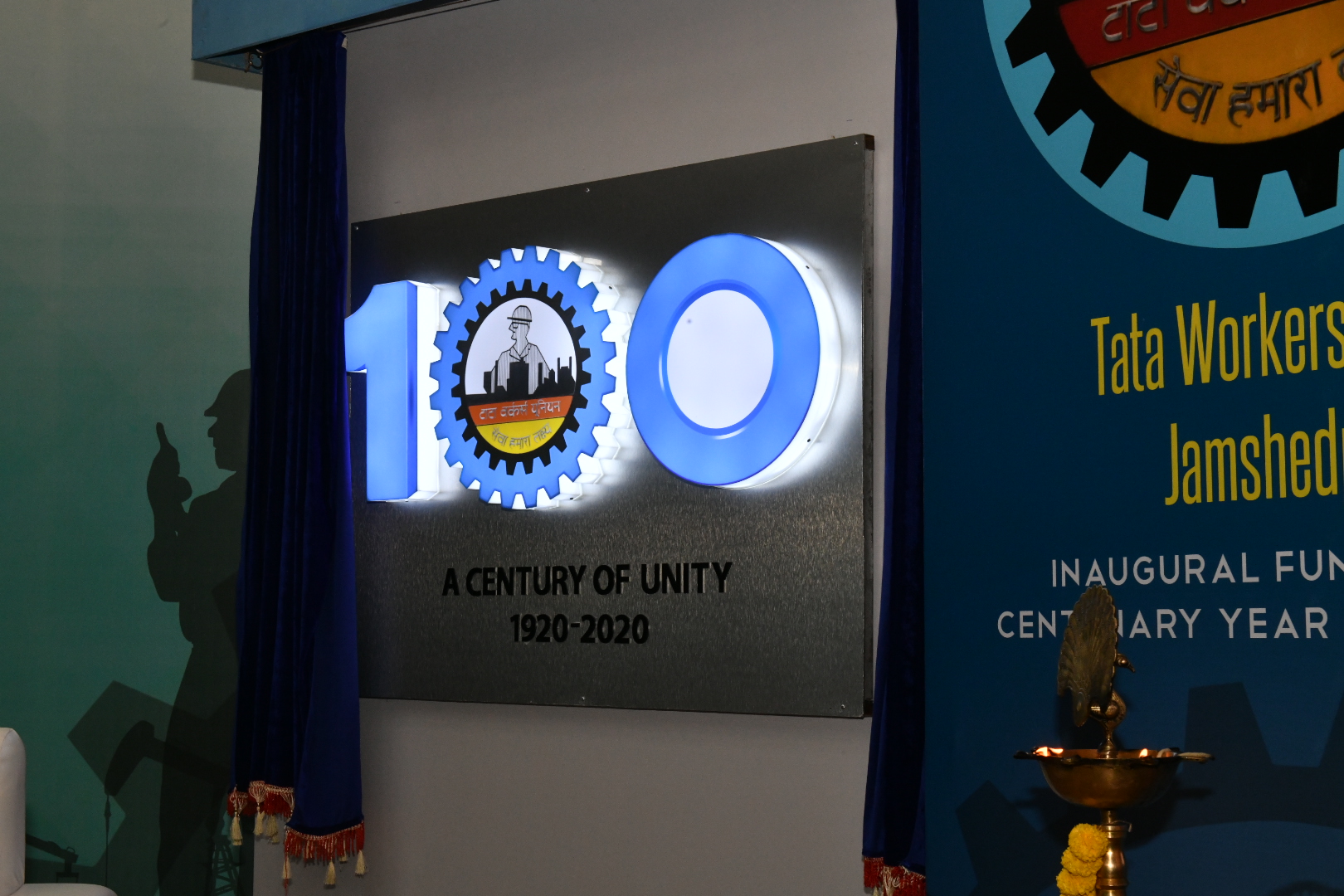 In his speech, Mr. Suresh Dutt Tripathi lauded the efforts of the Union and said; "In every crisis, the Union came together with the Management to find and implement solutions"
Mr. R Ravi Prasad, President, Tata Workers' Union said; "These are historic moments for us as we stand at the cusp of completing a hundred years. This has been possible solely due to the spirit of Working Together which is a core ethos at Tata Workers' Union"

Founded on March 5, 1920 as Jamshedpur Labour Association - a voice for workers in erstwhile TISCO - the nascent organization received support and guidance from national leaders like Mahatma Gandhi, Netaji Subhash Chandra Bose, Motilal Nehru, Dr Rajendra Prasad and CF Andrews. Gandhiji visited the Union in 1925. Following a prolonged strike, Netaji Subash Chandra Bose came to Jamshedpur in August, 1928 and provided leadership to the Union, helping reach an agreement with the Management and ending the strike. That was the last trade union strike at Tata Steel. In 1956, under the leadership of dynamic trade union leader Michael John, TWU and Tata Steel signed a famous agreement which is hailed as the 'Magna Carta' of the working class and reckoned as a landmark in the history of the trade union movement in India. The Agreement was made with the aim to satisfy the urge for self expression and laid down a unique three-tier structure with equal representation from workers and management.
 
Over the years, working closely with Tata Steel Management, TWU has been instrumental in bringing to life pro- worker policies, programmes and initiatives which were radically ahead of time and over the years have had far reaching effect on the quality of life of the workers at Tata Steel. A few exceptionally progressive initiatives include leave with pay, maternity benefit, accident compensation, grievance handling mechanism, participation of the Union in Safety Committee, profit sharing bonus for employees, Study Leave, Retiring Gratuity, best-in-class social security schemes and Paternity Benefit Scheme.
TWU has set new benchmarks for matured trade unionism as a harbinger of industrial harmony. The joint effort of the Union and Management has resulted in Tata Steel achieving prestigious awards such as the JRD QV Award, Deming Grand Prize, Prime Ministers' Trophy for the Best Steel Plant for a number of times, National Award for Outstanding Achievement in Industrial Relations, Great Place to Work and many more.
Other dignitaries present on the occasion included senior leadership of Tata Steel and Tata Workers' Union, past presidents, deputy presidents and general secretaries of TWU, senior office bearers of other Unions based at Jamshedpur and Raw Material locations, Heads of Tata Steel group companies, other officers of the company and Union committee members of TWU.