Tata Steel reaffirms its commitment to Sustainability on World Environment Day 2019
Mumbai, June 06, 2019
~ The day was marked by a host of activities and initiatives across the organisation ~
~ June month to be observed as Sustainability month ~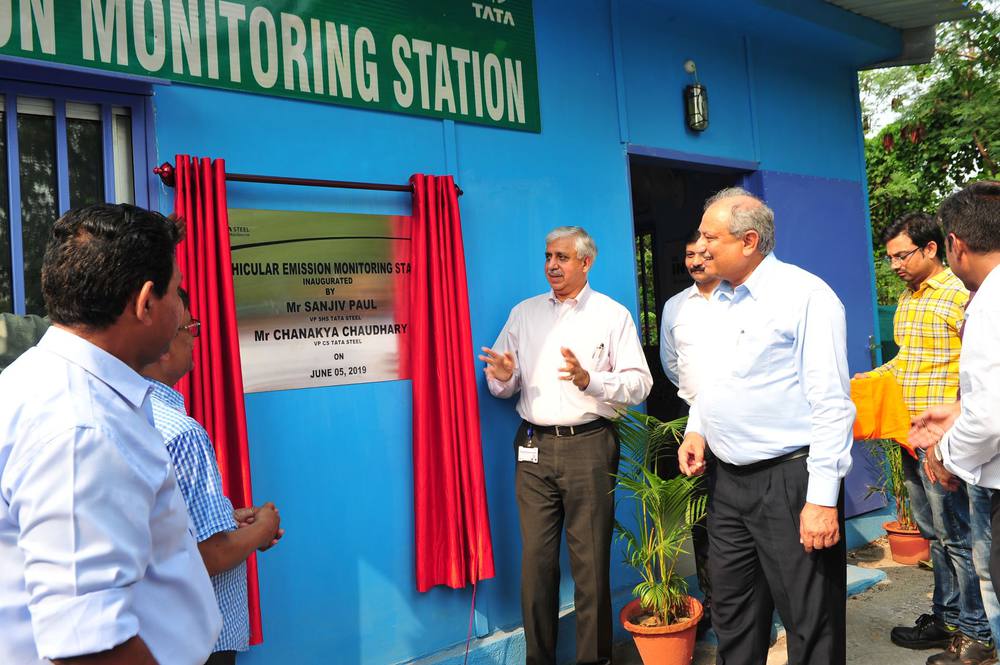 Tata Steel, as part of its continuous endeavor towards shaping a sustainable future, celebrated World Environment Day (WED) yesterday across its operational areas including mines, plants marketing & sales office locations. The day was marked by a host of activities and initiatives with participation from diverse stakeholder groups including employees. The celebrations would continue through the month of June, observed as Sustainability Month.
As a responsible corporate citizen, Tata Steel is heavily invested in environmental management efforts focused on the four pillars of emissions, water management, circular economy and biodiversity. The Company is committed to incorporating sustainability aspects into all facets of its business from governance, strategy formulation to execution.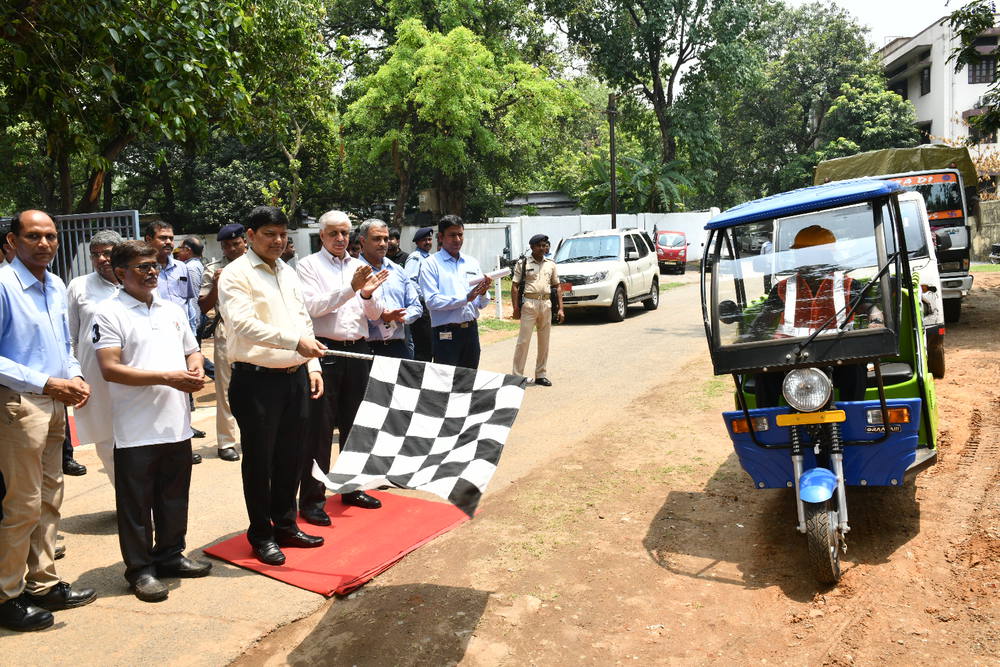 Commenting on the occasion, Mr. Sanjiv Paul, Vice President, Safety, Health & Sustainability, Tata Steel said: "As a responsible global organization, we are committed to sustainable development and to nurture conservation efforts across all our areas of operations. We are acutely conscious of our responsibility towards sustainability and building a tomorrow for generations to come. The commitment to safeguard environment is embedded in the Company's corporate objectives, production processes and the way we conduct our business."


Glimpses of WED celebration across operational areas of Tata Steel:
Jamshedpur:
In Jamshedpur, Tata Steel's leadership team members and employees, Tata Workers' Union (TWU) leadership and various business units of the Company celebrated World Environment Day in a big way with a host of initiatives that would usher in novel and impactful interventions to enable preservation of environment and a sustainable future. As part of the celebrations, 3000+ saplings were planted in 16 tree plantation drives. A Tree Bank with 10,000 saplings was also inaugurated. To make the city clean and green, the Company inaugurated an E-Waste Collection Centre which will provide the service of door to door collection of E-Waste from industries and bulk generators. Aligned with the theme of #BeatAirPollution, an Authorised Vehicular Emission Monitoring Station was inaugurated at the Tata Steel Jamshedpur Plant. This Monitoring Station is the first such station situated inside industrial premises in the state of Jharkhand. With the help of this monitoring station, the Company will be able to issue Certificate of Pollution Under Control (PUC) to its own vehicles. The Vehicular Emission Monitoring Station has been authorised by the Department of Transport, Government of Jharkhand.
Kalinganagar
World Environment Day in Kalinganagar was marked by organising knowledge sharing sessions and plantation programmes. Tata Steel Rural Development Society (TSRDS) organised a plantation programme in Chakua village under Khapruriapada Gram Panchayat. More than a hundred saplings were planted by adolescents of RISHTA project, members of Youth Club, Self Help Group members and members of TSRDS team.
Kolkata
A 'Tree' is a beautiful reminder that Life, Environment and the Air we breathe must be nurtured and renewed by all of us responsibly. The 'Tree of Life' installation made of metal throwaways was revealed yesterday at Tata Center building in Kolkata. 'Tata Tiscon' commissioned an eminent artist, Sri Narayan Sinha, to create this structure as part of the campaign #LetsUpcycle. The campaign highlights the importance of creative transformation and renewal without waste. The campaign is open to participation from enthusiasts who can share their stories of upcycling i.e. creative use of old scrapped stuff. The campaign is LIVE on social media handles of Tata Tiscon as well as Tata Steel.
Video Link: https://youtu.be/i9k3kl5eG2A
Noamundi
At Noamundi, school children from six schools, people from the community along with Tata Steel employees actively took part in "Prabhat Pheri" from Balijharn Camp to Fitness Square. A total of 400 people from the community participated in the awareness rally. A total of 400 saplings were planted at Fitness Square in 13000 square meters area. Tata Steel Rural Development Society (TSRDS) Noamundi distributed saplings among the villagers and local SHGs at Jampani.  
West Bokaro
Commemorating World Environment Day, Tata Steel's West Bokaro Division organised a mass plantation drive at Pundi area yesterday. As part of this drive, 2550 saplings of eight native forestry tree species were planted over 1.8 acres mined-out land. A green shade house spreading over 1280 sq. m. area for raising saplings fitted with fogger and water sprinkler was also inaugurated at Pundi.
Tata Steel Rural Development Society organised an awareness session on 'Segregation of Domestic Waste' at Youth Resource Centre, Pundi. More than 50 adolescents participated in the session that aimed at creating awareness among the youth on sustainable development by informing them about waste management.
Joda
Marking the World Environment Day, "Prabhat Pheri" was organised from Central Playground to Medicinal Park in which more than 600 people from the community participated.
To generate awareness on pollution control, 1000 fabric bags were distributed in the community at Joda market. School children, people from the community, and 12 Self Help Groups supported Tata Steel initiatives and took active part in the day-long programme. A total of 500 school children participated in the debate and drawing competitions organised in Joda. In a day-long workshop cum seminar, members from Odisha State Pollution Control Board presented their best environmental practices.  
Sukinda
On the theme #BeatAirPollution, a host of programmes were organised at Sukinda Chromite Mine involving people from all walks of life including employees, contractor employees, employees' families, business associates, forest authorities, truck drivers, local youth & children, Panchayat Raj Institutions (PRI) members, and the community people. A massive plantation programme along the "safety zone" area, adjacent to the air strip, was undertaken by the employees of Sukinda Chromite Mine and saplings were planted along the 2.5 km stretch of land in the air strip. More than 3000 saplings, belonging to 25 native and forest species including Banyan, Peepal, Sisam, Teak, Sal, Arjun, Gamhar and fruit bearing trees like Mango, Guava, Lemon, Chiku (Sapeta), Almond, Jamun etc., were planted. This initiative was undertaken with a view to simulate near-forest condition in the safety zone area. This green belt will significantly contribute in having good air quality in the region.
Gopalpur
World Environment Day kicked off with various programmes organised at different places including Gopalpur Industrial Park and peripheral villages like Chamakhandi, Kalipalli and Basanaputti. As part of the celebrations, the officers of Tata Steel, Tata Steel SEZ, TSRDS, TS Alloys, RISHTA Project Youth and School Children planted more than 300 plants inside Ferro-Chrome plant area and peripheral villages of Project Gopalpur. A drawing competition on the theme of #BeatAirPollution was conducted amongst 160 high school children from different villages. Six of them received prizes at Chamakhandi village community hall. Every year, the celebrations include various activities organised in public places to make general public aware about the real causes of environmental pollution and its adverse effect on the living creatures.
About Tata Steel                         
Tata Steel Group is among the top global steel companies with an annual crude steel capacity of 33 million tonnes per annum (MTPA). It is one of the world's most geographically-diversified steel producers, with operations and commercial presence across the world. The group (excluding SEA operations) recorded a consolidated turnover of US $22.67 billion in the financial year ending March 31, 2019. In 2018, Tata Steel acquired Bhushan Steel Ltd (now renamed as Tata Steel BSL Ltd). A Great Place to Work-CertifiedTM organisation, Tata Steel Ltd., together with its subsidiaries, associates and joint ventures, is spread across five continents with an employee base of over 65,000.
Tata Steel retained the Industry Leader position in FY18 and ranked second overall in the DJSI assessment, 2017. The Company has been recognised as the Climate Disclosure Leader in 'Steel category' by CDP (2017). Besides being a member of the World Steel Climate Action Programme, Tata Steel has won several awards including the Prime Minister's Trophy for the best performing integrated steel plant for 2016-17, 'Corporate Strategy Award' by Mint (2018), Golden Peacock Award for Risk Management (2018) and Best Risk Management Framework & Systems Award (2019) by CNBC TV18. The Company also received the 'Most Ethical Company' award from Ethisphere Institute for the eight time (2019), Steel Sustainability Champion (2018) by the World Steel Association, Dun & Bradstreet Corporate Awards (2019), Golden Peacock HR Excellence Award by Institute of Directors (2018), 'Best Companies To Work For' recognition by Business Today, 'Asia's Best Integrated Report' award by the Asia Sustainability Reporting Awards (2017), among several others.
In 2018, the Company launched a corporate brand campaign #WeAlsoMakeTomorrow www.wealsomaketomorrow.com
For corporate information, visit www.tatasteel.com and follow us on





Disclaimer
Statements in this press release describing the Company's performance may be "forward looking statements" within the meaning of applicable securities laws and regulations. Actual results may differ materially from those directly or indirectly expressed, inferred or implied. Important factors that could make a difference to the Company's operations include, among others, economic conditions affecting demand/ supply and price conditions in the domestic and overseas markets in which the Company operates, changes in or due to the environment, Government regulations, laws, statutes, judicial pronouncements and/ or other incidental factors.