Tata Steel expands its Diversity & Inclusion policy with new LGBTQ+ inclusive policy
Kolkata, December 07, 2019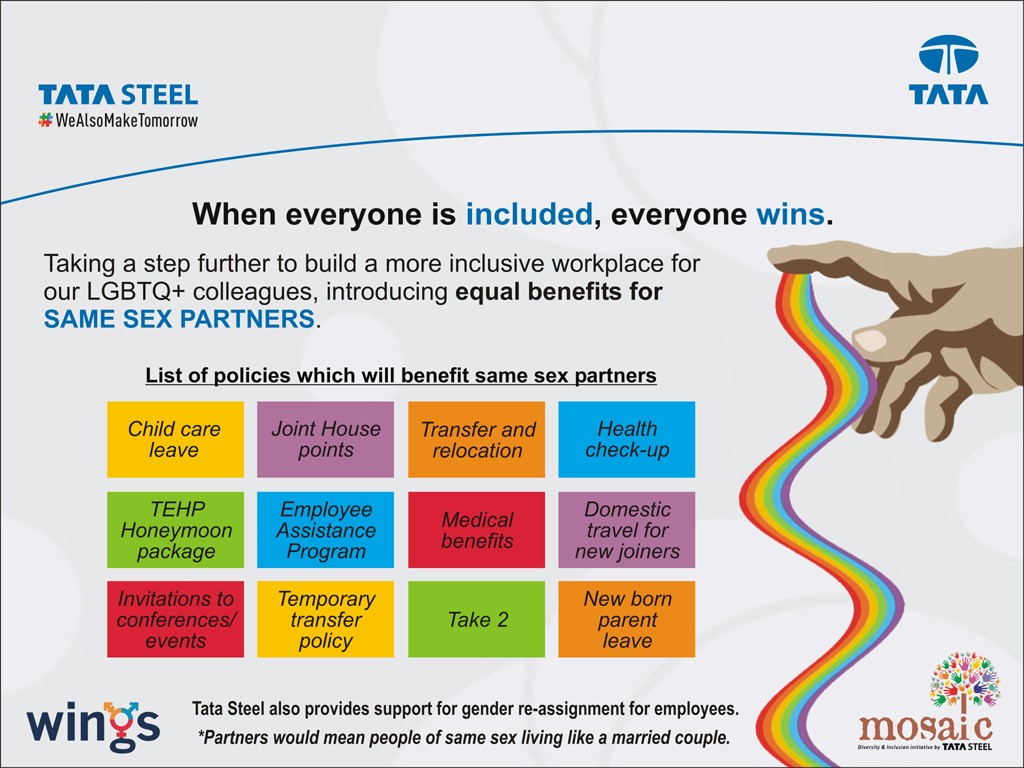 ~ Definition of 'Partners' under the new policy to include same-sex couple ~
~ Offers support for gender reassignment for employees ~
Taking a step further to reinforce the culture of inclusion and to enable LGBTQ+ employees to have equal rights at the workplace, Tata Steel has rolled out a new HR policy that enables colleagues from the LGBTQ+ community to declare their partners and avail all HR benefits permissible under the Law. Partners would mean people of same-sex living like a married couple.
Under the expanded Diversity & Inclusion (D&I) policy, Tata Steel employees and their partners will be able to avail a host of benefits including health check-up, medical benefits, joint house points, adoption leave, new-born parent leave, child care leave, and inclusion in employee assistance programme (EAP). Employees will also get financial assistance for gender reassignment surgery and 30 days special leave for the same.
They will also be eligible for Tata Executive Holiday Plan (TEHP) honeymoon package, domestic travel coverage for new employees, temporary transfer policy, transfer and relocation - that allows partner to travel and familiarise themselves to a new place. Besides, this policy entitles them to be equally eligible to be included in any event, big or small (may be an official gathering or an off shore corporate event) where earlier only spouses of opposite gender were included.
They will now be eligible to take benefits available under the Company's Take-2 initiative (a diversity initiative for career come-back only for spouses). Now any partner on a career break -will be eligible to apply.
"Providing equitable policies and benefits creates a level playing field for all employees and sets common standards across locations. Research shows that people are more engaged with and committed to an organisation that has policies protecting LGBTQ+ employees. In fact, enacting LGBTQ+ inclusive policies have been shown to decrease the instances of LGBTQ+ discrimination at work," said Mr Suresh Dutt Tripathi, Vice President, Human Resource Management, Tata Steel.
"Tata Steel has been a pioneer in the field of Diversity and Inclusion in the country. The Company's vision is to be a world-class equal opportunity employer where everyone is respected and every voice is heard. It is a constant endeavour of the Company to create an enabling workplace for all diverse groups, respecting and embracing the differences in the individuals. In line with this ideology, we have rolled out these LGBTQ+ inclusive policies," said Ms Atrayee S Sanyal, Chief Diversity Officer, Chief Group HR, and Chief HRM (Steel), Tata Steel.
Tata Steel's vision is to be a truly world-class organisation that respects uniqueness of individuals to create a diverse and inclusive atmosphere and be competitive in business by having access to a larger talent pool. Thriving in a culture of respect, inclusion and diversity, the Company has made significant progress in the field of gender equality and is working towards achieving much more. Its pioneering employee welfare measures are matters of record.
The Company's Diversity and Inclusion (D&I) programme started taking shape with the launch of a diversity group called 'MOSAIC' in June 2015. MOSAIC facilitates a diversity of gender, hiring and inclusion of Persons with Disabilities (PWDs), LGBTQ plus and more. MOSAIC focuses on five pillars, namely, Sensitisation, Infrastructure, Recruitment, Retention & Development and Celebrations.
In line with the Company's vision of enabling workplace for all diverse groups, in May 2018 Tata Steel launched WINGS, a LGBTQ+ employee resource group.
"We took the first step of launching WINGS at all locations. Thereafter adding to our long list of innovative D&I practices we are extending the benefits/policy interventions to all the diverse groups," Ms Sanyal added.
In keeping with the changing times, the Company has introduced several path-breaking policies, practices and initiatives for various segments of the workforce like five-day workweeks, menstrual leave, paternity leave, adoption leave (includes single male & transgenders), satellite office operation, amongst several others. The Company recently deployed women in mines in all shifts - a first in the country. Tata Steel has set a target of having 20% women officers in the workforce by 2025.
About Tata Steel
Tata Steel Group is among the top global steel companies with an annual crude steel capacity of 33 million tonnes per annum. It is one of the world's most geographically-diversified steel producers, with operations and commercial presence across the world. The group (excluding SEA operations) recorded a consolidated turnover of US $22.67 billion in the financial year ending March 31, 2019. In 2018, Tata Steel acquired Bhushan Steel Ltd (now renamed as Tata Steel BSL Ltd).
A Great Place to Work-Certified organisation, Tata Steel Ltd., together with its subsidiaries, associates and joint ventures, is spread across five continents with an employee base of over 65,000. Tata Steel retained the 'Global Steel Industry Leader' position in the DJSI 2018. The Company has been recognised as the Climate Disclosure Leader in 'Steel category' by CDP (2017). Besides being a member of the World Steel Climate Action Programme, Tata Steel has won several awards including the Lighthouse recognition for its Kalinganagar Plant – a first in India, Prime Minister's Trophy for the best performing integrated steel plant for 2016-17, 'GreenPro' certification for products (Tata Pravesh Steel Doors, Tata Structura, Tata Pipes) by CII, Authorized Economic Operator  (AEO) status (Tier 2) by the Directorate of International Customs (Ministry of Finance, Govt. of India), 'Corporate Strategy Award' by Mint (2018), Golden Peacock Award for Risk Management (2018) and Best Risk Management Framework & Systems Award (2019) by CNBC TV18. The Company also received the 'Most Ethical Company' award from Ethisphere Institute for the eight time (2019), Steel Sustainability Champion (2018) by the World Steel Association, Dun & Bradstreet Corporate Awards (2019), Golden Peacock HR Excellence Award by Institute of Directors (2018), 'Best Companies To Work For' recognition by Business Today, 'Asia's Best Integrated Report' award by the Asia Sustainability Reporting Awards (2017), among several others.
Last year, the Company launched a corporate brand campaign #WeAlsoMakeTomorrow.
To know more, visit www.tatasteel.com | Follow us on





Disclaimer:
Statements in this press release describing the Company's performance may be "forward looking statements" within the meaning of applicable securities laws and regulations. Actual results may differ materially from those directly or indirectly expressed, inferred or implied. Important factors that could make a difference to the Company's operations include, among others, economic conditions affecting demand/supply and price conditions in the domestic and overseas markets in which the Company operates, changes in or due to the environment, Government regulations, laws, statutes, judicial pronouncements and/or other incidental factors.