Regional Samvaad 2019 reaches Arunachal Pradesh
Itanagar (Arunachal Pradesh), September 23, 2019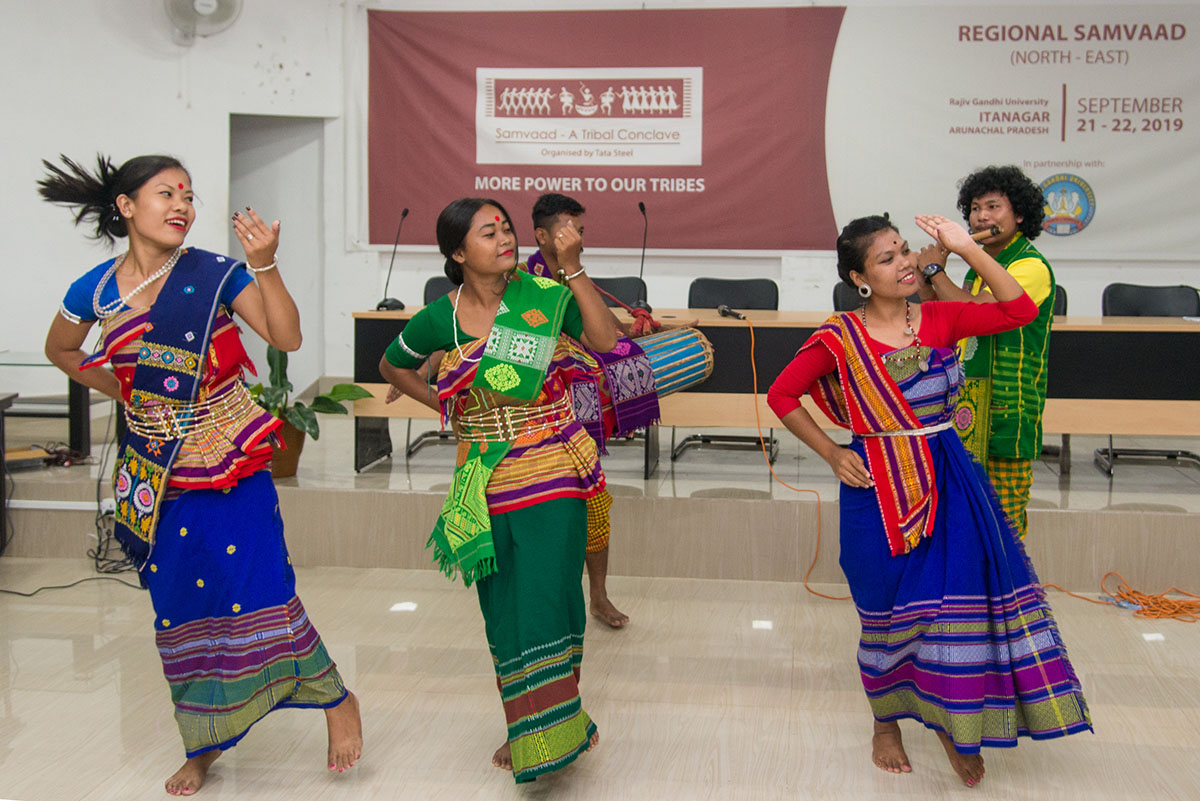 With views to engage with new perspectives, the North-East regional edition of Samvaad travelled to Rajiv Gandhi University in Itanagar, Arunachal Pradesh for yet another one-and-a-half-day conclave that brought together 110 participants from 31 tribes. As we moved to the hilly terrains of Arunachal, we went further into conversations that revolved around tribal languages, conservation, modern concepts like climate action balanced with the scintillating flavours that emerged from the authentic recipes of three tribes: Galo, Rabha and Bodo.
A prayer song from the Igu Mishmi tribe symbolising peace and prosperity opened the session followed by an address by Mr. Jiren Topno, Head, Tribal Cultural Society, CSR, Tata Steel and Professor Saket Kushwaha, Vice Chancellor of Rajiv Gandhi University.
After having covered topics like health, education and livelihood in its two earlier editions, the conclave in the North - East explored conversations around preservation of tribal languages and solutions to climate change through the indigenous way of life. The dialogue was rich with innovative initiatives while also highlighting the tussle between some tribal traditions (hunting) and contemporary views on biodiversity.
Professor Tomo Riba, belonging to the Galo tribe from the university demonstrated the intricacies and overlaps between a few tribal languages with an interactive presentation. Speaking at length about the threat the community faces he said, "Dong, is the site where the first rays of the sun touch. It would be a tragedy, then, for this area to lose its language, which in many ways shows the route to tribal identity. We need to popularise these languages, use them when speaking to our children."
The first day of the conclave broadly explored three questions: how can one preserve language via cultural references, folklore and literature? The nature of data and research that is required for tribal identity  and languages to thrive and how technology could be leveraged to preserve the same.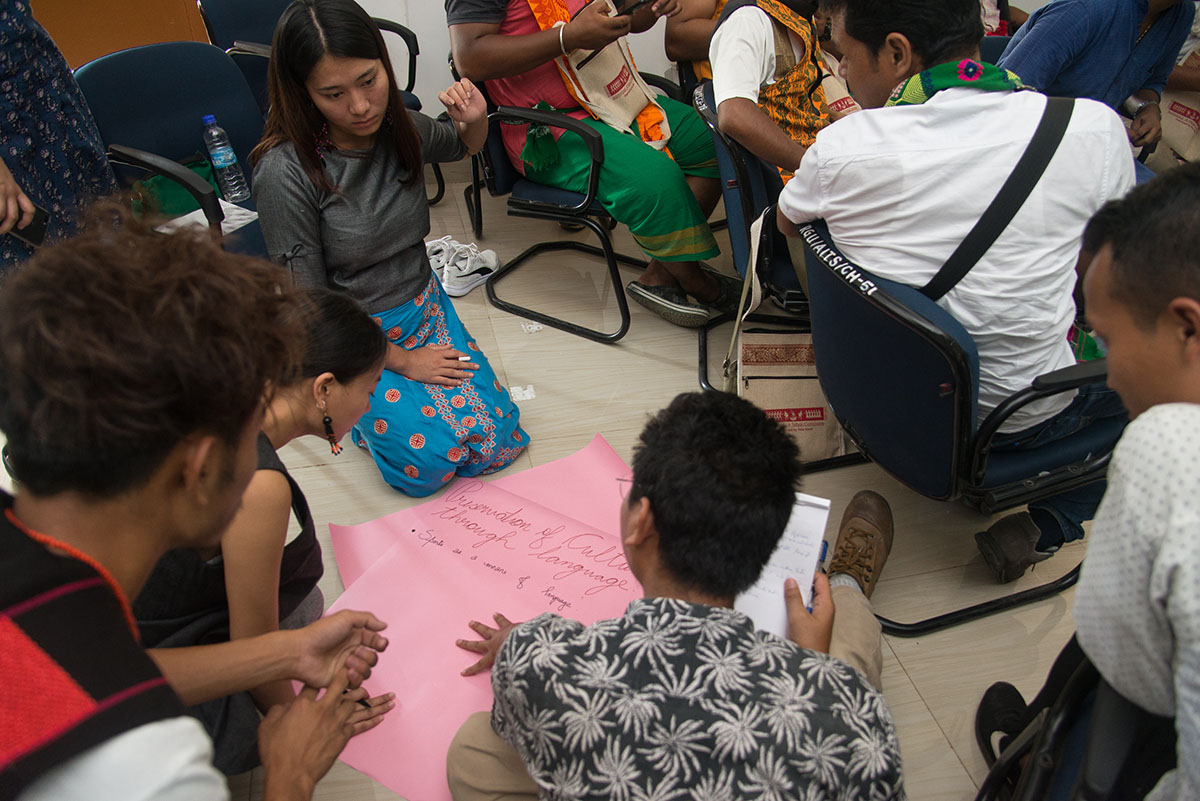 Emerging out of the rigorous discussions were suggestions on collecting data from older generations that could be passed on to the youth, mapping of tribes scattered in different locations, creating online dictionaries and translations to make the languages more accessible, using cartoons to introduce the languages to children at young ages, advertising tribal songs or alphabets on placards. Outlining an important role of education in promoting tribal languages, the participants commented on creating community schools in villages and towns to teach folk songs and converting the same into nursery rhymes.
Alongside immersive discussions, home-cooks prepared several dishes from the tribal community including pork with black lentils, snails with raw papaya, fried jute leaf with smoked pork, etc. Ashwini Anand, General Manager of Vivanta Guwahati said, "Our underlying philosophy is to do something for the communities. We use local ingredients and observe traditional cuisines, adding them to our menus for tourists, so that food can travel."
As the first day came to a close with women from the Rabha Tribe elegantly draped in roofan dancing to the beats of kham, day two brought in an engaging discussion on climate action, with views that were sometimes conflicting but beneficial nonetheless. Dr. Jumayir Basar, a professor at Rajiv Gandhi University said, "If we leave protection of forests and climate change to institutions, it will never happen….We have to look at ourselves as part of the system, not as outsiders looking in."
During the course of the discussion, initiatives to prevent 'Sendra' - a hunting tradition, were shared by Kalicharan Basumatary of the Manas Maozigendri Ecotourism Society. Other suggestions included restricting the area of 'Jhum' cultivation and inventing symbolic ways to preserve tradition when they interfered with environmental issues, finding an alternative to holding religious festivals in the forests that brought in plastic, the issues eco refugees face. Questions were also proposed around incorporating scientific mining instead of unhealthy methods. The various perspectives across the 31 tribes echoed one belief: the power of community action to overcome environmental issues.
Mr. Sourav Roy, Chief of CSR, Tata Steel, said, "This is the third regional Samvaad this year but whenever we come to the North-East we go back deeply humbled. It serves as a reflective pause for us. The stories and struggles that are shared force us to rethink. We thank you for adding your stories to Samvaad, for it is not  our platform, it is yours."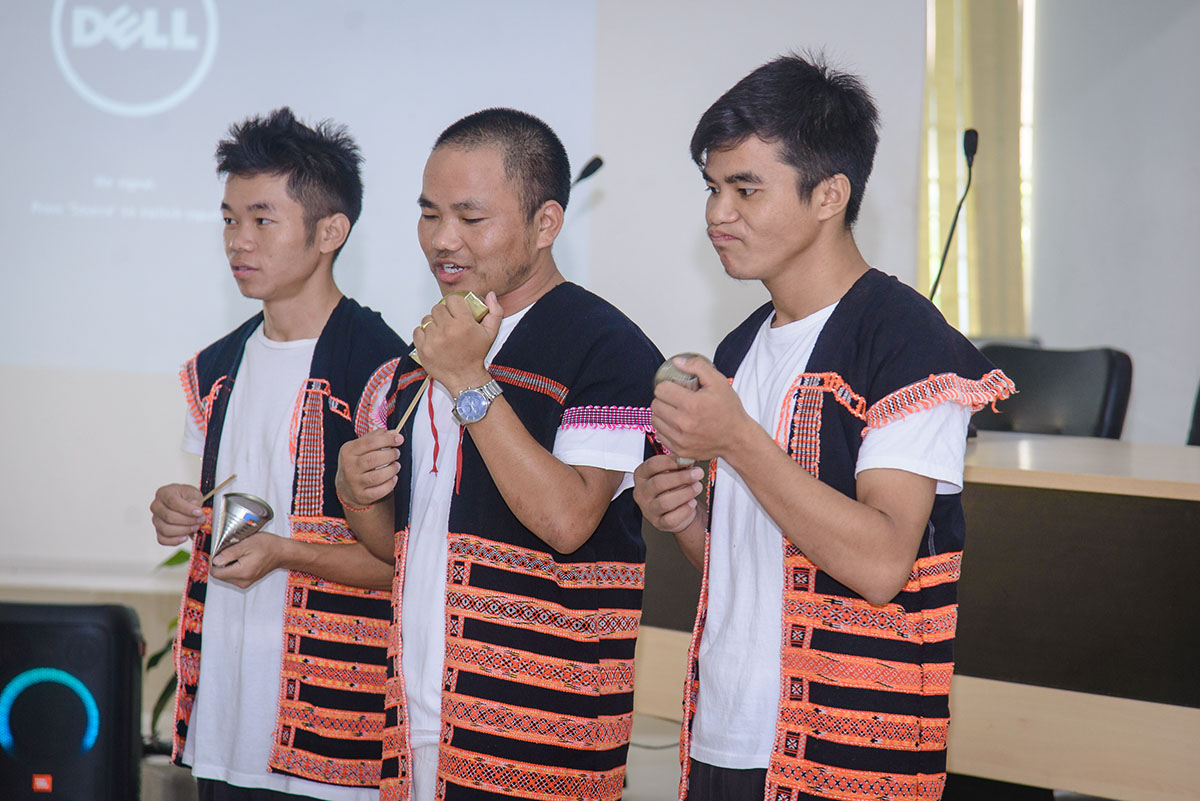 Samvaad is structured to reach out far and wide through its regional editions; it culminates with an all-India conclave mid-November. In its sixth year in 2019, this signature programme of Tata Steel's CSR has emerged as a bold, one-of-a-kind platform for cross-pollination of ideas and assertion of tribalism as a sustainable development principle.
Vice Chancellor of Rajiv Gandhi University, Professor Saket Kushwaha, as he spoke of the importance of dialogue said, "Most of the documentation on the indigenous people is from colonial period. It is the need of the hour that our own people rewrite their narratives. Dialogue is the way forward. Let the vibrations emanating out of this platform be so strong that they reach policy makers. "
Samvaad introduced its regional editions as one-and-a-half-day conclaves in 2016. Since then, engaging sessions have been hosted across Odisha, Tamil Nadu, Rajasthan, Nagaland, Chhattisgarh, Gujarat, Karnataka, Meghalaya, Kerala and Madhya Pradesh in partnership with reputed institutes. This year, it is touching Coorg (Karnataka), Kalahandi (Odisha), Itanagar (Arunachal Pradesh), Jhabua (Madhya Pradesh), Gadchiroli (Maharashtra) and Gumla (Jharkhand).
About Tata Steel 
Tata Steel group is among the top global steel companies with an annual crude steel capacity of 33 million tonnes per annum (MnTPA). It is one of the world's most geographically-diversified steel producers, with operations and commercial presence across the world. The group (excluding SEA operations) recorded a consolidated turnover of US $22.67 billion in the financial year ending March 31, 2019. In 2018, Tata Steel acquired Bhushan Steel Ltd (now renamed as Tata Steel BSL Ltd).
A Great Place to Work-CertifiedTM organisation, Tata Steel Ltd., together with its subsidiaries, associates and joint ventures, is spread across five continents with an employee base of over 65,000.
Tata Steel retained the 'Global Steel Industry Leader' position in the DJSI 2018. The Company has been recognised as the Climate Disclosure Leader in 'Steel category' by CDP (2017). Besides being a member of the World Steel Climate Action Programme, Tata Steel has won several awards including the Prime Minister's Trophy for the best performing integrated steel plant for 2016-17, 'GreenPro' certification for products (Tata Pravesh Steel Doors, Tata Structura, Tata Pipes) by CII, Authorized Economic Operator  (AEO) status (Tier 2) by the Directorate of International Customs (Ministry of Finance, Govt. of India), 'Corporate Strategy Award' by Mint (2018), Golden Peacock Award for Risk Management (2018) and Best Risk Management Framework & Systems Award (2019) by CNBC TV18. The Company also received the 'Most Ethical Company' award from Ethisphere Institute for the eight time (2019), Steel Sustainability Champion (2018) by the World Steel Association, Dun & Bradstreet Corporate Awards (2019), Golden Peacock HR Excellence Award by Institute of Directors (2018), 'Best Companies To Work For' recognition by Business Today, 'Asia's Best Integrated Report' award by the Asia Sustainability Reporting Awards (2017), among several others.
In 2018, the Company launched a corporate brand campaign #WeAlsoMakeTomorrow www.wealsomaketomorrow.com
To know more, visit www.tatasteel.com | Follow us on





Disclaimer
Statements in this press release describing the Company's performance may be "forward looking statements" within the meaning of applicable securities laws and regulations. Actual results may differ materially from those directly or indirectly expressed, inferred or implied. Important factors that could make a difference to the Company's operations include, among others, economic conditions affecting demand/ supply and price conditions in the domestic and overseas markets in which the Company operates, changes in or due to the environment, Government regulations, laws, statutes, judicial pronouncements and/ or other incidental factors.