'New Flexible Sweat Sensors' wins the 1st edition of Tata Steel MaterialNEXT programme
Chennai, May 17, 2019
~ Winning team creates innovative solution and prototype using Graphene Oxide-based flexible sweat sensors ~
~ Hosted by Tata Steel Advanced Materials Research Centre in collaboration with E-Cell, IIT Madras ~
Team BION, which created an innovative solution and prototype using Graphene Oxide (GO)-based flexible sweat sensors, wins the first edition of the 'Tata Steel MaterialNEXT' programme. The grand finale was held on May 15, 2019 in Chennai.
Team BION, comprising Dr. V.T. Fidal Kumar, Dr. Chithra Lekha P, Dr. S Balamurugan and Ms. Desika Prabhakar, received a cash prize of Rs. 50,000. The team was mentored by Prof. T S Chandra from IITM and Dr. Chandrani Pramanik from Tata Steel.
MaterialNEXT is a technology initiative organised by Tata Steel Advanced Materials Research Centre (TSAMRC) in collaboration with the Entrepreneurship Cell, IIT Madras. The platform offers a chance to the budding researchers, technology developers and enthusiasts in the field of advanced materials, to propose, produce and present their solution model to the existing industrial challenges and breakthrough innovations to experts.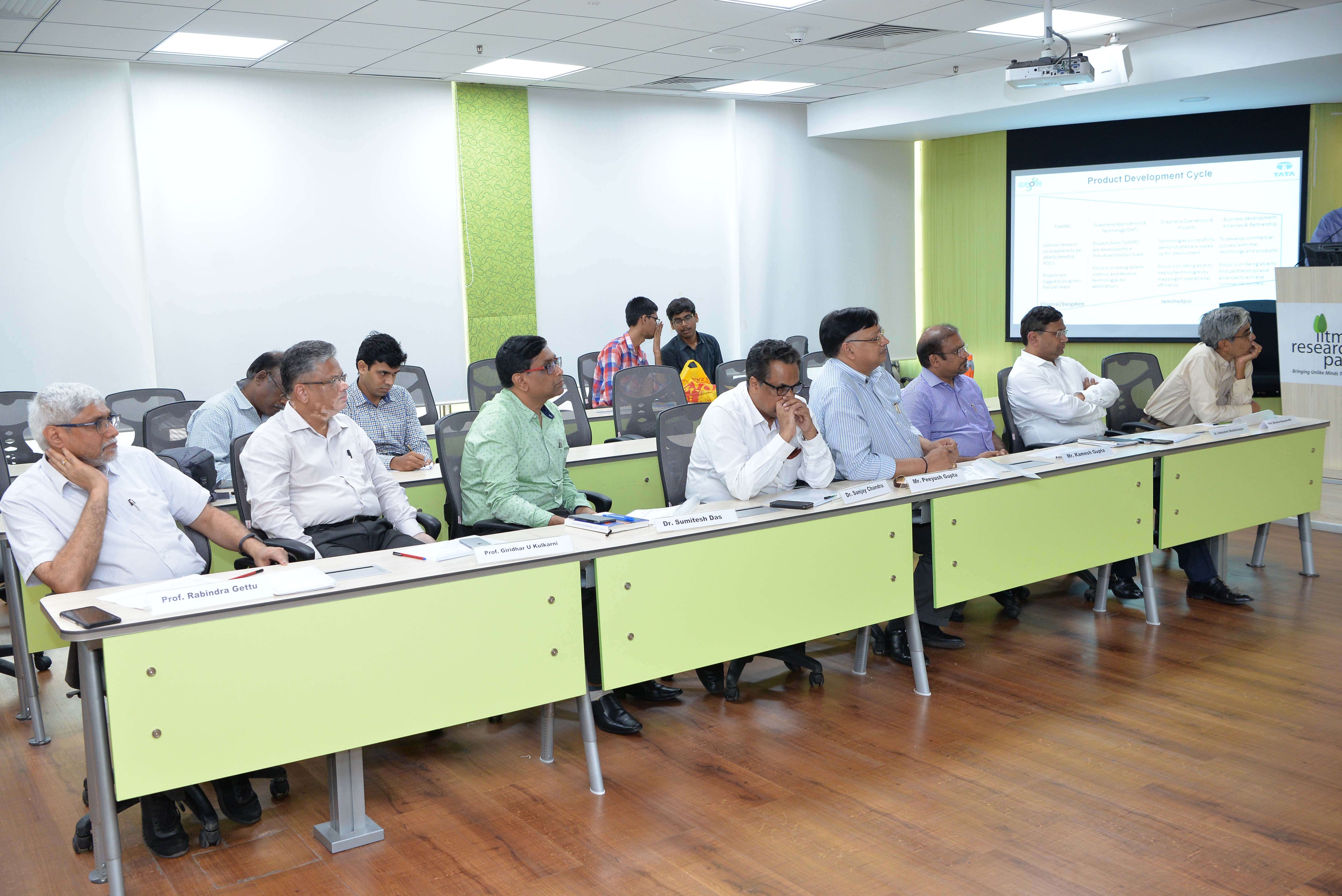 The winning entry 'Flexible Sweat Sensors using Graphene Oxide' offers a new potential in developing a flexible electrochemical device (3-electrode system) combined with electronic device (PCB) which can be converted to a wearable device. Sweat diagnostics are an emerging non-invasive alternative with chemical markers that can provide whole day human health monitoring, for example, constant change in the concentration of various chemicals in the body fluid can be recorded from sweat. Common sweat diagnostic tests include testing of cystic fibrosis (change in concentration of ions), consumption of the illicit drug, dehydration in athletes, stress handling with tracking changes in hormones such as cortisol. The solution developed by the winning team offers several benefits including ease of data analysis and interpretation, high sensitivity due to Graphene Oxide, covers a wide range of concentration of different ions, tiny quantities of fluid sufficient for measurement and most importantly accuracy in lower limits of detection.
MaterialNEXT programme was launched on December 28, 2018, coinciding with the birthday of Mr. Ratan N Tata, Chairman Emeritus, Tata Steel. The first edition, involving three phases, received a registration of a total of 32 teams. The teams, during the programme, received interactive mentoring sessions from the industry specialists and academicians working in this field.
Post evaluation of initial registered entries, 11 teams were selected for the first phase titled 'Conference', which involved one-on-one interactions with the assigned mentors. In the second phase, teams were given eight weeks to work on their preliminary proposals and present their solutions to a panel of judges. The top five teams, selected at the end of phase 2, moved to the third and final phase and were given another eight weeks to further fine tune their proposed solutions and develop suitable demos. The third phase culminated with the grand finale.
The jury comprised Prof. Bhaskar Ramamurthi, Director, IIT Madras, Dr. Debashish Bhattacharjee, Vice President, Technology & New Material Business, Tata Steel, Mr. Kamesh Gupta, Senior Vice President, Strategic Collaborations & Programs, Group Technology & Innovation Office (GTIO), Tata Sons Limited, Mr. Peeyush Gupta, Vice President, Steel Marketing & Sales, Tata Steel, Dr. Sanjay Chandra, Chief, Research & development, Tata Steel, Dr. Sumitesh Das, Chief, Graphene Business, Tata Steel, Prof. Giridhar U Kulkarni, Director, Centre for Nano & Soft Matter Sciences (CeNS), Bengaluru, Prof. Ravindra Gettu, Dean, IC&SR (Industrial Consultancy & Sponsored Research), IIT Madras, Chennai.
With the growing popularity of graphene and other advanced nanomaterials around the world, it is important to come up with solutions to the industrial problems that occur during manufacturing and commercialization, and acknowledge the fact that for the potential technologies which are at their early development stages, there is a lot to be figured out especially in the R&D stage.
At Tata Steel, pursuing research in advanced materials is an active process. The work in Nanotechnology started almost a decade ago. The Company started the Graphene Initiative in 2016 with the opening of the Graphene Centre in Jamshedpur. The objective was to identify applications and establish successful upscaling models and discover potential markets.
Two Tata Steel Advanced Materials Research Centers have been established, one at Chennai in collaboration with the Indian Institute of Technology, Madras (IITM), and the other at Bengaluru, in collaboration with the Center for Nano and Soft Matter Sciences (CeNS). The objective of these centers is to work closely with academia and other Centers of Expertise to strengthen the portfolio of advanced materials research and its applications, including Graphene.
Tata Steel's sustainable growth aspirations are driven by innovation, guided by values and supported by the efforts towards continuous improvements in the processes, building efficiencies and adding value to the products & solutions while meeting varied requirements.
About Tata Steel MaterialNEXT
'Tata Steel MaterialNEXT', organised by Tata Steel Advanced Materials Research Centre in collaboration with IIT Madras, offers a chance to the budding researchers, technology developers and enthusiasts in the field of advanced materials, to propose, produce and present their breakthrough innovation and solution models to existing industrial challenges to experts. For more details, please visit: https://bit.ly/2rTj5Z6
About Tata Steel
Tata Steel Group is among the top global steel companies with an annual crude steel capacity of 33 million tonnes per annum (MTPA). It is one of the world's most geographically-diversified steel producers, with operations and commercial presence across the world. The group (excluding SEA operations) recorded a consolidated turnover of US $22.67 billion in the financial year ending March 31, 2019. In 2018, Tata Steel acquired Bhushan Steel Ltd (now renamed as Tata Steel BSL Ltd).
A Great Place to Work-CertifiedTM organisation, Tata Steel Ltd., together with its subsidiaries, associates and joint ventures, is spread across five continents with an employee base of over 65,000.
Tata Steel retained the Industry Leader position in FY18 and ranked second overall in the DJSI assessment, 2017. The Company has been recognised as the Climate Disclosure Leader in 'Steel category' by CDP (2017). Besides being a member of the World Steel Climate Action Programme, Tata Steel has won several awards including the Prime Minister's Trophy for the best performing integrated steel plant for 2016-17, 'Corporate Strategy Award' by Mint (2018), Golden Peacock Award for Risk Management (2018) and Best Risk Management Framework & Systems Award (2019) by CNBC TV18. The Company also received the 'Most Ethical Company' award from Ethisphere Institute for the eight-time (2019), Steel Sustainability Champion (2018) by the World Steel Association, Dun & Bradstreet Corporate Awards (2018), Golden Peacock HR Excellence Award by Institute of Directors (2018), 'Best Companies To Work For' recognition by Business Today, 'Asia's Best Integrated Report' award by the Asia Sustainability Reporting Awards (2017), among several others.
In 2018, the Company launched a corporate brand campaign #WeAlsoMakeTomorrow www.wealsomaketomorrow.com
For corporate information, visit www.tatasteel.com and follow us on





Disclaimer
Statements in this press release describing the Company's performance may be "forward looking statements" within the meaning of applicable securities laws and regulations. Actual results may differ materially from those directly or indirectly expressed, inferred or implied. Important factors that could make a difference to the Company's operations include, among others, economic conditions affecting demand/ supply and price conditions in the domestic and overseas markets in which the Company operates, changes in or due to the environment, Government regulations, laws, statutes, judicial pronouncements and/ or other incidental factors.