UN GCNI's 'Innovative Practices Award 2018' conferred on Tata Steel
Bengaluru, June 09, 2018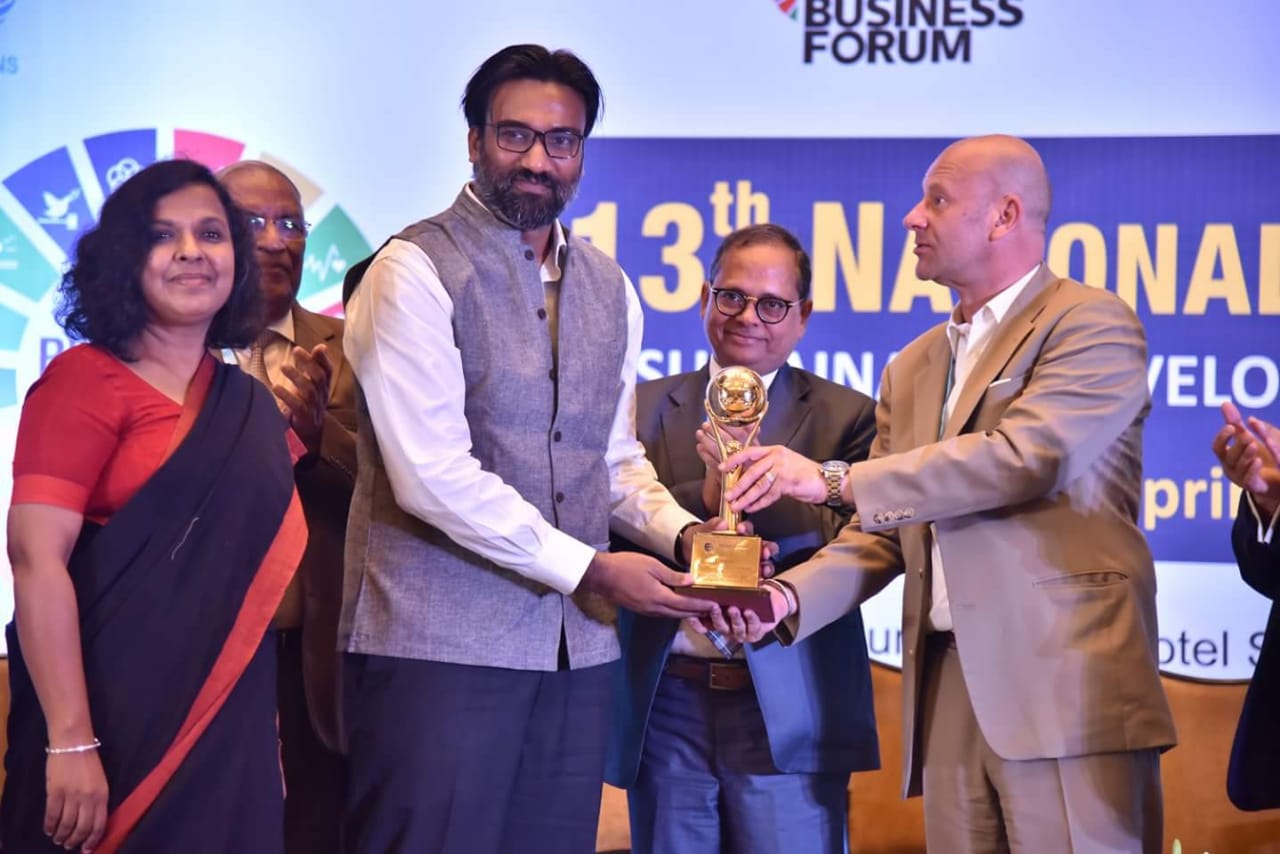 Tata Steel was conferred the prestigious Innovative Practices Award 2018 on Sustainable Development Goals (SDGs) for its "Thousand Schools Programme" by UN Global Compact Network India (GCNI) during its 13th National Convention held in Bengaluru yesterday.
The award was received by Mr Sourav Roy, Chief, Corporate Social Responsibility, Tata Steel from Mr Yuri Afanasiev, UN Resident Coordinator and UNDP Resident Representative. A total of 65 organisations across India, including public and private sector enterprises, multinationals, MSMEs (Micro, Small and Medium Enterprises), NGOs, Entrepreneurs and B-schools had submitted entries for the awards in the form of case studies to showcase their efforts in implementing CSR and Sustainability initiative, aligned with one or more of the 17 UN Sustainable Development Goals (SDGs).
The awards were given in two categories i.e. private and public in the corporate sector and one category each in NGO and B-School sectors. Tata Steel was the recipient of the award in the Corporate Private category for its work towards SDG 4 i.e. ensuring inclusive and quality education for all and promoting lifelong learning. The award was announced by a four-member jury which was chaired by Mr Bhaskar Chatterjee, IAS (retired), one of the architects of CSR policy and NVGs (National Voluntary Guidelines) in India. The jury termed Tata Steel's Thousand Schools Programme a benchmark of CSR.
On June 2, 2018, a total of 12 shortlisted organisations presented their case studies in front of the jury in New Delhi. The top four organisations got an opportunity to present their case studies during the 13th National Convocation of GCNI and were awarded certificate and trophy. The other winning entries included initiatives from ONGC, Indian Society of Agribusiness Professionals (ISAP), National Stock Exchange of India Limited (NSE) Foundation and S. P. Jain Institute of Management and Research, in the given order.
The United Nations has ushered in the 2030 Sustainable Development Goals with an aim to end poverty, hunger and assure gender equality across the globe. The goal of sustainable development is to meet the needs of today, without compromising the needs of tomorrow.
Expressing happiness on the recognition, Mr Sunil Bhaskaran, Vice President, Corporate Services, Tata Steel, said: "Tata Steel recognises education as a fundamental need in society, and therefore, is a core aspect of Tata Steel's CSR intervention. 1000 Schools Programme is one of our endeavours to augment education system in government schools and contribute to nation building. This award reflects the faith that our communities have in us and gives us the impetus to continue the good work".
On receiving the award, Mr Sourav Roy mentioned: "We are committed to the sustainable well-being of the communities we serve, and believe that quality education for children is a priority in this endeavour. The 1000 Schools Programme is our signature project in this domain, which has been able to bring children back to the schooling system, create an ecosystem for learning outcomes and enhance community-led governance across 1463 government schools in Odisha and Jharkhand. This award would not have been possible without the trust placed in us by our communities as well as our partner, ASPIRE, and we thank them for this."
About 1000 Schools Programme
Thousand Schools Programme aims to create a model of Universalisation of Elementary Education (UEE) within the Right to Education (RTE) framework that is both replicable and scalable. It is running in eight administrative blocks in four districts of Odisha and Jharkhand in a saturation coverage mode. These blocks are in proximity to Tata Steel's business operations. Tata Steel has decided to move beyond its peripheries to cover additional blocks to raise their educational standards. The programme addresses three critical aspects of schooling – Access, Learning and Governance. The company believes that addressing these three aspects simultaneously and at scale will bring momentum and sustainability to the work in terms of universalizing access, addressing learning deficits of children and equipping government teachers with skills to deal with early literacy and numeracy of first generation learners, and strengthening School Management Committees. Together, the company foresees an improved performance of schools, schooling of all children at elementary levels, eventual elimination of child labour and an educated society in the long-term.
About UNGC
UN Global Compact is a UN initiative to encourage businesses worldwide to adopt sustainable and socially responsible policies and to report on their implementation. It has got 13,000 corporate participants and other stakeholders from over 170 countries. The first edition of best practice awards was hosted in 2017 during the 12th National Convention on April 28, 2017 at New Delhi wherein 47 entries from 34 companies were registered.
About Tata Steel
Tata Steel Group is among the top global steel companies with an annual crude steel capacity of 27 million tonnes per annum (MTPA) as on March 31, 2018. It is the one of world's most geographically-diversified steel producers, with operations in 26 countries and a commercial presence in over 50 countries. The Group recorded a consolidated turnover of US $20.41 billion (INR 133,016 crore) in FY18. Tata Steel Group is spread across five continents with an employee base of nearly 74,000. Tata Steel retained Industry Leader position in FY18 and ranked second overall in the DJSI assessment, 2017. The Company has been recognised as the Climate Disclosure Leader in 'Steel category' by CDP (2017). Besides being a member of the World Steel Climate Action Programme, Tata Steel was felicitated with several awards including the Prime Minister's Trophy for the best performing integrated steel plant for 2014-15 and 2015-16, Best Risk Management by CNBC TV18 (2018) and 'Corporate Strategy Award' by Mint (2018). The Company also received the 'Most Ethical Company' award from Ethisphere Institute for the sixth time (2018), Steel Sustainability Champions (2017) by the World Steel Association, Dun & Bradstreet Corporate Awards (2017 & 2018), Golden Peacock HR Excellence Award by Institute of Directors (2017) as well as 'Asia's Best Integrated Report' award by the Asia Sustainability Reporting Awards (2017), among several others.
Disclaimer
Statements in this press release describing the Company's performance may be "forward looking statements" within the meaning of applicable securities laws and regulations. Actual results may differ materially from those directly or indirectly expressed, inferred or implied. Important factors that could make a difference to the Company's operations include, among others, economic conditions affecting demand/ supply and price conditions in the domestic and overseas markets in which the Company operates, changes in or due to the environment, Government regulations, laws, statutes, judicial pronouncements and/ or other incidental factors.