Tata Steel recognised for Excellence in Biodiversity at the CII-ITC Sustainability Awards 2018
New Delhi , December 15, 2018
~ Mr M C Thomas, EIC, FAMD, Tata Steel received the award from NITI AAYOG CEO Shri Amitabh Kant ~
Tata Steel has been bestowed with the CII-ITC Sustainability Awards 2018 for Excellence in Biodiversity, a recognition for its commitment to play a leading role in conservation of biodiversity.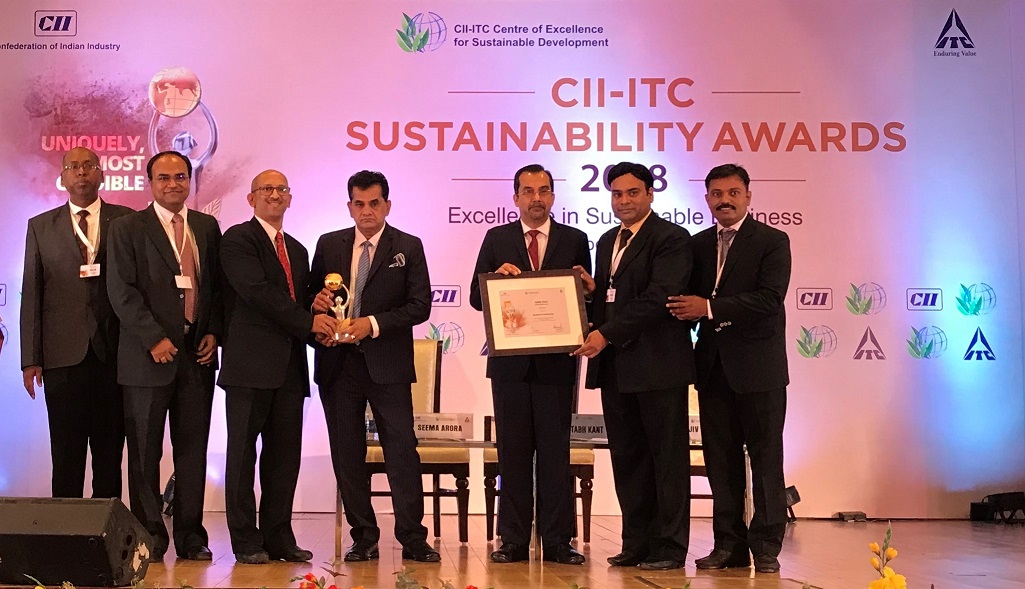 Mr. M C Thomas, Executive-in-Charge, Ferro Alloys & Minerals Division (FAMD), Tata Steel received the award from NITI Aayog CEO Shri Amitabh Kant at an event held on December 12, 2018 at Pravasi Bharatiya Kendra Chanakyapuri, New Delhi. Mr. Thomas was joined by other Company officials including Mr. Somesh Biswas, Chief, Raw Materials Strategy Group (Mineral & Coal-block Acquisition), Dr. Hishmi Jamil Husain, Head, Environment & Forest Management, Raw Materials Strategy Group, Mr. Vinayak Deshpande, Senior Manager, Environment, OMQ Division and Mr. Ranjan Nayak, Head of Horticulture, JUSCO.
Mr. Arun Misra, Vice President, Raw Materials, Tata Steel said, "Sustainability lies at the of heart of everything we do at Tata Steel. As a responsible steel maker, we have embedded sustainable practices across the value chain and are actively pursuing initiatives towards biodiversity conservation. We are honoured and encouraged by this recognition and this will further reinforce our commitment to a better tomorrow."
As a pioneering steel maker in India, sustainability is embedded in the very culture of Tata Steel. The sense of responsibility towards the planet and the welfare of the community is very intrinsic to the Company's value systems that predates even the first steel ingot that rolled out of Tata Steel's plant more than a century ago. Tata Steel has been actively working with the International Union for Conservation of Nature (IUCN) since 2013, to enhance its performance in biodiversity conservation and significantly reducing its impact on ecosystem and biodiversity. Being a business leader in steel making, mining, and manufacturing, the Company is going beyond regulatory regimes and setting high standards for itself on social and environmental matters.
Today, sustainability and particularly creating and maintaining excellence in biodiversity is an essential element of how Tata Steel runs its business. Tata Steel launched its Biodiversity Policy in 2016. The policy provides guidelines for including biodiversity in every strategic and operational decision making. The Company is aligning its actions with the National Biodiversity Targets set in 2014 (India level), Aichi Biodiversity Targets set in 2010 (Global level) and Sustainable Development Goals to integrate biodiversity in to its business ecosystem and enable a better tomorrow for future generations.
Tata Steel is pursuing a collaborative approach on biodiversity by engaging the employees and local communities through various awareness programmes and workshops. The Company's future endeavors will be aimed at enhancing strategic partnerships with organisations and agencies to collaborate on biodiversity conservation projects.
Apart from being recognised by the CII-ITC, Tata Steel has also bagged several industry awards for its work in the areas of sustainability and biodiversity. This year, Tata Steel launched its new corporate brand campaign 'We Also Make Tomorrow' drawn from its work done in the areas of technology, innovation and sustainability.
About Tata Steel
Tata Steel Group is among the top global steel companies with an annual crude steel capacity of 27.5 million tonnes per annum (MnTPA) as on March 31, 2018. It is one of the world's most geographically-diversified steel producers, with operations in 26 countries and a commercial presence in over 50 countries. The Group recorded a consolidated turnover of US $20.41 billion (INR 133,016 crore) in FY18. Tata Steel Group is spread across five continents with an employee base of over 65,000. Tata Steel retained Industry Leader position in FY18 and ranked second overall in the DJSI assessment, 2017. The Company has been recognised as the Climate Disclosure Leader in 'Steel category' by CDP (2017). Besides being a member of the World Steel Climate Action Programme, Tata Steel was felicitated with several awards including the Prime Minister's Trophy for the best performing integrated steel plant for 2014-15 and 2015-16, Best Risk Management by CNBC TV18 (2018) and 'Corporate Strategy Award' by Mint (2018). The Company also received the 'Most Ethical Company' award from Ethisphere Institute for the sixth time (2018), Steel Sustainability Champions (2017) by the World Steel Association, Dun & Bradstreet Corporate Awards (2017 & 2018), Golden Peacock HR Excellence Award by Institute of Directors (2017) as well as 'Asia's Best Integrated Report' award by the Asia Sustainability Reporting Awards (2017), among several others.
Disclaimer
Statements in this press release describing the Company's performance may be "forward looking statements" within the meaning of applicable securities laws and regulations. Actual results may differ materially from those directly or indirectly expressed, inferred or implied. Important factors that could make a difference to the Company's operations include, among others, economic conditions affecting demand/ supply and price conditions in the domestic and overseas markets in which the Company operates, changes in or due to the environment, Government regulations, laws, statutes, judicial pronouncements and/ or other incidental factors.