Tata Steel, JUSCO celebrate World Water Day
Jamshedpur, March 22, 2018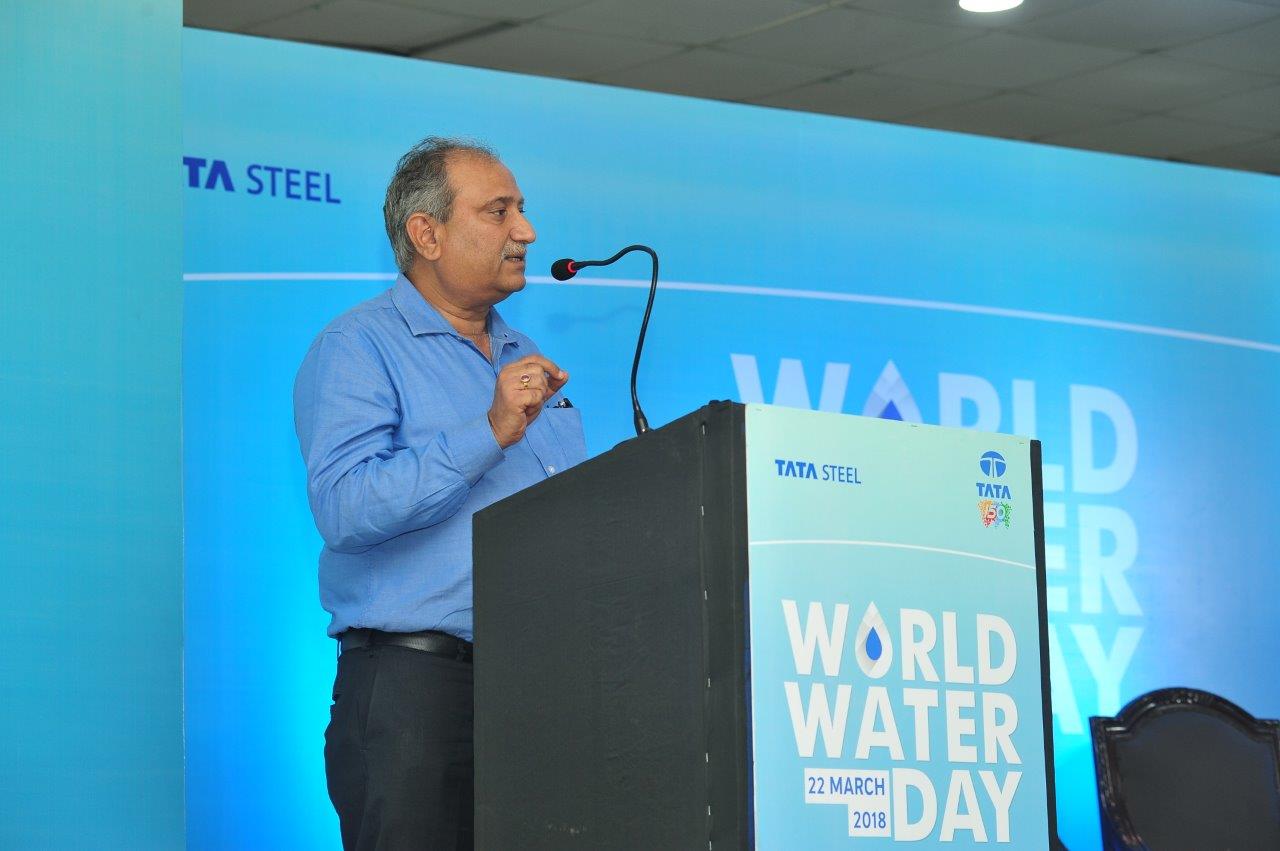 Tata Steel, in association with JUSCO, today celebrated the World Water Day at Beldih Club, Jamshedpur.
The event also saw the launch of a three-month long water conservation campaign.
Dr. Sharad Singh Negi, former Special Secretary and Director General – Forests, Ministry of Environment Forest and Climate Change (MoEF), Government of India and Chairman, Uttarakhand Village Development and Migration Commission graced the occasion as the Chief Guest.
The event was inaugurated with the unveiling on the #SaveTheDrop mascot followed by inaugural speech by Mr. Avneesh Gupta, Vice President, Shared Services, Tata Steel and Mr. Ashish Mathur Managing Director, JUSCO who shared their thoughts on the global scenario of water scarcity, challenges faced by mankind and how all stakeholders need to join hands to work collectively for solving this issue.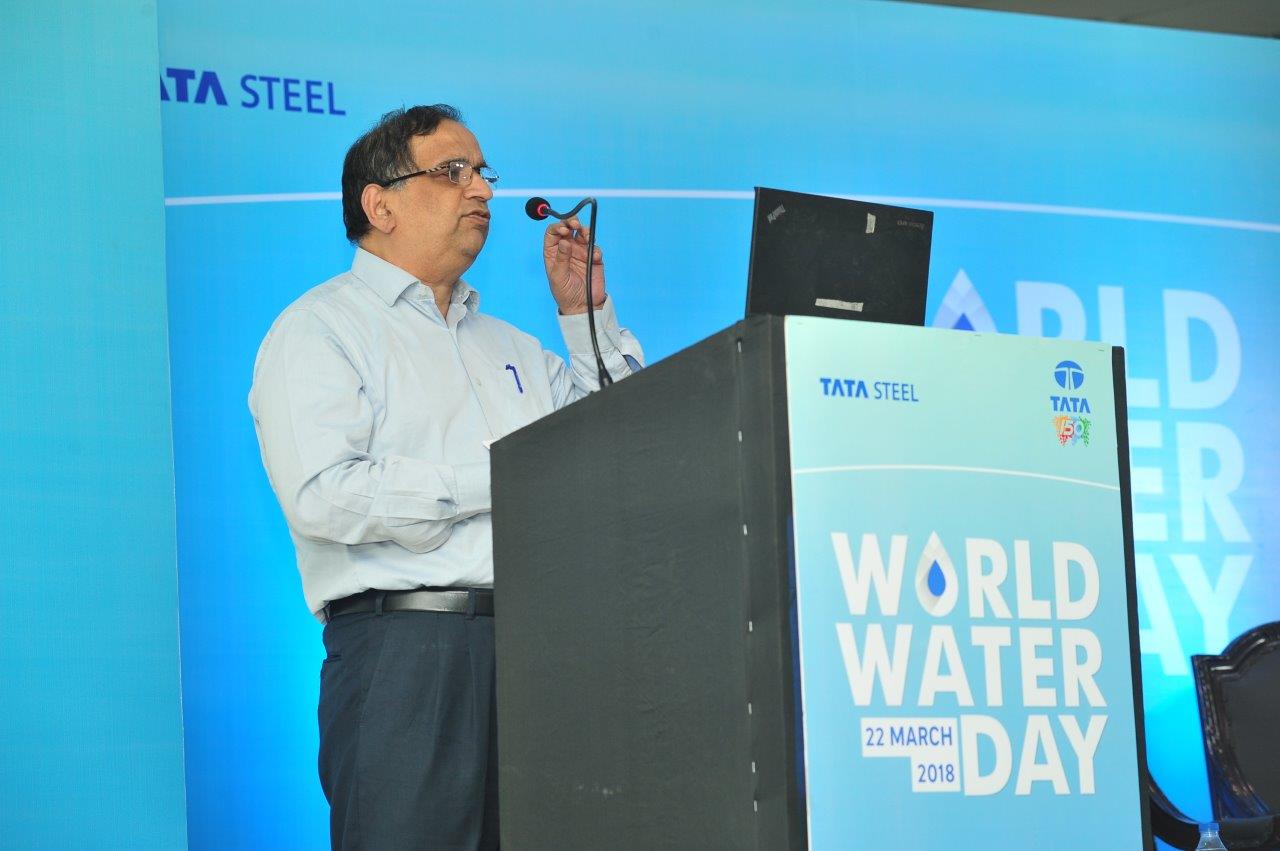 Mr. Arunava Das Head, Water Management, Tata Steel and Dr. Hishmi Jamil Husain Head, Environment and Forests, Raw Material Strategy Group, Tata Steel presented on the water conservation initiatives in its value chain for reducing freshwater intake & effluent discharge and augmenting groundwater through rainwater harvesting. Mr. Satyajit Chakraborty, Head Water Management, JUSCO presented about JUSCO's initiatives in the township and how they have helped reduce Jamshedpur's water footprint.
The event also witnessed a panel discussion on the topic ''Opportunities and Risks for Industry in Context to Water Scarcity''. The panel included experienced professionals namely, Mr. Kallol Saha, Senior Technical Consultant, PwC, Ranchi, Mr. Avijit Mitra, Director Marketing , ECOLAB, Mr. Sanjay Chandra, Chief R&D and Scientific Services, Tata Steel and Mr. R. K. Singh CEO, Haldia Water Management Ltd. The panel was moderated by Mr. Ashok Kumar, Chief, Technical Officer Process, Tata Steel. The discussion was centered on technology advancement, policy level changes, wastewater treatment and Tata Steel & JUSCO's initiatives on water conservation though the 4R principles (Reduce-Reuse-Recycle-Recharge) – what challenges and opportunities the industry in general face today in the context of water scarcity. The morning session was concluded by a technical presentation on ''Micro Algae Technology for Wastewater Treatment and Restoration of Polluted Water Bodies'' by Mr V Siva Subramanian, Director, Phycospectrum Environmental Research Centre, Chennai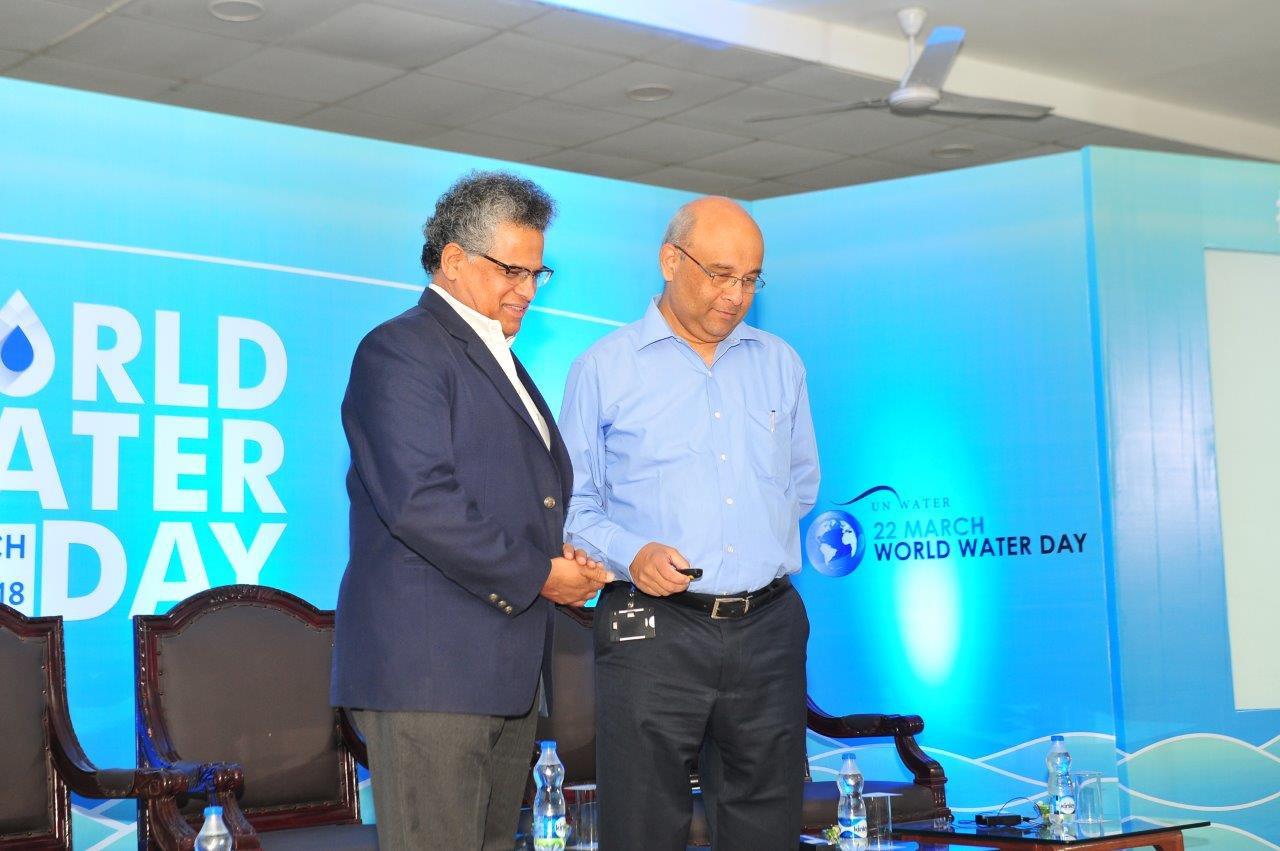 Mr. Sanjiv Paul, Vice President, Safety, Health and Sustainability, Tata Steel gave the welcome address in in the second session where he stressed on the how the town of Jamshedpur has reduced its water footprint over the years and what needs to be done on a larger scale for protecting ourselves against the looming crisis of water unavailability. Mr Sharad Singh Negi talked about the climate change-water availability nexus and what industries can do beyond their boundaries for water conservation. He also focused on the issue of deforestation which has led to unavailability of water in urban areas.
The next session was delivered by Mr. Sanjiv Phansalkar, Program Director, Tata Trusts on the topic of ''How Farm Ponds Increase Water Security in Kolhan''. Subsequently Mr. Sanjay Gupta Senior Counsellor and Head Advisory Services, CII-Triveni Water Institute enlightened the audience on the topic of ''Water Management and Improving Water Use Efficiency in Indian Industry''. The next session was a panel discussion on the topic of ''Water Community Empowerment''. The panelists for the session were Dr. Sharad Singh Negi, Mr. Sanjiv Paul, Mr. Amitava Ghosh Founder, Kalamandir Foundation and Mr. Sanjay Gupta, Senior Counsellor and Head Advisory Services, CII-Triveni Water Institute. It was moderated by Mr. Sourav Roy, Chief Corporate Social Responsibility, Tata Steel. The discussion centered on how the various stakeholders especially community and women should collaborate to create a better ecosystem for clean safe drinking water and water conservation measures in the watershed area.
The celebration concluded by a model display function by school children and a Nukkad Natak on the topic of water conservation in the evening.
The event was also attended by employees of Tata Steel and JUSCO, school principals, school children and representatives from the community.
About Tata Steel
Tata Steel Group is among the top global steel companies with an annual crude steel capacity of 27.5 million tonnes per annum (MTPA) as on March 31, 2017. It is the world's second-most geographically-diversified steel producer, with operations in 26 countries and a commercial presence in over 50 countries. The Group recorded a consolidated turnover of US $18.12 billion (INR 117,420 crore) in FY17. Tata Steel Group is spread across five continents with an employee base of nearly 70,000. Having bagged the Deming Application Prize and Deming Grand Prize for continuous improvement in 2008 and 2012 respectively, Tata Steel has now been recognised as the global 'Industry Leader' in 'Steel category' by Dow Jones Sustainability Index (2015). Besides being a member of the World Steel Climate Action Programme, Tata Steel has also been felicitated with several awards including the Prime Minister's Trophy for the best performing integrated steel plant for 2013-14 (received in 2017), Best Risk Management by CNBC TV18 (2016), 'Best-in-class Manufacturing' award from TIME India (2016) and the 'Most Ethical Company' award from the Ethisphere Institute (2016), IIM Sustainability Award (2015), among several others.
Disclaimer
Statements in this press release describing the Company's performance may be "forward looking statements" within the meaning of applicable securities laws and regulations. Actual results may differ materially from those directly or indirectly expressed, inferred or implied. Important factors that could make a difference to the Company's operations include, among others, economic conditions affecting demand/ supply and price conditions in the domestic and overseas markets in which the Company operates, changes in or due to the environment, Government regulations, laws, statutes, judicial pronouncements and/ or other incidental factors.