Tata Steel Jamshedpur Run-a-thon 2018 captivates the city
Jamshedpur, November 18, 2018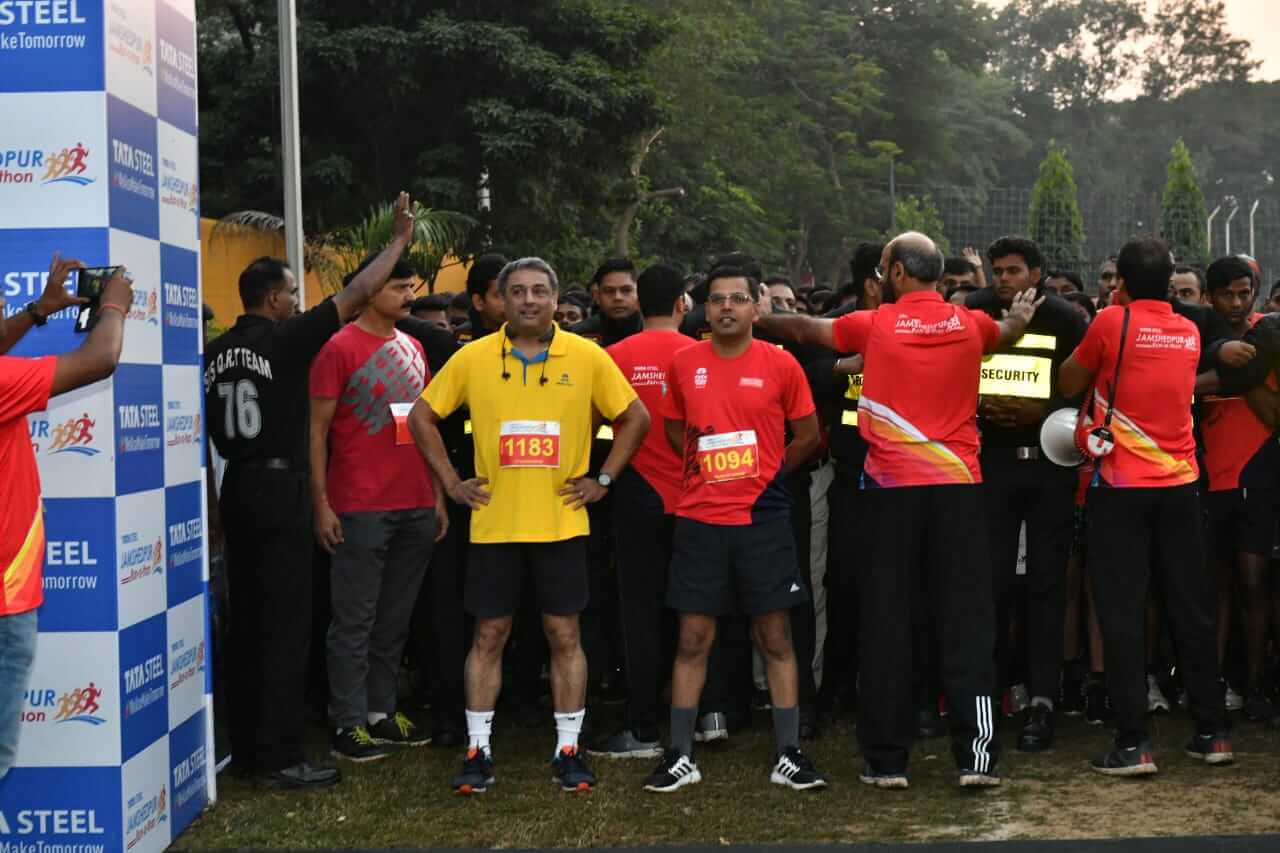 Tata Steel today organised the Tata Steel Jamshedpur Run-a-thon 2018. More than  6400 participants registered and turned up for the run across the 3 categories of races, with runners representing more than 16 states across India. The event started from the Archery Ground, JRD Tata Sports Complex from 6:00 am onwards.
The 10-km and 7-km races were open to all (Indian Nationals only), while the 5-km run was for under-16 boys and girls. The 10-km race is the internationally approved distance for road races by International Association of Athletics Federations (IAAF).
Dignitaries present at the event were Mr T V Narendran, CEO & MD Tata Steel,  DC East Singhbhum Mr. Ameet Kumar, SSP East Singhbhum Mr. Anup Birthare,  Vice President, Safety, Health and Sustainability Tata Steel Mr Sanjiv Paul, Mr Chanakya Chaudhary, Vice President, Corporate Services, Mr Suresh Dutt Tripathi, Vice President, Human Resources Management, Sudhanshu Pathak, VP Steel Manufacturing, Mr Avneesh Gupta, Vice President, Shared Services, C D Singh, Secretary Jharkhand Athletics Association, Mr. Neeraj Kant, Managing director ISWP, Mr Tarun Daga, MD, JUSCO, and other senior dignitaries of Tata Steel. Dr J J Irani, former MD, Tata Steel graced the occasion and congratulated the winners and participants of Run-a-thon 2018.
The winner of the 10-km (male) finished the race in 32 mins 04 secs whereas the winner of 10-km (female) finished the race in 37 mins 54 secs. The 7-km (male) winner finished the race in 22 mins 57 secs whereas the winner of 7-km (female) finished the race in 26 mins 48 secs. The 5 km (male) and 5-km (female) winners finished the race in 17 mins 11 secs and 20 mins 50 secs respectively.
City SP Prabhat Kumar took part in the run while Jamshedpur Football Club (JFC) members and fanfares also participated during the event.
Prize money under different category were as follows:
10 Km run
Male
| | | | |
| --- | --- | --- | --- |
| Serial | Position | Prize in Male Category | Name |
| 1 | 1st | Rs 51000 | Harmanjot Singh |
| 2 | 2nd | Rs 41000 | Subhankar Ghosh |
| 3 | 3rd | Rs 31000 | Adesh Adesh |
| 4 | 4th | Rs 21000 | Pardeep |
| 5 | 5th | Rs 11000 | Abdul Bari |
Female
| | | | |
| --- | --- | --- | --- |
| Serial | Position | Prize in Female Category | Name |
| 1 | 1st | Rs 51000 | Puja Mondal |
| 2 | 2nd | Rs 41000 | Sabita Pal |
| 3 | 3rd | Rs 31000 | Laxmi Rani Munda |
| 4 | 4th | Rs 21000 | Putul Hansda |
| 5 | 5th | Rs 11000 | Sakro Beshra |
7 Km Run for Men and Women
Male
| | | | |
| --- | --- | --- | --- |
| Serial  | Position  | Prize in Male Category  | Name |
| 1 | 1st | Rs 25000 | Shrvan Kumar |
| 2 | 2nd | Rs 20000 | Yogendra Tiriya |
| 3 | 3rd | Rs 15000 | Rahul Kumar Rajbhar |
| 4 | 4th | Rs 10000 | Dulu Sarkar |
| 5 | 5th | Rs 7500 | Jitender Pal Singh |
 Female
| | | | |
| --- | --- | --- | --- |
| Serial | Position | Prize in Female Category | Name |
| 1 | 1st | Rs 25000 | Vijay Laxmi |
| 2 | 2nd | Rs 20000 | Samsad Ara Begum |
| 3 | 3rd | Rs 15000 | Shanti Rai |
| 4 | 4th | Rs 10000 | Pratima Tudu |
| 5 | 5th | Rs 7500 | Basanti |
5 Km run
Boys
| | | | |
| --- | --- | --- | --- |
| Serial | Position | Prize in Male Category | Name |
| 1 | 1st | Rs 10000 | Seken Purty |
| 2 | 2nd | Rs 8000 | Gopal Ram |
| 3 | 3rd | Rs 7000 | Chiranjeet Purty |
| 4 | 4th | Rs 6000 | Sunil Kumar |
| 5 | 5th | Rs 5000 | Tribhuban Hembrom |
Girls
| | | | |
| --- | --- | --- | --- |
| Serial | Position | Prize in Female Category | Name |
| 1 | 1st | Rs 10000 | Itishree Mohanta |
| 2 | 2nd | Rs 8000 | Shiwani Kumar |
| 3 | 3rd | Rs 7000 | Mamta Kumari |
| 4 | 4th | Rs 6000 | Priti Kumari |
| 5 | 5th | Rs 5000 | Geeta Kumari |