Tata Steel inaugurates the Fifth Edition of Samvaad-a Tribal Conclave at Jamshedpur
Jamshedpur, November 15, 2018
Over 1700 participants from 137 tribal communities across India and 11 other countries come together for 5 days
~The 5th edition of the unique platform that celebrates tribalism will see participants from 25 states in India and 11 countries ~

~Follows six Regional editions of Samvaad that touched 720 participants this year~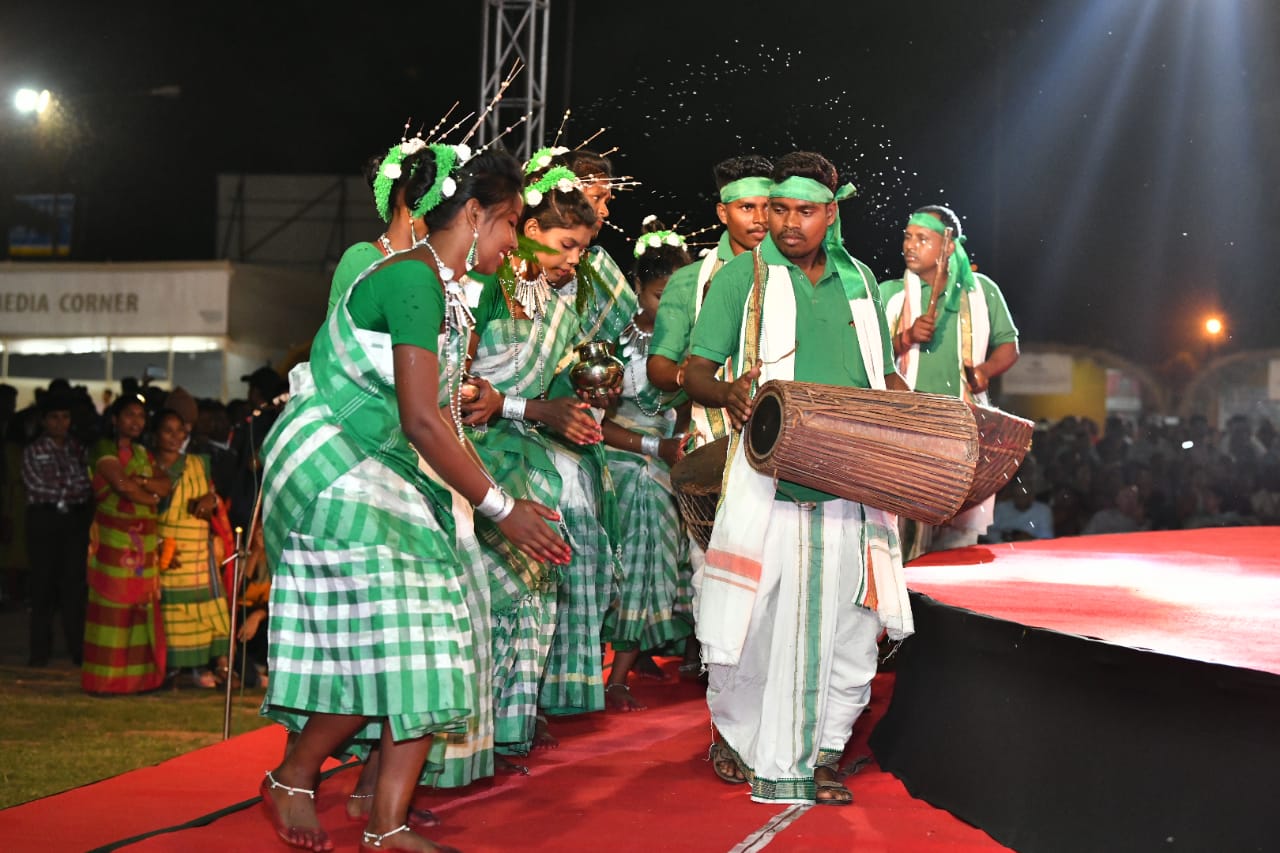 The 5th edition of Tata Steel's Samvaad, the annual outreach programme that celebrates tribalism across India was inaugurated traditionally to the beats of 101 nagadas and unveiling of the Jawa at Gopal Maidan, steel city's heart amid much fanfare, today.
The inauguration function began with homage to tribal icon Birsa Munda. Eminent personalities in the social development space including Baiju Murmu, Digambar Hansdah and Padma Shri Patricia Mukhim, Mr R Balasubramaniam were present to grace the occasion besides the senior leadership of Tata Steel including Mr Sanjiv Paul, Vice President, Safety, Health and Sustainability Tata Steel, Dr Petrus Blauwhoff, Independent Director Tata Steel, and others.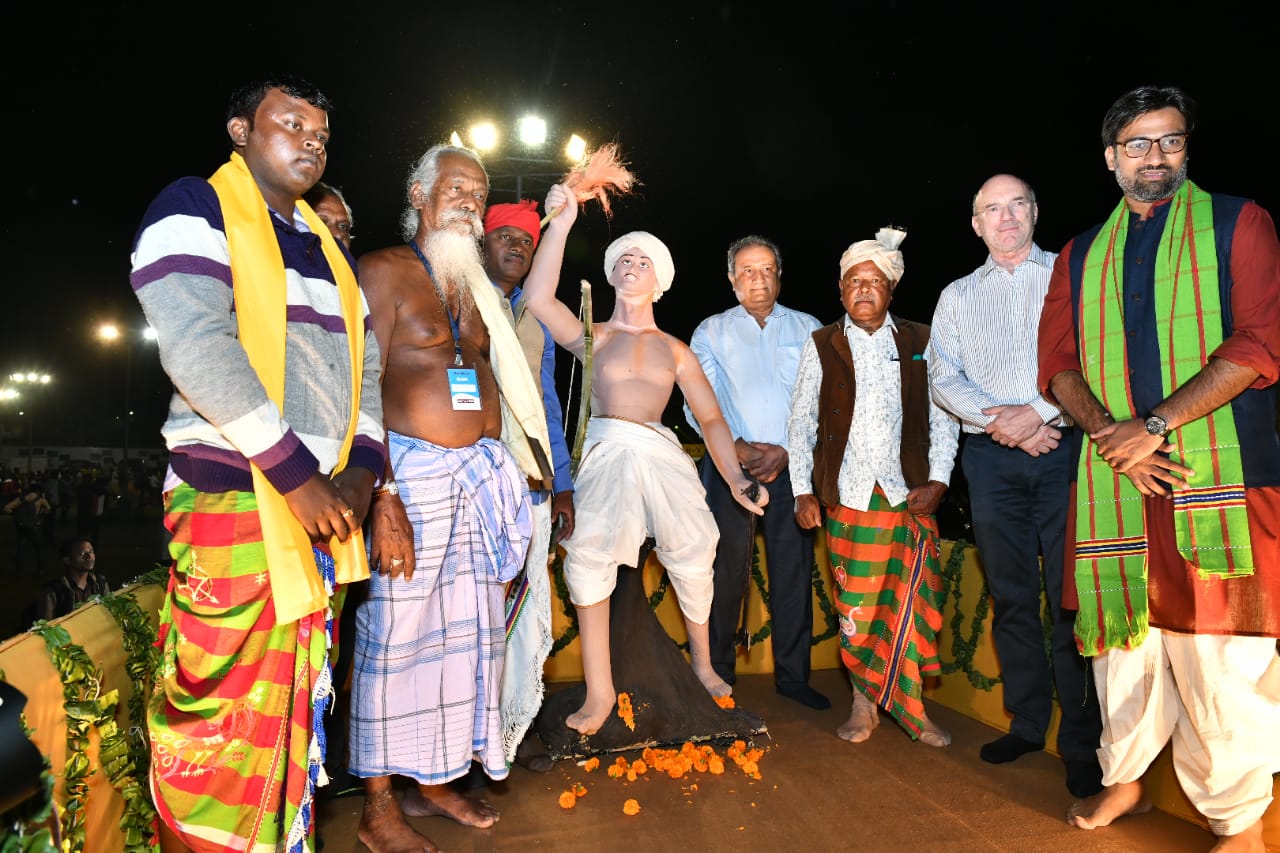 Samvaad, a unique and powerful platform created by Tata Steel's Corporate Social Responsibility, seeks to provide a platform for discourse on tribalism in India in a move to bring leaders and members from tribal communities under one roof. Over the next four days, over 1700 participants representing 137 tribes and sub tribes from 25 states and 11 countries would come together to share their ideas, thoughts and perspectives on developmental challenges in India and beyond around the theme "Coming Together for Social Change".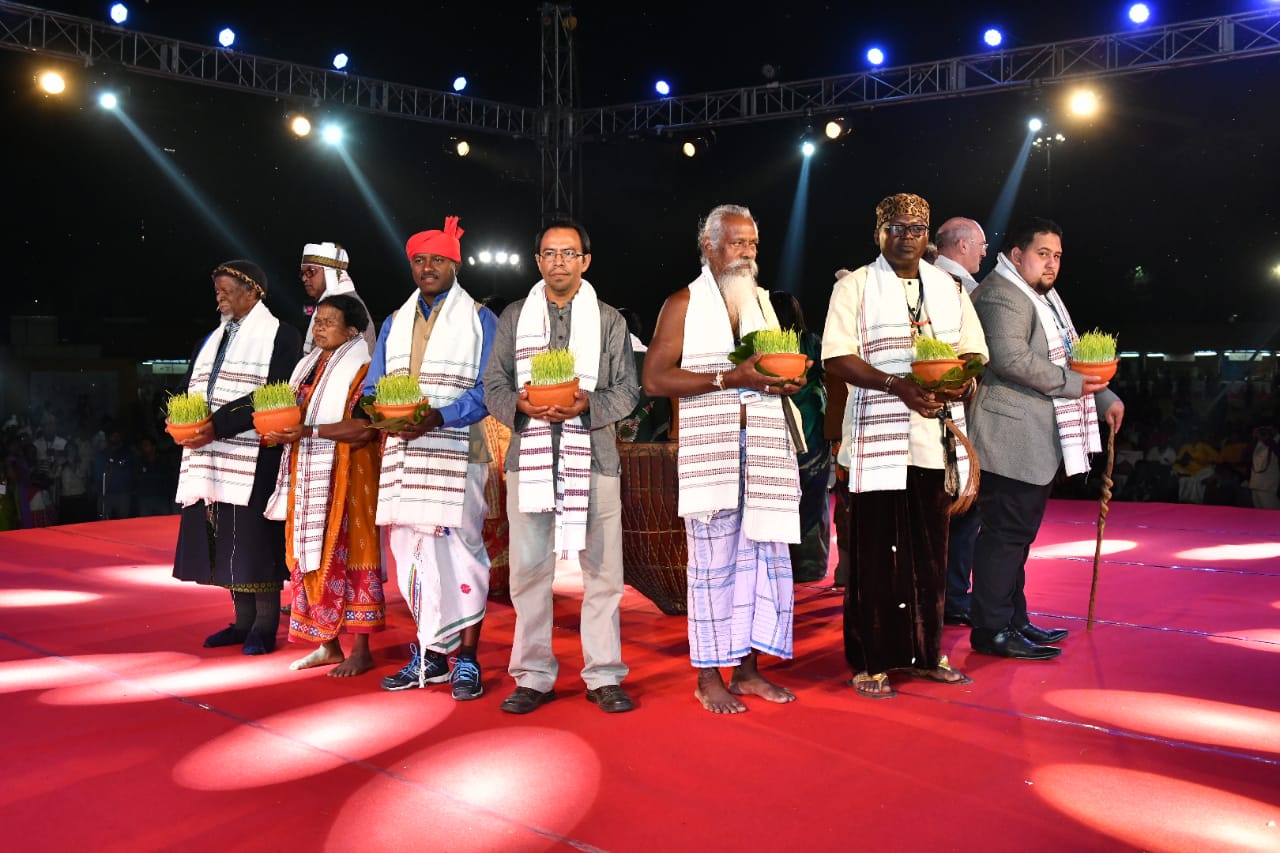 The event will witness an exchange of thoughts on critical issues affecting tribal communities in some or other way. They will mainly focus on 'Tribal Culture and Identity', 'Land and Forest Rights for Tribal Communities', Tribal Perspectives on Governance and Development', 'Peace Building and Conflict Resolution'. The deliberations will take place in the morning and day time at the Tribal Culture Centre (TCC) during the next four days after today's inauguration.
Participants have come for Samvaad 2018 from states across the country including Nagaland, Chhattisgarh, Manipur, Meghalaya, Andhra Pradesh, Odisha, Madhya Pradesh, Tamil Nadu, Gujarat, Jharkhand, Rajasthan, Tripura, Karnataka, Kerala, Assam, Sikkim, Maharashtra, Arunachal Pradesh, Mizoram, West Bengal, Uttarakhand, Jammu & Kashmir and Himachal Pradesh.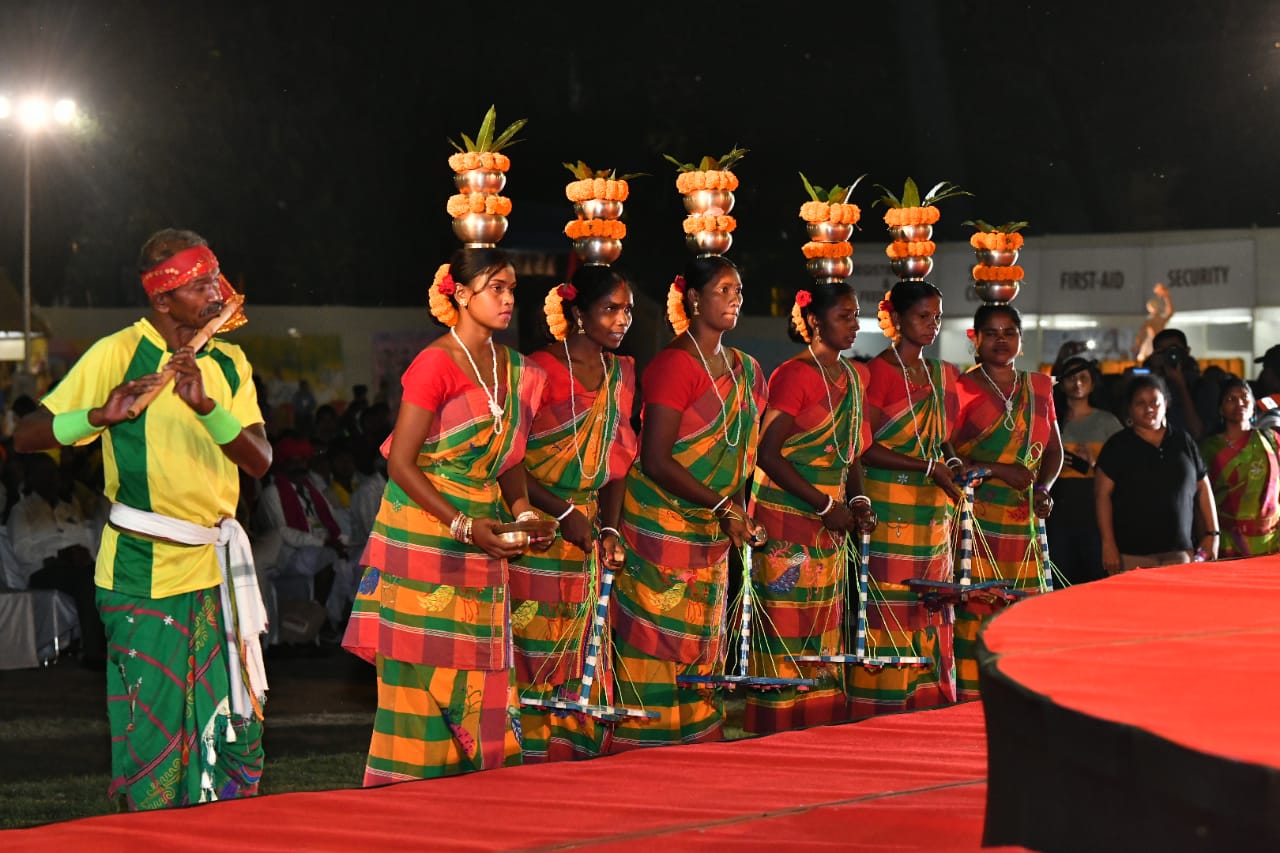 During the five-day event, around 230 participants from various tribal communities would showcase Tribal Healers' workshop, Immersive Experience in Tribal Art and Craft, Tribal Medicinal Haat, Aaatithya – the Samvaad-Taj collaboration - among other. Moreover, 33 international guests are all set to visit the mega event while over 400 participants would be part of various traditional cultural troupes who would be showcasing their cultural heritage at Gopal Maidan each evening, all five days. The visitors can also fulfill their taste buds by visiting the food stalls, which will serve traditional tribal cuisine items, mostly organic in nature. The inaugural evening was livened up with the performance of Bastar Band. The band presented indigenous music showcasing rich cultural heritage of tribals from central part of India. Karma dance was performed by the Kharia tribe of West Bengal.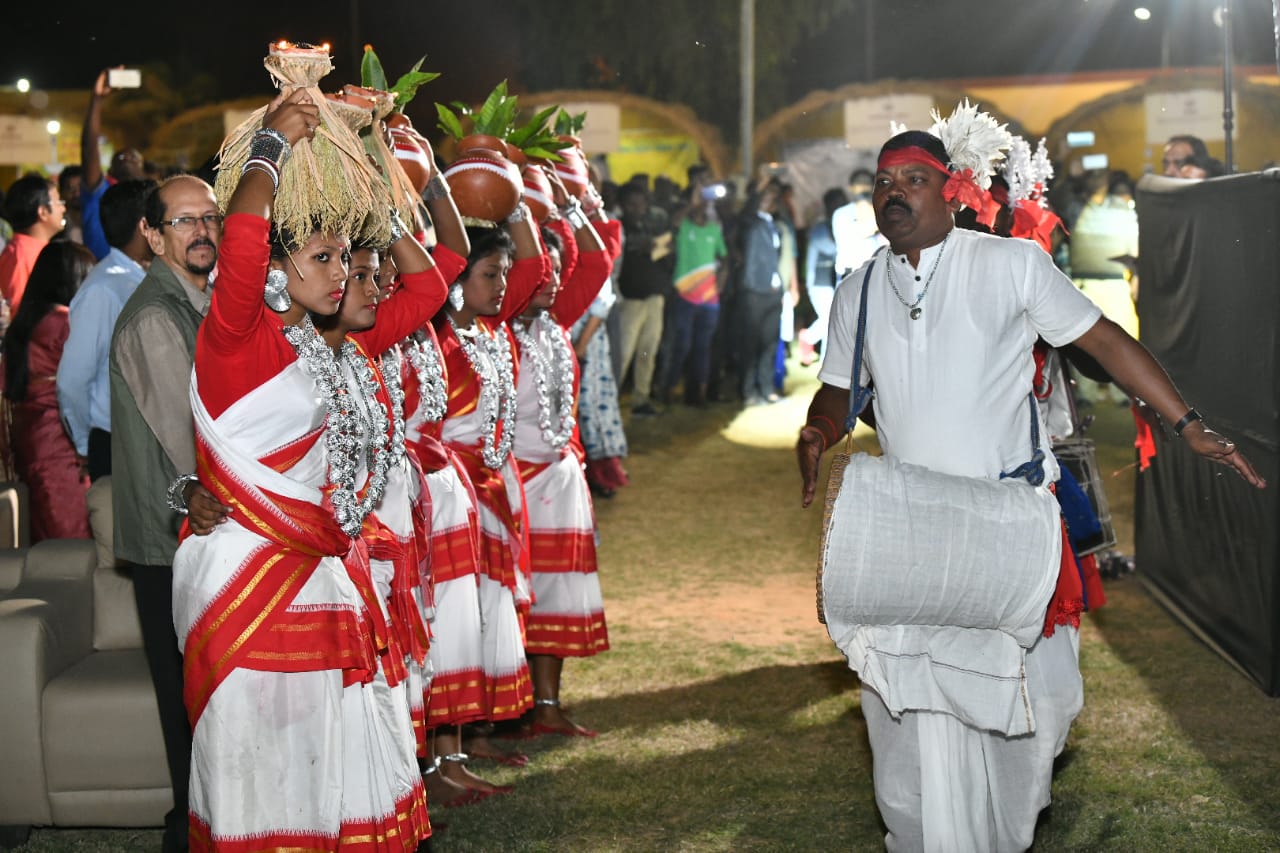 Mr Sourav Roy, Chief, CSR, Tata Steel, said: "In its fifth year, Samvaad is poised to celebrate tribal culture and explore an alternative perspective on development. While the mornings are reserved to understand some incredible stories of collective action, the evenings would be a one-of-its-kind celebration of tribal music, art, craft, cuisines and healing practices. The continued confidence placed in us by tribal communities remains a source of inspiration, and I hope all of Jamshedpur will join us in welcoming them."
Coming Highlights of Day#2 of Samvaad:
November 16, 2018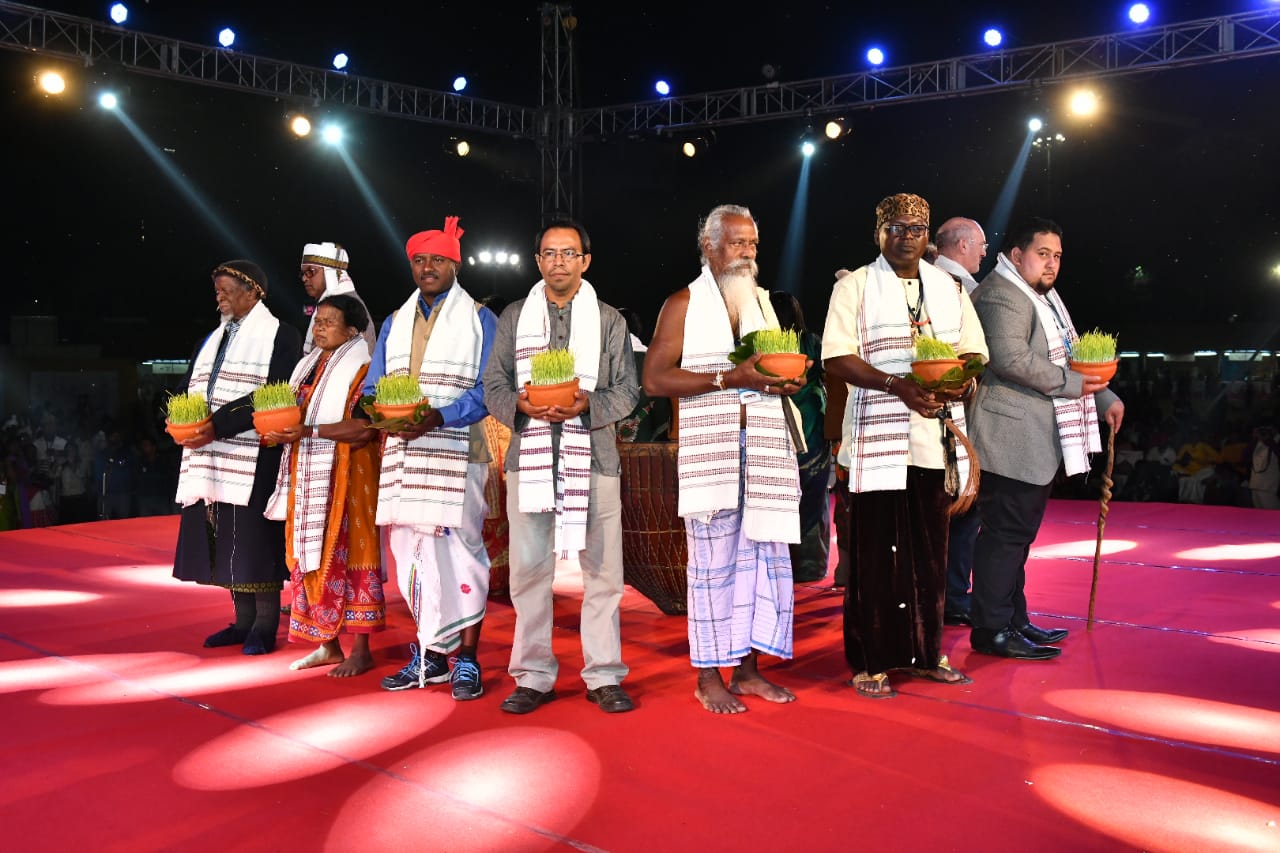 Reflections: Contemplations
Traditional Prayer Ceremony
Theme for the Day
Stories and experiences
Fostering a shared perspective
Experts' views
Tribal healers' experience
Ahead of the main event that today kicked off in Jamshedpur, regional editions of Samvaad were held earlier this year in Odisha, Tamil Nadu, Rajasthan, Nagaland, Chhattisgarh and Jharkhand wherein 720 members of India's tribal communities spread over 19 states in India, participated.
About Samvaad
'Samvaad' is a platform for the tribes to exchange ideas, thoughts and share their concerns It was instituted by Tata Steel as a tribal conclave in 2014, where more than 1500 tribal representatives from across the country showcased their cultural heritage and the novel experience of tribal life.
Samvaad encourages tribal communities to take the lead in initiating discourse on issues that govern their social sustenance and development. Samvaad is now fast growing as an eco-system where tribal thoughts and voices manifest in various forms – be it a discourse, a work of research, music, food and cuisine collaboration or even documentaries. The concept of regional Samvaad was initiated in 2016 with the objective of reaching out to more tribal communities in the hinterland and factor unheard voices therein. Since its inception, Samvaad has witnessed a flurry of discussions and activities under identified themes including Preservation, Protection and Promotion of Tribal languages (2015), Tribal Health Systems (2016) and 'Aspirations of Tribal Youth & Leadership for Future' (2017).
About Tata Steel                  
Tata Steel Group is among the top global steel companies with an annual crude steel capacity of 27.5 million tonnes per annum (MTPA) as on March 31, 2018. It is one of the world's most geographically-diversified steel producers, with operations in 26 countries and a commercial presence in over 50 countries. The Group recorded a consolidated turnover of US $20.41 billion (INR 133,016 crore) in FY18. Tata Steel Group is spread across five continents with an employee base of over 65,000. Tata Steel retained Industry Leader position in FY18 and ranked second overall in the DJSI assessment, 2017. The Company has been recognised as the Climate Disclosure Leader in 'Steel category' by CDP (2017). Besides being a member of the World Steel Climate Action Programme, Tata Steel was felicitated with several awards including the Prime Minister's Trophy for the best performing integrated steel plant for 2014-15 and 2015-16, Best Risk Management by CNBC TV18 (2018) and 'Corporate Strategy Award' by Mint (2018). The Company also received the 'Most Ethical Company' award from Ethisphere Institute for the sixth time (2018), Steel Sustainability Champions (2017) by the World Steel Association, Dun & Bradstreet Corporate Awards (2017 & 2018), Golden Peacock HR Excellence Award by Institute of Directors (2017) as well as 'Asia's Best Integrated Report' award by the Asia Sustainability Reporting Awards (2017), among several others.
Disclaimer
Statements in this press release describing the Company's performance may be "forward looking statements" within the meaning of applicable securities laws and regulations. Actual results may differ materially from those directly or indirectly expressed, inferred or implied. Important factors that could make a difference to the Company's operations include, among others, economic conditions affecting demand/ supply and price conditions in the domestic and overseas markets in which the Company operates, changes in or due to the environment, Government regulations, laws, statutes, judicial pronouncements and/ or other incidental factors.