Tata Steel begins 5 MTPA Phase-II expansion of its Kalinganagar plant
Bhubaneswar, November 12, 2018
~Hon'ble CM Shri Naveen Patnaik performs the groundbreaking ceremony during 'Make In Odisha Conclave 2018'~
~The Rs 23,500 cr expansion project to be completed within 48 months~
~Phase-II to increase capacity in Kalinganagar by 5 MTPA to 8 MTPA~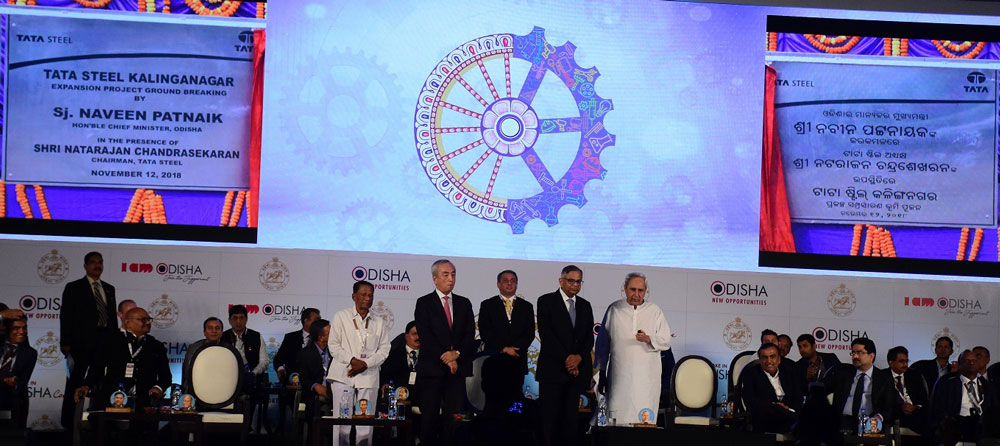 The groundbreaking ceremony for the expansion to 8 million tons per annum (MTPA) capacity of Tata Steel's Kalinganagar plant was held today by the Hon'ble Chief Minister of Odisha Shri Naveen Patnaik during the 'Make In Odisha Conclave 2018.'
The ceremony was performed in the presence of Mr Natarajan Chandrasekaran, Chairman, Tata Group and Mr TV Narendran, CEO & Managing Director, Tata Steel via video conferencing from Bhubaneswar, where the Make In Odisha Conclave 2018 is in progress.
The project will cost the company Rs 23,500 crore and will be completed within 48 months. The project configuration and costs includes investments in raw material capacity expansion, upstream and mid-stream facilities, infrastructure and downstream facilities including a cold rolling mill complex.

"Tata Group's association with the State of Odisha is very deep. It has over 100 years of relationship. Tata Steel has a very large capacity state-of-the-art plant in the State. With the phase-II expansion of Tata Steel Kalinganagar, Tata Group's investment in the State will cross Rs 100,000 crore," said Mr N Chandrasekaran, Chairman, Tata Group.
Mr Chandrasekaran also announced that the new 500-bed multi-speciality hospital at Gopalpur in Ganjam district of the State, being constructed by Tata Steel, will soon be ready. This will be in addition to an already operational eye hospital in Gopalpur and a multi-speciality hospital in Kalinganagar.
The total capacity of Tata Steel India operations following this expansion will be 23.6 MTPA, that includes existing capacity of 10 MTPA at Jamshedpur, 3 MTPA at Kalinganagar and 5.6 MTPA of Tata Steel BSL.
"Kalinganagar has been a remarkable story for Tata Steel. Within a year of its commissioning, we were at almost full capacity utilization, and now we are beginning the second phase of our expansion. The envisaged product mix will consolidate Tata Steel's presence in the automotive and high end quality product market segments. The Kalinganagar facility is expected to be, one of the lowest-cost producers of steel in the world," said Mr TV Narendran, CEO & MD, Tata Steel.
Following the successful implementation of the Phase I of the Kalinganagar Project in Odisha, the Company decided to go ahead with the next phase of expansion of capacity in Kalinganagar by 5 million tons per annum from 3 MTPA to 8 MTPA. The expansion will meet the requirements of automotive, general engineering and other value added segments.
Tata Steel Kalinganagar plant, which commenced commercial production in May 2016, has generated direct and indirect employment opportunities for more than 21,955 persons in the State. This includes direct employment of 3,611 and indirect (contractual) employment for 18,344 persons.
While 59.62 per cent of the total employees engaged directly by Tata Steel are from Odisha, 80.71 per cent of the total contractors' workforce working for Tata Steel belong to the State. Importantly, 22.76 per cent (822) of employees engaged directly by Tata Steel and 32.07 per cent (5884) of the total contractors' workforce working for the Company belong to the district of Jajpur.
Tata Steel, which always strives for the development of local people, is also promoting employability training of local youths in a major way. Skill Development training for placements and self-employment are being provided through Tata Steel Rural Development Society (TSRDS).
To provide a source of livelihood to unemployed youths of the Kalinganagar, Tata Steel sends them for skill development training to reputed institutes. In the last four years, 358 youths were imparted skilling across various sectors.
About Tata Steel:
Tata Steel Group is among the top global steel companies with an annual crude steel capacity of 27.5 million tonnes per annum (MTPA) as on March 31, 2018. It is one of the world's most geographically-diversified steel producers, with operations in 26 countries and a commercial presence in over 50 countries. The Group recorded a consolidated turnover of US $20.41 billion (INR 133,016 crore) in FY18. Tata Steel Group is spread across five continents with an employee base of over 65,000. Tata Steel retained Industry Leader position in FY18 and ranked second overall in the DJSI assessment, 2017. The Company has been recognised as the Climate Disclosure Leader in 'Steel category' by CDP (2017). Besides being a member of the World Steel Climate Action Programme, Tata Steel was felicitated with several awards including the Prime Minister's Trophy for the best performing integrated steel plant for 2014-15 and 2015-16, Best Risk Management by CNBC TV18 (2018) and 'Corporate Strategy Award' by Mint (2018). The Company also received the 'Most Ethical Company' award from Ethisphere Institute for the sixth time (2018), Steel Sustainability Champions (2017) by the World Steel Association, Dun & Bradstreet Corporate Awards (2017 & 2018), Golden Peacock HR Excellence Award by Institute of Directors (2017) as well as 'Asia's Best Integrated Report' award by the Asia Sustainability Reporting Awards (2017), among several others.
Disclaimer:
Statements in this press release describing the Company's performance may be "forward looking statements" within the meaning of applicable securities laws and regulations. Actual results may differ materially from those directly or indirectly expressed, inferred or implied. Important factors that could make a difference to the Company's operations include, among others, economic conditions affecting demand/ supply and price conditions in the domestic and overseas markets in which the Company operates, changes in or due to the environment, Government regulations, laws, statutes, judicial pronouncements and/ or other incidental factors.