Tata Crucible Quiz for Campus at Ranchi
Jamshedpur, March 27, 2018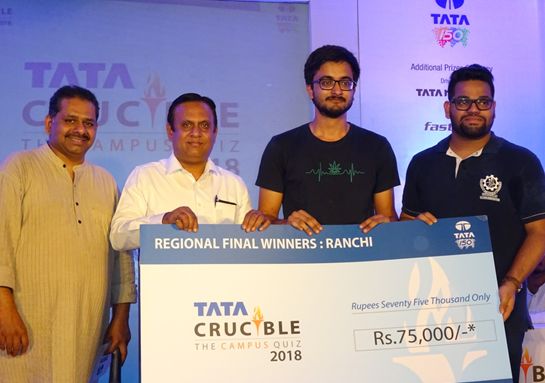 The 14th Edition of Tata Crucible Campus Quiz, India's largest and highest rated business quiz for campuses, was organized today at Marwari College, Ranchi.  Mr Shailesh Verma, Chief Resident Executive, Ranchi, Tata Steel graced the occasion as the Chief Guest.
A total of 150 teams participated in the Preliminary Round. Six teams was selected for the Final Round.  The Quizmaster was Mr. Giri Balasubramaniam and Co- Host was  Ms. Rashmi Furtado.
Tata Crucible Campus Quiz started on January 29, 2018 and will continue till April 2018, with multiple regional rounds in 38 cities across the country.
Select regional rounds will also be televised on Times Now subsequently.  The Tata group has been organizing the Tata Crucible business quiz annually for corporates and campus students to inspire young people and engage them in an exciting knowledge platform.
The enthusiastic participation in the Tata Crucible Campus Quiz has been strong each year, and last year it witnessed over 7,000 teams participating across the country in the Campus quiz.
The winners from the regional city rounds will be invited to compete at the Zonal Finals and top 2 teams from the Zonal Finals would be invited for the National Finals at Mumbai.
Results:
Winning Team: NIT Rourkela
Participants: Abhishekh Patra  and  Swayanbodha Mahapatra
Cashprize: Rs 75000
Runners up Team: IIT Dhanbad
Participants: Tejas Bagrecha and Aditya Tethliya