Shri Naveen Patnaik flags off ISRO visit of top 20 YATS 2017 winners
Bhubaneswar, June 07, 2018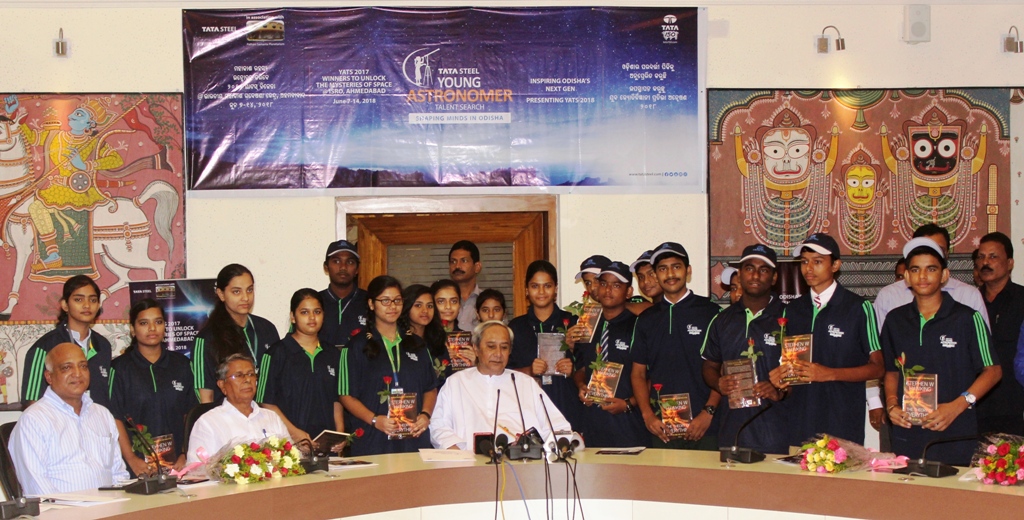 12th edition of YATS launched in Bhubaneswar
-Organised by Tata Steel in association with Pathani Samanta Planetarium-
Chief Minister of Odisha, Shri Naveen Patnaik, flagged off the exposure visit of the top 20 winners of Young Astronomer Talent Search (YATS) 2017 edition in a programme held today at the State Secretariat, Bhubaneswar. The budding astronomers who were selected across Odisha will be visiting the Space Application Centre of Indian Space Research Organisation (ISRO) at Ahmedabad. Besides visiting the facility, the students will also get one of those rare opportunities to interact with some of the top-notch space scientists of the country over there.
The 12th edition of YATS 2018 was also launched by Shri Naveen Patnaik on this occasion. With the overwhelming participation of students in 2017, the next edition was launched with much zeal and enthusiasm to make YATS much more enriching for the participating students.
The theme for 2018 is "Imagine space exploration, 50 years from now" and will include following competitions:
An open-quiz (for students of classes VI-X)
An essay competition (for students of classes IX-X)

Top two essay participants from each district will be selected and invited to the grand finale on December 13 at Bhubaneswar, the birth anniversary of Pathani Samanta. The top 20 winners will be announced and felicitated on the occasion and will be later taken on an exposure visit.
Present on the occasion were Shri Badri Narayan Patra, Minister for School & Mass Education and Science & Technology, Government of Odisha, Shri R Balakrishnan, Development Commissioner-cum-Additional Chief Secretary and Secretary to Government P & C Department, Govt of Odisha, Shri Nikunja Bihari Dhal, Principal Secretary, Department of Science & Technology, Govt of Odisha and Shri Rajeev Singhal, Managing Director, Bhushan Steel, a Tata Steel Group Company.
Shri Naveen Patnaik congratulated the student winners for their interest in the unique programme and extended his best wishes for their ISRO visit.
On the occasion, Shri Rajeev Singhal said, "YATS is a unique programme which offers bright young minds of Odisha a platform to fuel their passion in space science. The 2017 edition of YATS saw participation of 32,800 students in 300 schools across all 30 districts of the state. Continuing our association with the Planetarium, in its 12th edition in 2018, we intend to make YATS much more enriching for the participating students. We are thankful to the Government of Odisha and Pathani Samanta Planetarium for extending all support in making this venture a successful one, year-on-year."
YATS, organized by Tata Steel in association with Pathani Samanta Planetarium, has come to be regarded as a very popular initiative for the school students of Odisha. It started in 2007 with an aim to identify and encourage the talents of school children in the field of astronomy and space science and to popularize the great contributions of the legendary astronomer of the state, Pathani Samanta.