Day 4 of National Road Safety Week observed at Tata Steel
Jamshedpur, January 11, 2018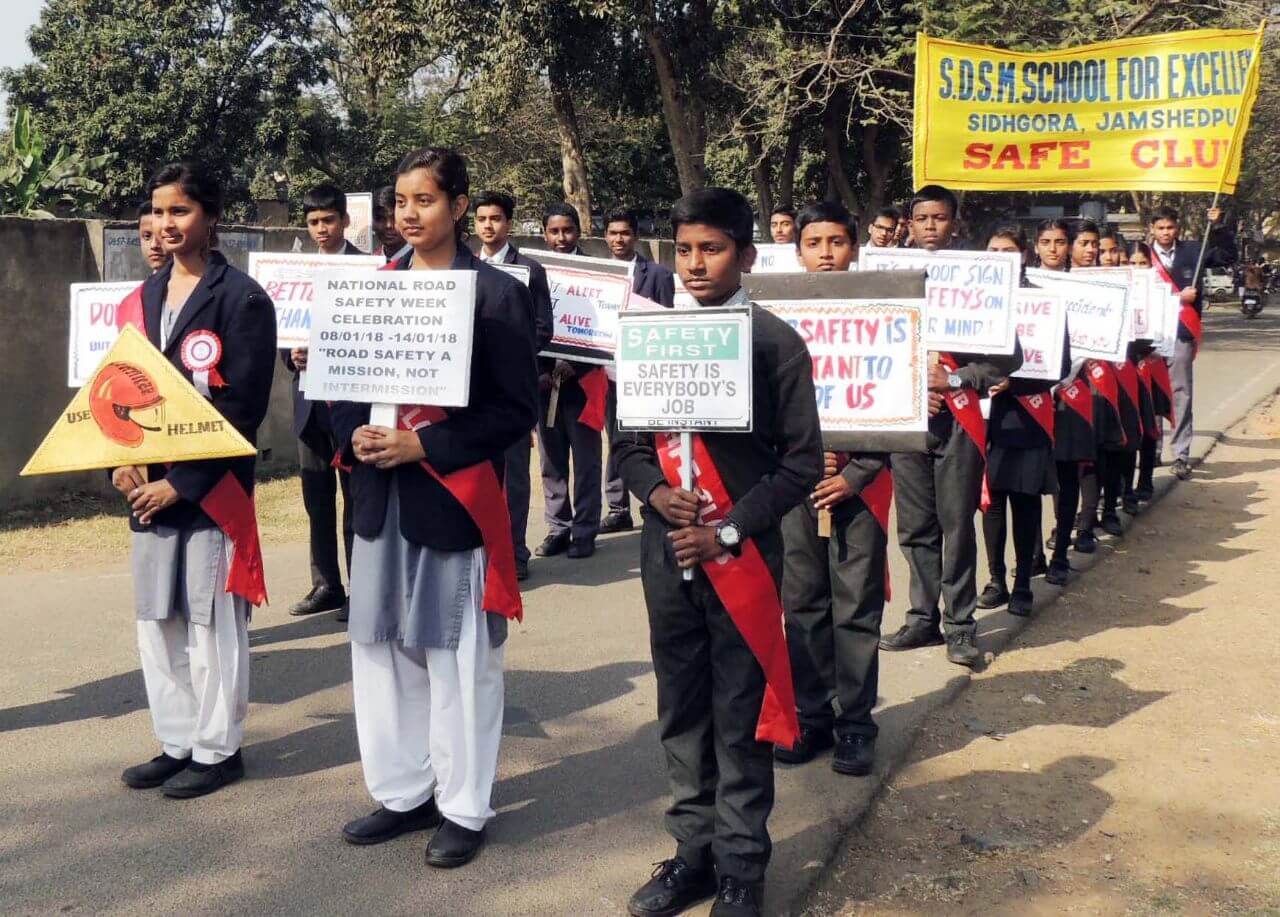 Day 4 of National Road Safety Week was observed today at Tata Steel Works and in the City.
Following are the activities that were observed as the part of celebrations:
Members from Safety Department organized a Road Safety campaign at Jubilee park. During the event they checked the crash helmet compliance and counselled all the triple riders.
Mass communication meeting was organized at Research &Development Division.  Dr Atanu Ranjan Pal, Chief, R &D, Tata Steel spoke on the topic of Road Safety. It was attended by all the employees and contractors of Tata Steel.
Counselling of officers and supervisors was done at Bar Mill canteen by Chairman of AICE. All were asked  to wear florescent jackets while walking inside plant premises.
Hazard hunt Audit was conducted by contractors at different divisions across the organization.
Road survey was carried out by a cross functional team of various divisions. Illumination level of street lamps was checked at both branch and main road of the plant premises.
Essay competition among the contractors and supervisors was organized at various locations of plant.
Fitness of all heavy vehicles was checked at different departments.
Training on safe operating procedure(SOP) of loading & unloading conducted at various locations.
Some of the activities organised by SAFE Club today are:
Students of JUSCO school South Park & SDSM school organized a Safety Rally in Bistupur market.
A session for all van drivers is planned for tomorrow at SDSM & Jusco school South Park.  The event will be organised with the support of Safety Department, Tata Steel
Road Safety Bookmarks were distributed at DBMS School.
Students from ADLS Sunshine and Hilltop today formed a Safety Squad. The purpose of the squad was to educate parents on Road Safety behavior.
Some of the activities organized by JUSCO today are as follows:
Checking of Helmet and overriding with the support of traffic police at Jubille Park Gate no 1. The team interacted with nearly 3000 riders.
Checking of Helmet and overriding with the support of traffic police at Baridih Roundabout. The team interacted with nearly 2500 riders.
Road Safety awareness programme for school children at Lajpat High School, People Academy at Baradwari.
As part of the celebrations activities carried out by JUSCO on January 10, 2018 are as follows:
Helmet and overriding checking supported by Chamber of Commerce and Traffic Police at Jugsalai Roundabout.  The team interacted with nearly 1500 riders during the checking.
Helmet and overriding checking at Bistupur Roundabout supported by Safety Department, Tata Steel and Traffic Police. The team interacted with nearly 1000 riders.
Road Safety Awareness Programme in DSM School, Kasidih. The team interacted with around 150 students