Convocation ceremony of the 1st batch of training center for persons with disabilities held at Tata Steel Noamundi
Noamundi, February 13, 2018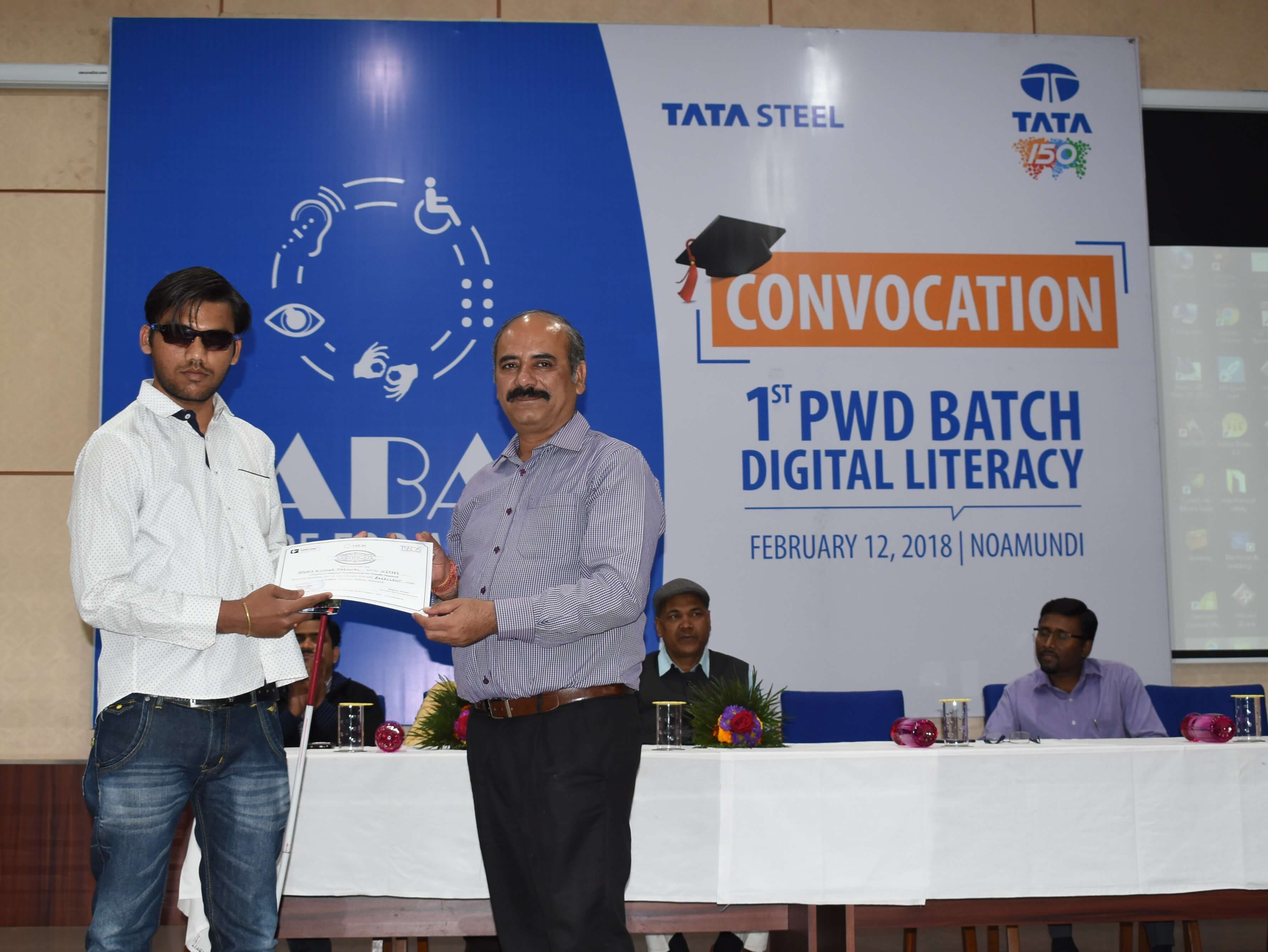 The convocation ceremony of the first batch of SABAL, Centre for Abilities on Digital Literacy was held at JRDTTI auditorium yesterday. Mr Satish Chandra, State Disability Commissioner, Government of Jharkhand, Dhurwa, Ranchi graced the occasion as Chief Guest along with Mr Pankaj Satija, General Manager, Ore Mines & Quarries (OMQ) Division, Tata Steel.
A total of 14 persons with Disability (PWD), who underwent the 7 week Digital Literacy programme, learned basics of computer through Non Visual Desktop Access (NVDA) software. They were trained by Mr Rana Tarsekar, Trainer for Visual Impairment and Mr Naveen Kumar, Trainer for Visual Impairment from Enable India.
Speaking on the occasion, Mr Chandra said: "Life is full of learnings and I have learned that disability is enhanced ability in disguise. I am in awe of the spirit that these students showcased. Let's do our bit in being more inclusive and appreciative."
Expressing his happiness, Mr Satija said: "It is heartening to see that our initiatives taken to promote Diversity & Inclusion have begun to blossom. The passion and dedication that these students have is commendable. Best wishes to all the student for future."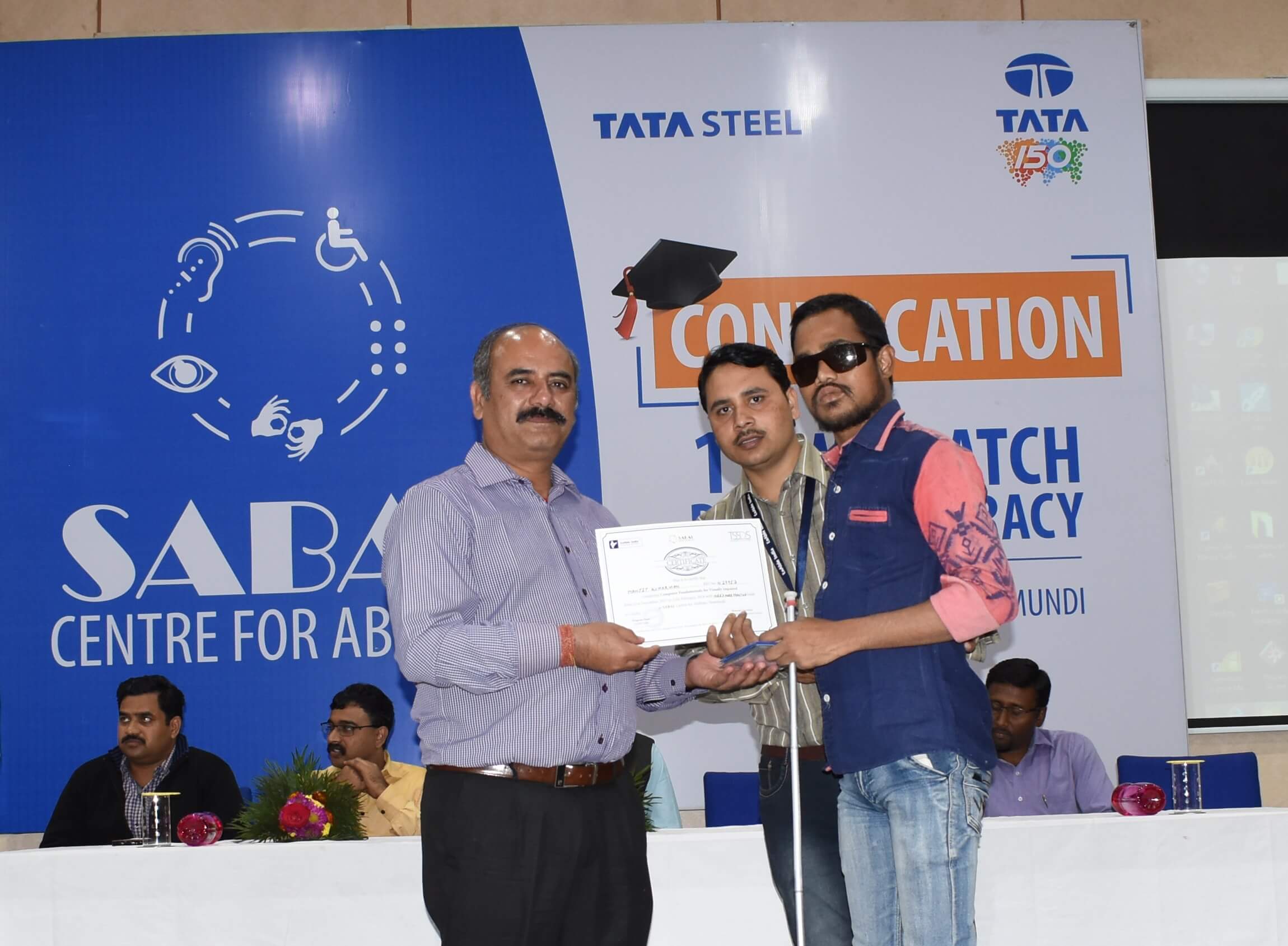 The first batch comprising of 11 males and 3 females, completed two special projects namely the plantation and safety awareness project which they presented in the form of a powerpoint presentation.
 "SABAL" a joint initiative of Tata Steel Skill Development Society (TSSDS) and Enable India for PWD is an institution for aspirants who want to make a mark and succeed in life.
Present on the occasion were Mr R.P Mali, Chief Noamundi Iron Mine, Tata Steel, Mr Parthasarathi Mishra, Chief HRM (OMQ) , Tata Steel, Mr Allen Joseph, Unit Head, TSRDS, Noamundi  and Dr Dhirendra Kumar, Chief Medical Officer, Tata Steel Hospital Noamundi.
About Tata Steel
Tata Steel Group is one of the world's largest steel companies with a steel production capacity of approximately 27.5 million tonnes per annum (MnTPA) as on March 31, 2017. It is a geographically-diversified steel producer, with operations in 26 countries and a commercial presence in over 50 countries. The Group recorded a revenue of INR 117,420 crore in FY17. Tata Steel Group has an employee base of nearly 70,000 employees as of March 31, 2017. Tata Steel has successfully challenged the Deming Grand Prize in 2012, received the Prime Minister's Trophy for the 'Best Performing Integrated Steel Plant', 'Greenco Platinum Rating' by CII Green Building Council for environmental performance at Jamshedpur steelworks, 'Best Place To Work' in the core sector (steel, oil, power and minerals) by Business Today (2017), 'World's Most Ethical Company' award from the Ethisphere, USA (2017), among several others.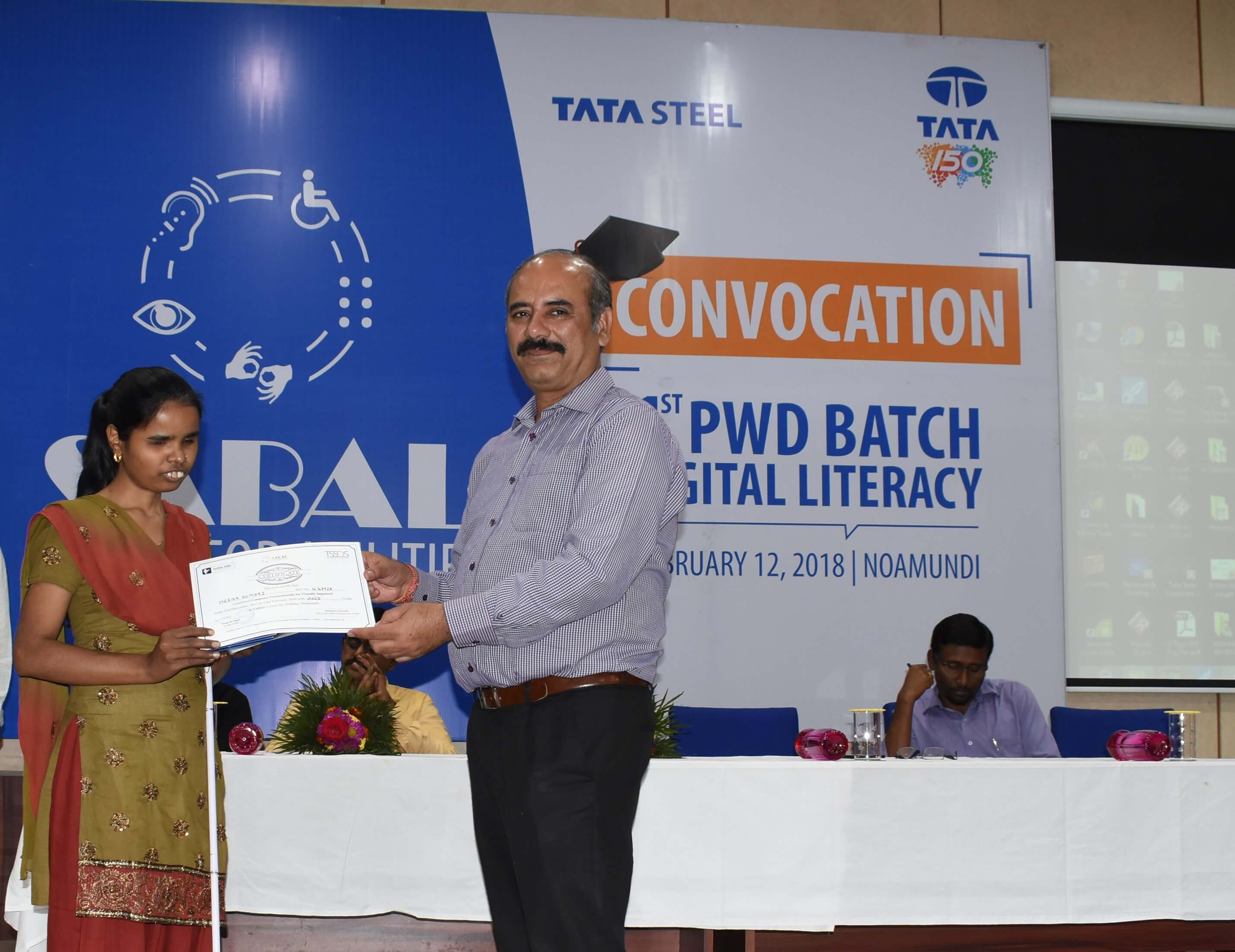 Tata Steel Limited is proposing, subject to market conditions and other considerations, a rights issue of its ordinary shares and has filed a Letter of Offer with SEBI and the Stock Exchanges. The Letter of Offer is available on the website of SEBI at www.sebi.gov.in and the websites of the Lead Managers to the Issue at http://www.investmentbank.kotak.com, http://www.axiscapital.co.in, http://www.hdfcbank.com, http://www.icicisecurities.com and http://www.sbicaps.com. Investors should note that investment in equity shares involves a high degree of risk and are requested to refer to the section titled "Risk Factors" on page 11 of the Letter of Offer for details of the same. The securities offered via the Letter of Offer are not being offered to investors outside of India and recipients of the Letter of Offer should refer to the offering restrictions noted therein.
Disclaimer
Statements in this press release describing the Company's performance may be "forward looking statements" within the meaning of applicable securities laws and regulations. Actual results may differ materially from those directly or indirectly expressed, inferred or implied. Important factors that could make a difference to the Company's operations include, among others, economic conditions affecting demand/ supply and price conditions in the domestic and overseas markets in which the Company operates, changes in or due to the environment, Government regulations, laws, statutes, judicial pronouncements and/ or other incidental factors.