Tata Steel's Noamundi Iron Mine bags Overall Performance Award in the MEMC Week 2016-17, Kolkata
Kolkata, February 27, 2017
~Wins six awards in total~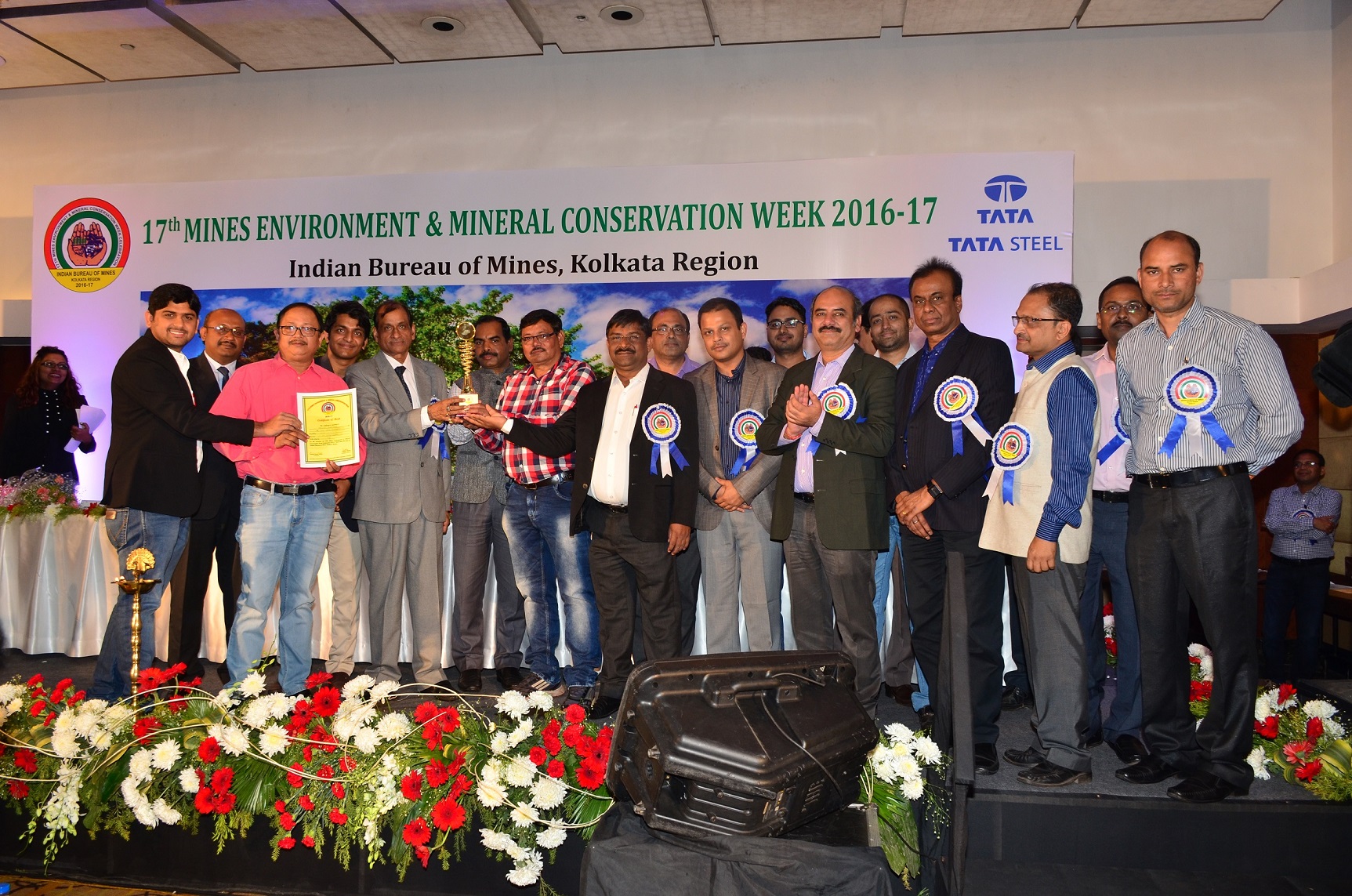 Tata Steel Noamundi Iron Mine (NIM) bagged the first prize in the Overall Performance category in the 17th Mines Environment and Mineral Conservation (MEMC) week organized under the aegis of Indian Bureau of Mines (IBM), Kolkata Region held on February 25, 2017. NIM also got the first prize under the category of Five Star Rating System among 14 mines that participated in the MEMC Week. It needs to be mentioned here that NIM is the first mine in the country to conduct pilot launch of Drone Application in Mine Monitoring.
The other prizes bagged by NIM include first prizes in Mineral Beneficiation and Sustainable Development and second prizes in the Afforestation and Best Stall categories. Shri Mr Ranjan Sahai, Controller General (I/C), IBM graced the occasion as the Chief Guest.
Inspection team members from the different mines visited the participating mines and evaluated their performance based on afforestation, waste dump management, systematic and scientific development, mineral conservation, reclamation and rehabilitation, mineral beneficiation, environmental monitoring, sustainable development, Publicity & Proganda as well as CSR activities of the mines. A panel of judges evaluated two crucial developments SDF (Sustainable Development Framework) and Five Star Rating System after rigorous assessment.
Tata Steel NIM was the host for the final day of 17th MEMC Week of Kolkata Region which was attended by dignitaries like Mr M Biswas, Controller of Mines Central Zone, IBM, Mr A Nandi, Regional Controller of Mines, IBM Kolkata, Mr Rajeev Singhal, Vice President (Raw Materials), Tata Steel, Mr Pankaj Satija, General Manager (Ore, Mines & Quarries), Tata Steel and other senior officials of Tata Steel.
Expressing gratitude on receiving the awards, Mr Rajeev Singhal, Vice President (Raw Materials), Tata Steel said: "As we progress towards scientific and efficient mining practices for a sustainable future, such recognition is very encouraging. Tata Steel is always committed to adopting the best practices in mining that ensures minimal impact on the environment and the community. Our way of doing business involves adopting innovation in the face of challenges, inclusive approach and optimum utilisation of natural resources. We believe that mining efficiently is the key to a sustainable future."
Shri Mr Ranjan Sahai, Controller General (I/C), IBM expressed happiness and congratulated Tata Steel for their significant contribution towards the Mining industry.
Tata Steel is committed to ensuring sustainable mining through its operations spread over the world. Certified as per the highest international standards, the Company ensures raw material efficiency and conservation through advanced technologies. NIM is one of the best open cast iron ore mines in the world with state-of-the-art and sophisticated mining operations and ensures continuous improvement and upgradation of processes towards sustainable mining and responsible utilisation of natural resources. It has adopted technologies like the 3D Laser Scanners for Surveys; a GPS based vehicle-tracking system, XACT for short-term scheduling and MPOP. NIM is progressing fast on the new-age technologies like APP based Daily Reports, Shift Data logging via Mobile Apps, PLC based control with advanced monitoring equipment & PIMS, Central Complaint Management System and Yard Management using 3D Scanner and remote monitoring of operating parameters & CCTVs via Mobile Apps
MEMC Week
Celebration of Mines Environment and Mineral Conservation (MEMC) Week is to promote greater awareness among the employees and local population in maintaining greener and cleaner environment under the aegis of Indian Bureau of Mines. The Mines Environment & Mineral Conservation Week is being celebrated under the aegis of Indian Bureau of Mines, Kolkata. During the Mines Environment & Mineral Conservation Week the mines are inspected by a team consisting of members of different mining fraternity to evaluate the themes related to environment and conservation of mineral.
IBM
The Indian Bureau of Mines was set up on 1st March, 1948 as an advisory body. The present primary function is for promotion of conservation, scientific development of mineral resources and protection of environment in mines other than coal, petroleum & natural gas, atomic minerals and minor minerals. IBM has 3 Zonal offices(Central, South & North), 14 Regional offices, 1 Sub-regional office , 3 modern mineral processing dressing laboratories and Pilot plants spread over the country with its Headquarters at Nagpur, the Kolkata Regional office is one of the important region of the Indian Bureau of Mines having geographical jurisdiction covering .The primary mission of Indian Bureau of Mines is to promote systematic and scientific development of mineral resources of the country (both onshore and offshore), through regulatory inspections of the mines, approval of mining plans and environment management plans to ensure minimal adverse impact on environment.
About Tata Steel
Tata Steel Group stands among the top global steel companies with an annual crude steel capacity of 28 million tonnes per annum (MnTPA) and a turnover of US $17.69 billion in FY16. It is the world's second-most geographically-diversified steel producer, with operations in 26 countries and commercial presence in over 50 countries. Established in 1907, the Group's vision is to be the world steel industry benchmark in "Value Creation" and "Corporate Citizenship" through the excellence of its people, approach and overall conduct. Underpinning this vision is a performance culture committed to aspiration targets, safety and social responsibility, continuous improvement, openness and transparency. Having bagged the Deming Application Prize and Deming Grand Prize for continuous improvement in 2008 and 2012 respectively, Tata Steel has now been recognised as the global 'Industry Leader' in 'Steel category' by Dow Jones Sustainability Index. Besides being one of 'worldsteel's' Climate Action members, it has also been awarded the CII ITC Sustainability Prize, the 'Best-in-class Manufacturing' by TIME Award, the Prime Minister's Trophy for the best performing integrated steel plant, among several others.
Kulvin Suri
Chief, Corporate Communications, India & SEA
Tata Steel
E-mail:
kulvinsuri@tatasteel.com