Tata Steel organizes Master Trainers' Training Program on Disaster Management 27 Nov – 08 Dec 2017
Jamshedpur, December 08, 2017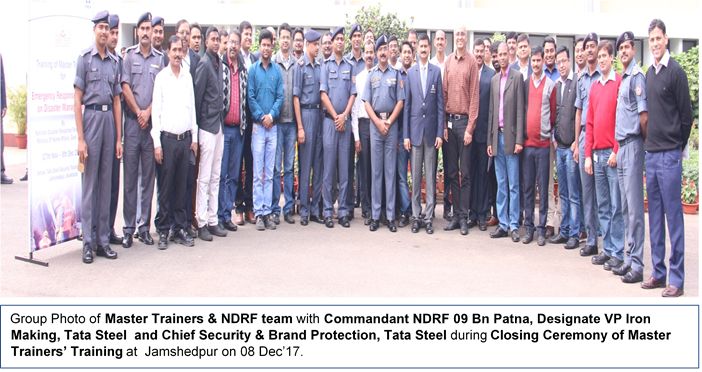 A 'Master Trainers Training Program' was organised at Tata Steel Jamshedpur from 27 November to 08 December 2017 for 31 officers from Tata group of companies including doctors, engineers, fire, safety & security professionals selected across all major locations of Tata in India including one Chief Security officer of XLRI, Jamshedpur. The ten- day programme conducted by the training team of NDRF included class room training and demonstration/practice on Medical First Responder, Collapse Structure Search & Rescue, Fire Management and Lifesaving & Search equipment for the management of various contingencies.
The programme was inaugurated by Shri Prabhat Kumar, IPS, City SP, Jamshedpur at the Beldih Club, Jamshedpur on 27th Nov 2017.
Speaking on the occasion, Shri Prabhat Kumar, IPS, formally praised the initiative of Tata Steel to skill the Master trainers on Disaster Management who in turn will train other employees and the members of community. He called upon concerted collaboration among all the departments of the government, corporations and community to augment preparedness to deal with all known and unforeseen contingencies. He assured to extend all possible support by the District administration in such capacity building initiatives.
Mr. B K Das, Vice President, Iron Making & Chairman Apex Process Safety & Disaster Management Sub-committee, Mr. Sunil Bhaskaran, Vice President, Corporate Services, Mr. Gopal Prasad Choudhary, Chief Security& Brand Protection apprised about various initiatives being taken by Tata Steel on Disaster Management and reiterated the resolve of Tata Steel to make all its establishments safe and geared up to prevent and manage any contingency. 
Mr Alok Kumar Deputy Commandant, Mr Vivek Chouhan, Deputy Commandant and their other team members from the 9th Battalion, NDRF, Patna imparted the training to the Master Trainers. They displayed various life-saving & rescue equipment required for handling of various emergencies during Disaster Management and their utilities were explained to the dignitaries and participants. All the Master trainers were made to handle these equipment during the training.
Mr Vijay Sinha, Commandant, 9th Bn NDRF, Patna was present in the feedback session on 8th Dec'17, He focussed on the importance of golden hour of any disaster, within the time, someone rescued and medical treatment given, the life can be saved. He urged the trainers, apart from Tata Steel employees, teach the techniques which you learnt during 10 days of emergency response training, to every-one of the community - adults, children and particularly housewives who can help the victims in need. He committed to be in touch with and to be continued such a help in future for other aspect of disaster management like high rise building, mock drill etc.
After completion of the training a test was conducted by NDRF and the qualified trainers were awarded certificate by Shri Vijay Sinha, Commandant 09 Bn NDRF Patna and Shri Uttam Singh, Designate VP Iron Making during the closing ceremony organised at the Beldih Club, Jamshedpur on 8th Dec 2017. Participants appreciated the skills acquired during the training and expressed confidence in conducting similar programs in their respective locations.
Tata Steel in collaboration with subject matter experts & these master trainers is conducting 3 Days ERT training across the organisation at 7 training hubs - Jamshedpur, Coal (West Bokaro, & Jharia ), Kalinganagar, OMQ ( Noamundi & Joda), FAMD ( Sukinda, Bamnipal & Joda),  Western Zone ( CRCW & Global Wires) and Easter Zone (Tata Centre Kolkata, HMC Haldia, Tata Bearings Kharagpur) with an aim to train maximum number of employees and contractor workers on structured response drills to act as first responders during any contingency.
On closing ceremony of Master Trainers' Training, Mr Uttam Singh, Designate VP Iron making, appreciated the initiative of creating master trainers on disaster management to build up capability of Tata Steel employees on emergency response and preparedness. He praised NDRF team for the noble support in imparting this training to Tata Steel officers joined from across the organisation. Mr. Gopal Prasad Choudhary, Chief Security & Brand Protection Tata Steel appreciated the efforts of the NDRF trainers in imparting training to enable Tata Steel officers to conduct similar training at their respective locations.
Senior management officials of Tata Steel lauded the support extended by NDMA and NDRF especially by Dr D N Sharma, Member, NDMA, Mr Amit Tuteja, Expert, Chemical Disaster Management in NDMA and Mr Sanjay Kumar, IPS, DG NDRF. They also appreciated the support being extended by Commanding Officer, 9th Battalion NDRF and his team.
Tata Steel pioneered the Public Private Partnership with National Disaster Management Authority (NDMA) and National Disaster Response Force (NDRF) for building organisational capability on structured emergency response as a part of Disaster Management Plan.
Course Objective 
To build capacity of TSL officers so that they may further train the employees to act as first responders and for supporting the response agencies during any disaster. The training programs contribute on following aspects of disaster management:
Provide on-site Pre-Hospital Treatment to victims of different trauma cases to stabilize their conditions.
Detect / determine the Severity of Victims.
Perform Emergency Lifting & Moving of victims. perform TRIAGE (priority) for treatment in case of mass casualty.
Understand & perform response mechanism in case of Fire, Chemical and Gas Emergency.
Understand Search & Rescue Techniques in case of collapsed structure.
Perform as an Effective Trainer of Disaster Management
Hands on practices on Emergency Equipment.
Demo on CBR & N incidence response exercises.

Training Methodologies Adopted
Delivering lectures on the Subject
Demonstration of Actual Scenarios
Demonstration of TEA
Hands on practices on Emergency Equipment.
Mock drill

Way Forward :-
Conduct of three days ERT training for the shop floor employees by the respective DICs in collaboration with Capability Development Department & Disaster Manageemnt Competency Network Team (DMCNT).
Collaboration and coordination with NDRF/NDMA for support in training, assessment of trainees and mock drills by DMCNT
Conduct of refresher courses for the master trainers.