Tata Steel Bhubaneswar Half Marathon a Huge Success
Bhubaneswar, January 08, 2017
Ms Jhuma Khatun and Mr  Man Singh were the winners in Female and Male category respectively in 21.1 km half marathon
More than 3200 running enthusiasts participate in the event
Participants experience a new running route and festive atmosphere in the Kalinga Stadium
Awards worth Rs 9,14,000 given to  winners
The annual Tata Steel Bhubaneswar Half Marathon, the only professional run of the city organized by the steel major in association with Sports and Youth Services Department, Government of Odisha was held today in Bhubaneswar. Over 3200 running enthusiasts participated in the immensely successful event.
The winners were felicitated by Mr Ashok Panda, Minister Tourism and Culture, Government of Odisha and other dignitaries.
Ms Jhuma Khatun and Mr Man Singh won the 21.1 Km half marathon in the Female and Male category respectively. They were awarded Rs 100, 000 each in presence of Mr Vishal Dev, Secretary, Sports and Youth Services, Government of Odisha, Dr Prasanna Patsanai, MP, Bhubaneswar, Mr Priyadarshi Mishra, MLA, Bhubaneswar (North), Mr Bijaya Mohanty, MLA Bhubaneswar (Central). Ollywood  stars Mr SabyaSachi Mishra, Ms Archita Sahu, sports person Ms Anuradha Biswal, Ms Sradhanjali Samantray were also present.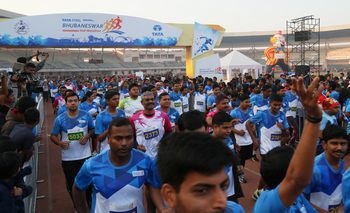 The half-marathon (21.1km) was flagged off in presence of Mr Vishal Dev, Mr T N Khuntia, DIG, CRPF Group Centre Bhubaneswar, Mr  Sunil Bhaskaran, Vice President, Corporate Services , Tata Steel; Mr Arun Misra, Vice President, Project Gopalpur & MD, Tata Steel SEZ at 6 am from the Kalinga Stadium.
The Marathon covered a distance of 21.1 km on a revised route on the flyovers starting from Kalinga stadium and moving on to the National Highway thro' Jaydev Vihar past Khandagiri Square and returning via the same route, finally terminating at Kalinga Stadium. This was followed by the 10km run for corporates and 5 km run for boys and girls under 16 years of age.
Tata Steel provided 5 ambulances and several water dispensing posts along the route to ensure the safety and comfort of all the runners. The Commissionerate of Police played a significant role in traffic management.
State-of-the-art technology consisting of timing mats and its control units, radio frequency identification (RFID) chips, split timing mats on route, tracking camera, wi-fi network on route as per international standard were used to ensure a world standard conduct of the  half marathon. 
All participants were given branded T shirts for participating in the race.  The Kalinga stadium wore a festive with Tata Steel providing several on field entertainment with a live band and participation of Ollywood stars Sabyasachi Mishra and Archita Sahoo. A large electronic LED screen to post a 'selfie' with a personal message sling shot to the screen was a major attraction.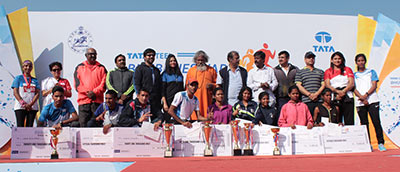 Addressing participants Mr Dev told, "I thank Tata Steel for initiating such a large-scale sports event, which brought together people from all across Bhubaneswar and outside for their love of running and sports. I look forward to many such grand sporting events."  
Speaking on the occasion Mr Bhaskaran said, "Our aim is to make this one of the major running events in India and to see that over the years Bhubaneswar finds its spot among distance running in the country. Tata Steel is proud to bring this special sporting event in association with the Sports and Youth Services Department of Odisha."
PRIZES FOR THE EVENT
Position
Half Marathon
(21.097 km )
10 km
5 km
Men
Women
Men
Women
Boys
Girls
1st
100,000.00
100,000.00
51,000.00
51,000.00
11,000.00
11,000.00
2nd
75,000.00
75,000.00
31,000.00
31,000.00
8,000.00
8,000.00
3rd
51,000.00
51,000.00
21,000.00
21,000.00
7,000.00
7,000.00
4th
31,000.00
31,000.00
15,000.00
15,000.00
5,000.00
5,000.00
5th
11,000.00
11,000.00
11,000.00
11,000.00
4,000.00
4,000.00
Certificates for all participants who have successfully completed the race will be available at the website : www.tatasteelbbsr-run.com from January 12 , 2017.
Tata Steel thanks the Government administration, the Sports Dept. and all the participants in making this year's edition a great success.
About Tata Steel
Established in 1907 as Asia's first integrated private sector steel company, Tata Steel Group is among the leading steel manufacturers in the world with an annual crude steel capacity of over 26.5 million tonnes per annum (mtpa). It is now the world's second-most geographically-diversified steel producer, with operations in 26 countries and a commercial presence in over 50 countries. The Tata Steel Group, with a turnover of US$ 26.13 billion in FY '12, has over 80,000 employees across five continents and is a Fortune 500 company. The Group's vision is to be the world's steel industry benchmark in "Value Creation" and "Corporate Citizenship" through the excellence of its people, its innovative approach and overall conduct. In 2008, Tata Steel India became the first integrated steel plant in the world, outside Japan, to be awarded the Deming Application Prize 2008 for excellence in Total Quality Management. In 2012, Tata Steel became the first integrated steel company in the world to win the Deming Grand Prize 2012 instituted by the Japanese Union of Scientists and Engineers.