Ace Mountaineer Bachendri Pal to lead Mount Everest 2017 Expeditions
Jamshedpur, March 21, 2017
Women from diverse background and various states come together to trek on the tough trail of Gokyo Everest base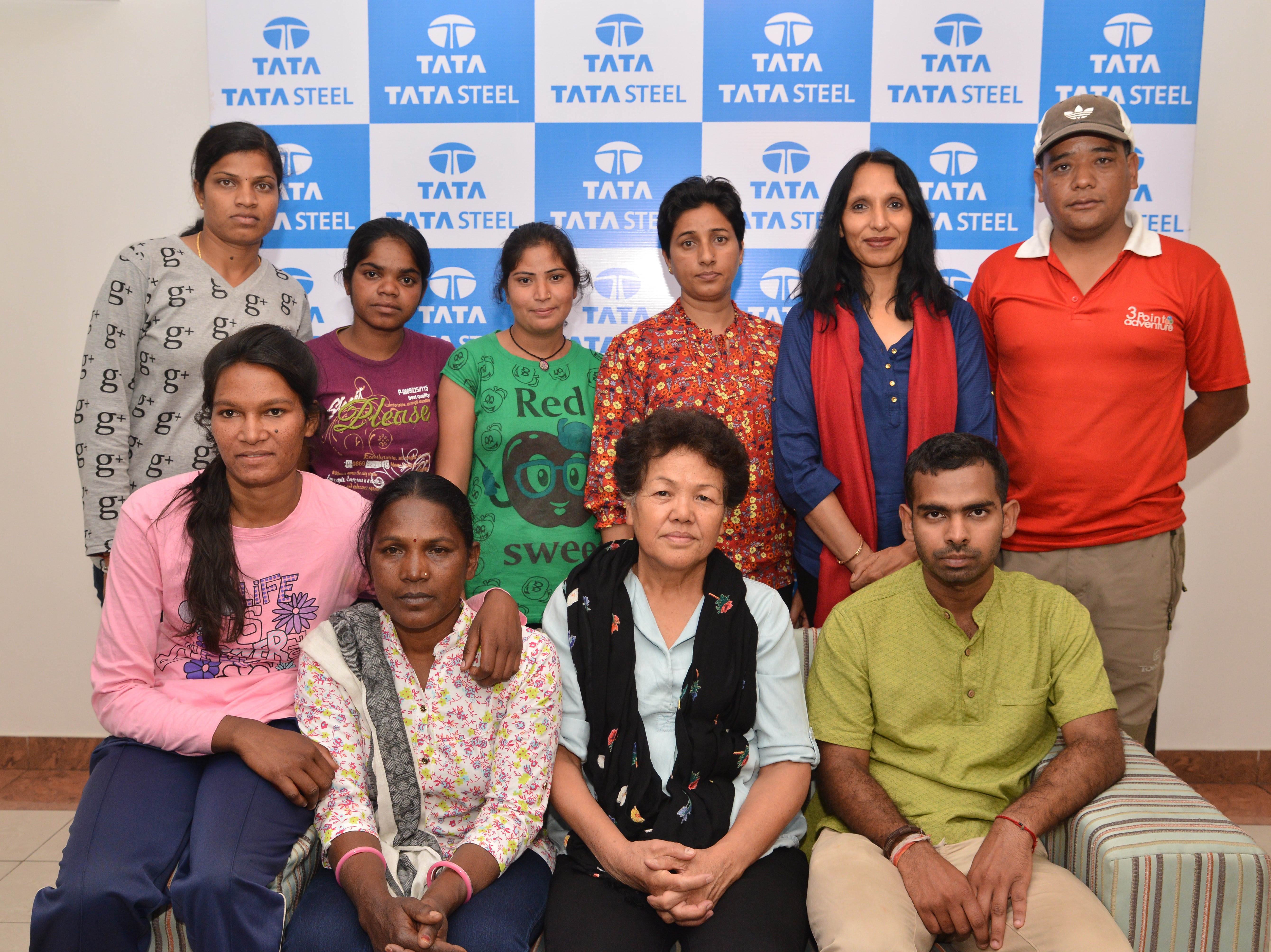 Ms Bachendri Pal, an avid nature-lover and head of the Tata Steel Adventure Foundation (TASF) is all set to trek the Everest yet again. Ms. Pal is leading 'Women's Expedition to Gokyo Everest base camp Grand Circle, commencing on March 26th 2017. She has included Hemant Gupta and Payo Murmu of Tata Steel in this Expedition to prepare (acclimatize to the altitude and the rigour) them for their attempt on Mt. Everest. Both will trek till Everest Base Camp from where they will start their climbing for Mt Everest viz. try to Summit Mt Everest.
A team comprising of 6 women led by Ms. Pal will trek to the Gokyo Everest base camp Grand Circle via the JIRI route.  After one week of arduous trek to reach Lukla the women will continue on the Everest Trail till Namche from where the route would change towards Gokyo. The power packed journey would cover the Gokyo Ridge touching 17500 feet and would cross two high mountain passes including Lobuche Base nearly 16 to 17 thousand feet and thereafter arrive at the Everest Base Camp.
Hemant and Payo Murmu would be seen off at the Everest Base Camp for their onward Journey to Mt. Everest.
Hemant Gupta, an IITian from Mumbai joined Tata Steel in 2013 as a Management Trainee and Payo Murmu, is working as Loco Traffic Ground Control Staff in Raw Material Division of Tata Steel.
Excited about the upcoming expeditions, Ms. Bachendri Pal, said, "Everest has always represented the epitome of challenge of human endeavor, of leadership, of knowing one's strengths and weaknesses, of being humble in one's approach and of testing one's capabilities.  All the skills learnt not only help one in surmounting mountains in Himalaya but also in their real life, thereby making them better individuals benefitting them and the organization or community they work for.  Tata Steel believes in empowering people and its continuous effort in this direction is seen through the two employees making the attempt this summer."
Mr. Hemant Gupta, a graduate from IIT Mumbai and now a Manager at TSAF said, "TSAF has been a strong guiding force behind such unique expeditions; this is yet another step towards empowering people to realize their potential and dreams. We are thankful to TSAF for providing us an opportunity to participate in this significant expedition. We are confident that this will inspire others to dream beyond their potential".
Hemant Gupta has climbed Mt Aconcagua (22860 ft) - Highest peak of America (one of the seven summits) in 2015, Mt Bhagirathi II (21310 ft) in Gangotri region, Island Peak (20400ft) in Nepal, Mt Kanamo (19600ft) in Spiti Valley and reached upto (21110ft) Chamser Kangri Peak in Leh.

Payo Murmu has completed one of the most difficult treks in the World Viz Snowman Trek, which involved crossing 11 passes ranging from 14000 to over 17000 feet, besides the Annapurna Expedition reaching Throrang La at 17800 feet.
Alongwith Ms Bachendri Pal, the team comprises of Premlata Agrawal (Officer in Tata Steel & Padma Shree Awardee who has climbed all the 7 highest summits of 7 continents), Swarnalata Darai from Orissa, Shanti Hembrum from Noamundi Jharkhand, Poonam Rana from Uttarakhand, V Saraswati from Border Security Force Delhi   and Amla Rawat from Dehradun. Sandeep Tolia a TSAF staff is also participating to get valuable experience on leading expeditions.
ABOUT PAYO MURMU:
Till 2011 Payo Murmu was working as a Pool Worker in Tata Steel, serving tea at various offices from time to time and doing other odd jobs.
Payo Murmu after a sports event in JRD Tata Sports Complex accompanied a Tejeswani Champa Tudu (Tejeswani is specially trained women in Tata Steel to handle various work in the factory like train driver, bull dozer driver, loader etc) to TSAF at JRD Tata Sports Complex one day. Champa herself had undertaken TSAFs programmes and introduced Payo to Ms Bachendri Pal and during the discussion Ms Pal came to know of Payo's   excellent performance in sporting events. Ms Bachendri Pal then asked her whether she would be interested in undertaking the 'Snowman Trek' in Bhutan that was being organized.
With great enthusiasm, she said yes….and Ms Pal could see a quiet determination in her to give her best. The Expedition was successfully completed in June 2011 and Payo's performance was excellent.  Thereafter she did the Annapurna Base Camp 17769 ft Expedition in Oct. 2013, Mt. Kanamo Expedition 19600 ft. in Aug 2014, Mt. Bhagirathi II Expedition 21400 ft Sept. 2014.
Thereafter she prepared extensively in Uttarkashi Himalaya for the Everest Expedition in 2015.  However, the Earthquake in Nepal brought her climbing to a halt when she was on her way to Camp II of Mt. Everest. The jolt was felt even at that height and she was lucky to come back safe and sound.  The family was disturbed on hearing the news of the Earthquake and was worried about Payo's safety.  At 53 years of age she is the bread earner of the family looking after her 3 sons as well as her husband.
This has not deterred Payo again from going for the second attempt on Everest in summer 2017. However, she has taken permission from her family fully aware of the risks and hazards that would be faced.  She has again trained under TSAF from its Base Camp at Kuflon by going up and down the mountain slopes carrying adequate load on the backpack.  This would allow her to regain her strength and stamina for the gruelling climb to the heights at cold temperatures.
Payo has approached all the Expeditions with an Open mindset and strong will power ready to take on any challenge.  Her never give up (easily) attitude combined with the ability to challenge herself are attributes which one requires while climbing Himalayan mountains especially the highest peak in the World.
Payo was in the workers Pool and helping out in office with odd jobs.  After her excellent performance in the "Snowman Expedition" Tata Steel Management placed her suitably in a Department.  She is now working as a Loco Traffic Ground Staff in Raw Material Management Division of Tata Steel.
ABOUT HEMANT GUPTA:
Hemant Gupta (27 Yrs.)   completed his B. Tech in Metallurgical Eng & Material Science from IIT Bombay in 2011 and joined Tata Steel as a Management Trainee in Tata Steel's new plant in Kalinganagar Orissa. As a MT, he had undertaken TSAF Outdoor Leadership Course in Uttarkashi Himalaya.  His first tryst with adventure came through his successfully completing the one month Basic Mountaineering Course from the National Mountaineering Institute in Manali.  TSAF thereafter included him in the TSAF organized Chamser Kangri Expedition in which he reached upto 21100 ft. His love for adventure made him pursue with Tata Steel Management for joining the Adventure Programme Dept. which he joined ultimately in Sept. 2013.
Since then he has climbed Mt Aconcagua (22860 ft) - Highest peak of America (one of the seven summits) in 2015, Mt Bhagirathi II (21310 ft) in Gangotri region, Climbed Island Peak (20400ft) in Nepal, Mt Kanamo (19600ft) in Spiti Valley of HP Himalaya,
Having extensively trained in Uttarkashi Himalaya Tata Steel gave him the opportunity to climb Mt Everest Expedition in 2015.  Unfortunately, tragedy struck Nepal. An earthquake of magnitude 7.9 struck the Himalayan Kingdom and Everest region. Huge avalanches were triggered by the quake and the avalanche in Base Camp region killed 18 people. Both Hemant and Payo was in camp - II (21,350ft) at the time and both were fortunate to have escaped the would have been tragedy. The climbing was suspended thereafter by the Nepal Govt. as a whole lot of Sherpas had died.
Hemant has taken permission from his mother to keep his tryst with Everest and is attempting the biggest challenge of his life for the second time.
It has been the effort of Ms Bachendri Pal to organize All Women's Expedition from time to time in order to provide opportunities to women to encourage them, motivate them and empower them to be bold resourceful and resilient.  There have been notable expeditions which has created a mark for itself to show that Women can Plan Lead and Organize Expeditions in various terrains and hazards…successfully and safely.  Few such Expeditions were – 
Indo Nepalese Women's Everest Expedition (INWEE'93) in which a World Record 18 climbers reached the Summit…also giving India the Highest No. of Women Everest Summitters at that time
A river rafting voyage in ganga from Haridwar to Calcutta by18 women in 3 rubber rafts covering 2155 Km in 39 days
The Indian Women's First Trans Himalayan Journey by 9 Women.  This was also a landmark expedition & the first success by an Indian Team to traverse on foot continuously the entire length of Himalaya in 7 months covering approx 4,500 Km from Arunachal (in the East) to Indira Col the Northern most tip of India through Siachen Glacier (in the West) …in the process also becoming the first civilians to enter Siachen
Indian Women's First Thar Desert Expedition 2007 – a Camel Safari starting from Bhuj in Gujarat – across Rann of Kutch – alongside the International Border of Gujarat and Rajasthan – crossing Thar Desert – till Wagah Border in Punjab – a stupendous 1800 km recognized by the Limca Book of Record.  This was repeated again successfully in 2015 as part of the Golden Jubilee celebrations of BSF in which 14 women were included from Jharkhand, Orissa, Gujarat, Uttrakhand -- with 13 women from BSF.
Indian Women's First Expedition to Mt. Killimanjaro as a team in 2008 in which 10 Women from different States and from Africa participated and 9 of them reached the Summit
First Indian Expedition in Bhutan for Snowman Trek -- a High Altitude Expedition covering 11 high mountains passes from June 1 to 30, 2011.  A 11 member Indian Women's Team taken from different States successfully completed the Expedition – which has been recognized by the Limca Book of Record in their 2011 Edition.
Kharta Valley Expedition in Tibet Sept. 2014. It was challenging involving crossing of several high passes. The highest point on this trek was crossing the Langma La Pass 17, 500 ft which offered    gorgeous views of Makalu, Everest, Lhotse Shar and Lhotse.
About Tata Steel
Tata Steel Group stands among the top global steel companies with an annual crude steel capacity of 28 million tonnes per annum (MnTPA) and a turnover of US $17.69 billion in FY16. It is the world's second-most geographically-diversified steel producer, with operations in 26 countries and commercial presence in over 50 countries. Established in 1907, the Group's vision is to be the world steel industry benchmark in "Value Creation" and "Corporate Citizenship" through the excellence of its people, its innovative approach and overall conduct. Underpinning this vision is a performance culture committed to aspiration targets, safety and social responsibility, continuous improvement, openness, and transparency. Having bagged the Deming Application Prize and Deming Grand Prize for continuous improvement in 2008 and 2012 respectively, Tata Steel has now been recognised as the global 'Industry Leader' in 'Steel category' by Dow Jones Sustainability Index. Besides being one of 'worldsteel's' Climate Action members, it has also been awarded the CII ITC Sustainability Prize, the 'Time India award - 2016' for 'Best-in-class Manufacturing', the Prime Minister's Trophy for the best performing integrated steel plant, many times, among several others.

For further information, please contact:

Rediffusion/Edelman
Swati Sharma / Rajni Arora
No:9501457411/ 9821947422
Email: swati.sharma@edelman.com; rajni.arora@edelman.com