Tata Steel wins 3 Awards for Excellence in Value Engineering
Jamshedpur, December 01, 2016
Tata Steel has won 3 Awards for Excellence in Value Engineering at INVEST 32nd National & 5th Asian Value Engineering Conference held on Nov 28 & 29, 2016 in New Delhi. The details of the Awards are as follows: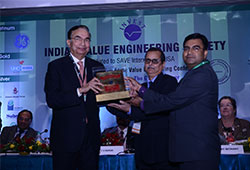 Vasant Rao Trophy to Tata Steel: Indian Value Engineering Society (INVEST) has conferred  Tata Steel with "Vasant Rao Trophy" for excellence in Systematic Application of Value Engineering at Engineering & Projects". The Application was authored by Mr Surya Prakash Prabhaker, and Mr Arun Kumar from Engineering & Projects.
    
Mohta Prize for submission of Best VE Project report: A Value Engineering Case Study on "Maintenance of Earthing-Pit installation" authored by Mr Pradyut Saha, Mr Arun Kumar and Mr Surya Prakash Prabhaker from Engineering & Projects has been adjudged as best VE Project report. 
    
Best Technical Paper Award (1st Prize): The Technical Paper titled "VE Study of IT & Electric requirements for CWH & Relocation of IM Section Project" has been adjudged as best out of 64 papers for which, 1000 USD has been sponsored for presentation in SAVE Conference planned in Philadelphia, USA in August 2017. Authored by Mr Chandan Sinha and facilitated by Mr Surya Prakash Prabhaker-CVS, Engineering & Projects.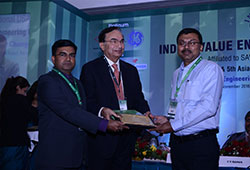 Tata Steel has received the first two awards after a gap of 14 years and all the above three together first time in its history.
The key participants for the above awards were Maruti Suzuki Ltd, Mahindra & Mahindra, Larsen & Toubro, John Deere, GE-GEC, Danfoss Industries, GAIL India, Tata Motors, TRF, Hewlett Packard, HCL, Allegion India, Thyssen Krupp Industries etc.