Tata Steel brings First ever ISRO Exhibition to Odisha
Bhubaneswar, December 11, 2016
Week-long exhibition brought by Tata Steel to be on display at Pathani Samanta Planetarium till December 17
Celebrating the 10th year of Young Astronomer Talent Search (YATS), Tata Steel in collaboration with Pathani Samanta Planetarium (PSP) has brought the much acclaimed Vikram Sarabhai Space Exhibition of the Indian Space Research Organisation (ISRO) for the first time to Odisha.  The week-long exhibition was inaugurated today at the Pathani Samanta Planetarium, Bhubaneswar by Mr Kailash Chandra Sahoo, Director Pathani Samanta Planetarium, Bhubaneswar and Mr Arun Misra, Vice President, Project Gopalpur and Managing Director, Tata Steel SEZ. The exhibition will be on display from 10 am to 5 pm from December 13 to December 17, 2016.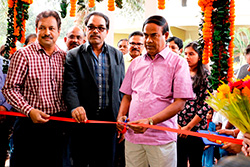 The mobile exhibition presented by Vikram Sarabhai Space Exhibition (VSSE), Ahmedabad, is having a set of about 20 static panels related to Remote Sensing Satellites and Communication Satellite and their applications, Chandrayaan/ Mars mission, models of camera of Mars Mission, satellite images; scale down models of launch vehicles like PSLV & GSLV, various satellite models of INSAT and IRS, OCM, Aryabhatta, RISAT, etc. and a working model showing satellites orbiting around earth. While mechanical component parts used in satellites are on the display, there are various video documentaries on launching the Mars Mission. For students of higher classes there is also a video display on how to join ISRO. ISRO's Geo portal-BHUVAN website will be demonstrated during the exhibition as well. A team of senior scientists and engineers from the Space Applications Center, Ahmedabad, are also present in the exhibition to interact with the students.
Speaking about the exhibition, Mr Arun Misra said, Bringing in the ISRO exhibition is a momentous occasion to mark the 10th edition of YATS. The aim of this exhibition is to develop scientific temper amongst the students and researchers and to make common man aware of the contributions of ISRO initiatives in our daily lives. The children visiting the exhibition should also feel encouraged and pursue higher studies in space science."
During the inauguration ceremony, Mr Kailash Chandra Sahoo said, "We are proud to host ISRO's first ever exhibition in the state. This will help to develop scientific temper among students. I look forward to many footfalls from curious youngsters and astronomy enthusiasts over the next one week."
In a fitting conclusion to the 10th edition of YATS, this initiative is expected to provide valuable real-world exposure to the world of astronomy and space science. The 10th edition of YATS has witnessed active participation of nearly 34,000 students from over 300 schools, spread over 27 districts of Odisha.
About Tata Steel
Tata Steel Group stands among the top global steel companies with an annual crude steel capacity of 28 million tonnes per annum (MnTPA) and a turnover of US $17.69 billion in FY16. It is the world's second-most geographically-diversified steel producer, with operations in 26 countries and commercial presence in over 50 countries. Established in 1907, the Group's vision is to be the world steel industry benchmark in "Value Creation" and "Corporate Citizenship" through the excellence of its people, approach and overall conduct. Underpinning this vision is a performance culture committed to aspiration targets, safety and social responsibility, continuous improvement, openness and transparency. Having bagged the Deming Application Prize and Deming Grand Prize for continuous improvement in 2008 and 2012 respectively, Tata Steel has now been recognised as the global 'Industry Leader' in 'Steel category' by Dow Jones Sustainability Index. Besides being one of 'worldsteel's' Climate Action members, it has also been awarded the CII ITC Sustainability Prize, the 'Best-in-class Manufacturing' by TIME Award, the Prime Minister's Trophy for the best performing integrated steel plant, among several others.

Chief, Corporate Communications, India & SEA
Tata Steel