'Samvaad 2015'- The second edition of the Tribal Conclave inaugurated by Tata Steel
Jamshedpur, November 15, 2015
The celebration of conversations to feature tribal culture from close to 40 tribes across India
'Tribal Languages' to be the theme for the second edition of Samvaad
A conglomeration of 1500 plus tribal artists, thought leaders, eminent personalities and activists are scheduled to participate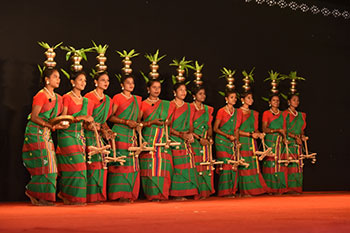 Tata Steel today inaugurated, 'Samvaad 2015', a pan India Tribal conclave at Gopal Maidan, Jamshedpur with 'Tribal Language' being the central theme for this edition. The inauguration was done by Mr. TV Narendran, MD, India & SEA, Tata Steel and Mr. Koushik Chatterjee, Group Executive Director (Finance & Corporate), amidst a gala ceremony witnessing participation from the various tribes from all across the country. The opening ceremony was also attended by senior executives from Tata Steel and Group companies. Union officials of Tata Workers' Union.
Tata Steel, since inception, has always been a pioneer in deploying its resources for the revival of the tribal population. It has endeavored for the welfare and growth of tribal communities in and around its areas of operations. Following this philosophy, Tata Steel inaugurated the second edition of Samvaad- a tribal conclave, today in Jamshedpur. The event will welcome a variety of tribes from all over the country to participate, discuss and deliberate on tribal culture; its heritage, its survival strategies and its blending with the modern and mainstream culture. The 4 day conclave would be an ideal and one of its kind platform for the tribal population to present their views and exchange ideas. An exhibition of handicrafts and tribal performances will be open for the next three days. The cross pollination of the ideas throughout the conclave through panel discussions, cultural performances, handicraft exhibition, film screenings and more will pave the way for the amalgamation of the various indigenous cultures.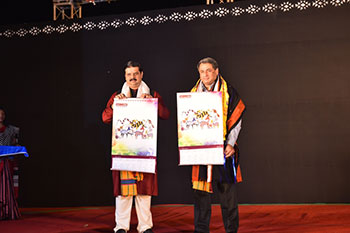 Mr T V Narendran, MD, Tata Steel, India and SEA, inaugurated the tribal conclave by playing the Nagara on the stage along with percussionists from various tribes. Speaking on the occasion he said, "At Tata Steel we understand the importance of the tribal culture and its identity. Our engagement with our communities is a journey over 100 years and we have endeavored to preserve, protect and promote tribal language, music, literature and their overall identity. Samvaad, in its second edition, aims to celebrate tribal culture and allow us to understand tribal culture more intricately. This is a unique forum to provide services to the community, to address issues that are faced by the communities. Our focus is to make this forum a melting pot for all the intellectuals and the tribal communities and to facilitate more understanding amongst each other."

Also present during the occasion was Mr Anand Sen, President, TQM and Steel Business, Tata Steel. Mr Biren Bhuta, Chief, CSR, Tata Steel presented the welcome address for the august gathering.
Mr Koushik Chatterjee, Group Executive Director (Finance & Corporate) said "15th November marks the celebration of birth anniversary of Birsa Munda, the iconic tribal freedom fighter. We are really happy to assemble here to celebrate 'Samvaad', pan India tribal conclave. We are grateful to the tribal populace for their rich cultural heritage. Tata Steel is organising 'Samvaad' as a platform which aims at providing a platform to exchange thoughts, ideas and knowledge for our friends from different tribes in India. We wish our best to all who are working together to make this a success. It is significant to preserve Tribal scripts and language through such unique platforms."
The four day conclave will witness a conglomeration of more than 1500 tribal artists, thought leaders, eminent personalities and activists from around 40 different tribes, from 25 states across the country - Andaman & Nicobar, Andhra Pradesh, Arunachal Pradesh, Assam, Chhattisgarh, Gujarat, Jammu & Kashmir, Jharkhand, Karnataka, Kerala, Madhya Pradesh, Maharashtra, Manipur, Meghalaya, Mizoram, Nagaland, Odisha, Tamil Nadu and Tripura. This event will feature panel discussions on topics like 'The Threatened Tribal Languages', The Resurgence of Tribal Literature, Changing Cultural Landscapes and Diminishing Tribal Heritage, Has India failed its Tribal Communities?
Highlights of Day 1 of Samvaad:
Obeisance paid to Birsa Munda by the Birsayat people & prayer by Guru Rewben Mashangva from Imphal, Manipur

Madhu Mansuri from Ranchi, Jharkhand presented a song in praise of Jharkhand

Sarfa, a dance performance by the Santhal tribe of Jharkhand

Ho, Santhal and Munda groups of Jharkhand and Odisha heralded the conclave open with the beat of 151 nagaras.

Mashira Nritya presented the dance of the Siddis

Car Nicobarese presented a dance performance

Gadabas presented Dhemsa Naach

Attam-Pattam presented Dance & Songs

Boyo Gagrai ,a Ho tribe from Chaibasa, Jharkhand presented an orchestra
About Tata Steel
Established in 1907 as Asia's first integrated private sector steel company, Tata Steel Group is among the top global steel companies with an annual crude steel capacity of nearly 30 million tonnes per annum (MnTPA). It is now the world's second-most geographically-diversified steel producer, with operations in 26 countries and a commercial presence in over 50 countries. The Tata Steel Group, with a turnover of US$ 22.32 billion in FY 15, has over 80,000 employees across five continents and is a Fortune 500 company. The Group's vision is to be the world's steel industry benchmark in "Value Creation" and "Corporate Citizenship" through the excellence of its people, its innovative approach and overall conduct. Underpinning this vision is a performance culture committed to aspiration targets, safety and social r