Tata Steel remembers JRD Tata on his 110th Birth Anniversary
Jamshedpur, July 29, 2014
~ The steel giant celebrates the birth anniversary of the great visionary in all its locations ~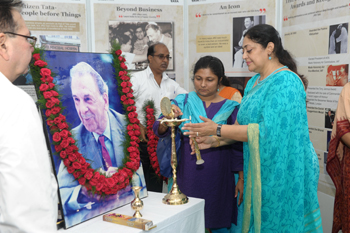 Tata Steel celebrated the 110th birth anniversary of Jehangir Ratanji Dadabhai Tata, today across all its locations in Jharkhand, Odisha and Chhattisgarh.
JRD Tata, considered to be a symbol of progressive growth, dedicated his existence in improving the quality of life of people. The ethos of Jeh, (as he was lovingly called) shaped the guiding principles at Tata Steel which has touched the lives of millions of people.
JRD Tata, the man who gave wings to the nation was extremely passionate about flying and laid the foundation of civil aviation in India. As a tribute to this, a thematic exhibition on JRD's life and times, showcasing the philosophy of the pioneering industrialist, was hosted at Sonari Airport by Tata Steel's Aviation department. The special program also included an Aero-modeling show, static display of Aircrafts and a skit performance.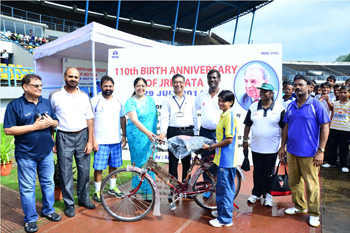 Chief Guest for the occasion, Mrs Ruchi Narendran paid homage to the legend and said, "JRD Tata touched the lives of countless people, rich and poor, manager and worker, as he became the embodiment of the principles and philosophy of the House of Tata. We are hugely privileged to reap the benefits of his hard work and dedication to the group. The activities and programmes organised in our various locations are a small tribute to JRD Tata, one of the country's finest visionaries."
The Sports department of Tata Steel celebrated the occasion by organizing Cross Country Race on 26th and 29th July'14 for different age groups under categories - Junior Boys, Senior Boys, Junior Girls and Senior Girls. The participants were from TSRDS, TCS, Urban Centres and JRD Centres. Mr A K Mishra, Deputy Commissioner (Commercial Tax) flagged-off the race and Mr Gopal Prasad Choudhary, Chief of Security, Tata Steel distributed the prizes to the winners on July 26 while Mr Ritu Raj Sinha, Chief, Corporate Services, Tata Steel and Mr P R Prasad, Chief, HRM, Raw Materials, Tata Steel flagged-off the race and gave away prizes respectively for the cross country race held today. JRD Tata Annual Inter-school Quiz is scheduled for July 30.
From the very beginning of his stewardship, JRD Tata emphasized on improving the quality of life of the people and to very aptly underscore his contributions in this area, Tata Steel Family Initiative Foundation (TSFIF) organised various events - Multi Specialist Health Camp in Oraon Basti, Sitaramdera, Family Planning Camp in Chakulia, Maternal Health Quiz contest in MANSI project area. The CSR department also collaborated with TMH to organize mega health camps in Ganjam district of Odhisa.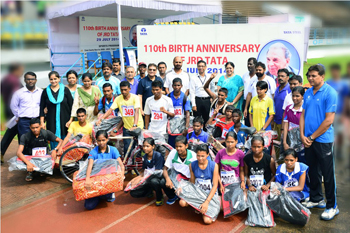 Tata Steel's Urban Services department organised an inter-centre football tournament for Senior Boys and Junior Boys on 28th July'14 and 29th July'14 respectively at Armoury Ground, Jamshedpur. The celebrations of JRD's birth anniversary also extended to West Bokaro and other locations and were marked by various events. Across all locations, ceremonial floral tributes to JRD Tata were paid. In West Bokaro, a cross country race was organized for school and village children, Sit and Draw and Speech competition for school children and free multi-specialty heath camp for community people.
Tata Steel Rural Development Society (TSRDS), Jamadoba organised a seminar on SHG development while AID and Appliances were distributed to leprosy patients. TSRDS, Bhelatand organised a health awareness camp for the community people. The Jharia division of Tata Steel organized an inter-village football tournament, cross country race for under-16 boys and girls and six-a-side football tournament for the clerical staff. TSRDS, Kalinganagar organised an under-10 football match at Baghuapal. Other programmes at Kalinganagar included a village cleaning programme in Sukaran village and a health camp at Raghunathpur village near gopalpur.
"When it comes to fulfilling my duties, I want to be known as an honest man." This simple line perhaps vividly describes the omnipresent touch that JRD Tata gave to the Tata group. His life may come across to many as a distant folklore - one of simplicity yet farsighted, distinguished and outright determined, sublime and humane - and for those who have had the fortune to work with him or be guided, it is a period most cherished.
About Tata Steel
Established in 1907 as Asia's first integrated private sector steel company, Tata Steel group is among the top global steel companies with an annual crude steel capacity of over 28 million tonnes per annum (MnTPA). It is now the world's second-most geographically-diversified steel producer, with operations in 26 countries and a commercial presence in over 50 countries. The Tata Steel group, with a turnover of US$ 24.81 billion in FY 14, has over 80,000 employees across five continents and is a Fortune 500 company. The Group's vision is to be the world's steel industry benchmark in "Value Creation" and "Corporate Citizenship" through the excellence of its people, its innovative approach and overall conduct. Underpinning this vision is a performance culture committed to aspiration targets, safety and social responsibility, continuous improvement, openness and transparency. In 2008, Tata Steel India became the first integrated steel plant in the world, outside Japan, to be awarded the Deming Application Prize 2008 for excellence in Total Quality Management. In 2012, Tata Steel became the first integrated steel company in the world, outside Japan, to win the Deming Grand Prize 2012 instituted by the Japanese Union of Scientists and Engineers.