'Samvaad'- A Tribal Conclave inaugurated by Tata Steel
Jamshedpur, November 15, 2014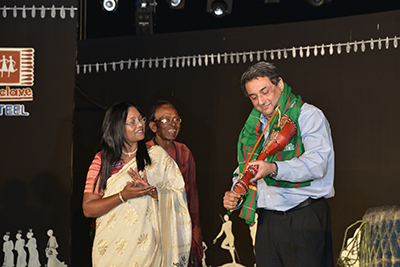 A 4-day Conclave, first of its kind festival to showcase tribal heritage and culture inaugurated by Tata Steel in Jamshedpur
A conglomeration of 2000 plus tribal artists, thought leaders, eminent personalities and activists will celebrate the momentous occasion
The festival marks the birth anniversary of Birsa Munda, the flag bearer for Indian tribal heritage
Tata Steel, since inception, has endeavored for the welfare and growth of tribal communities in and around its areas of operation. In continuation with its commitment towards the indigenous society, Tata Steel today inaugurated 'Samvaad', a 4-day conclave for tribal population in Jamshedpur. The momentous occasion also marks the birth anniversary of Birsa Munda, the iconic tribal freedom fighter of India and formation of Jharkhand state. The tribal meet is being organised by Tata Steel's Tribal Cultural Society, the arm which works extensively for the tribal welfare and preservation and promotion of tribal heritage and tribal culture.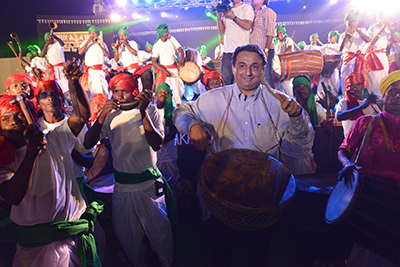 Mr T V Narendran, MD, Tata Steel, India and SEA, inaugurated the tribal conclave. Speaking on the occasion he said, "The partnership of our 100 plus years with the local and indigenous community has contributed to the growth of our steel plant, a beautiful society and above all sustainable communities. He also added, "Corporate Social Responsibility has now been made mandatory by the Government but at Tata Steel we have always believed in giving back to the society. Samvaad is a platform for tribal communities to come together, share collective wisdom under one roof so as to stimulate valuable exchange of knowledge and ideas".
Also present during the occasion was Mr Anand Sen, President, TQM and Steel Business, Tata Steel and Mr Biren Bhuta, Chief, CSR, Tata Steel who welcomed the various tribes and wished the best for the conclave.
The 4-day conclave will witness a conglomeration of 1500 plus tribal artists, thought leaders, eminent personalities and activists from more than 40 different tribes, from 19 states across the country - Andaman & Nicobar, Andhra Pradesh, Arunachal Pradesh, Assam, Chhattisgarh, Gujarat, Jammu & Kashmir, Jharkhand, Karnataka, Kerala, Madhya Pradesh, Maharashtra, Manipur, Meghalaya, Mizoram, Nagaland, Odisha, Tamil Nadu and Tripura. This event will feature panel discussions (Tribal livelihoods, Particularly Vulnerable Tribal Groups, Tribal medicinal systems, Tribal perspective on development, Tribal languages and literature, Tribals and protection of natural habitats and a Round table with tribal women), cultural performances from around the country, film screenings, textiles and handicrafts.
Highlights of Day 1 of the Tribal Conclave:
Akhra - 5.00 pm
Obeisance to Birsa Munda by the Birsayat people
Prayer in Ho by Ho teachers
Prayer in Santhali by Durga Prasad Murmu
Welcome Address by Mr Biren Bhuta , Chief, CSR, Tata Steel
Talk on Birsa Munda by Fr Alex Ekka, Director, XISS, Ranchi
Address by T V Narendran, MD, Tata Steel
101 Nagaras (Jharkhand and Odisha)
Bison Horn Madia dance (Chhattisgarh)
Dance by Changpas from Ladakh (Jammu & Kashmir)
Dance by the Paniyan tribe (Kerala)
Bagarumba dance (Assam)
Haat - 5.00 pm to 9.30 pm
About Tata Steel
Established in 1907 as Asia's first integrated private sector steel company, Tata Steel Group is among the top global steel companies with an annual crude steel capacity of over 28 million tonnes per annum (MnTPA). It is now the world's second-most geographically-diversified steel producer, with operations in 26 countries and a commercial presence in over 50 countries. The Tata Steel Group, with a turnover of US$ 24.81 billion in FY 14, has over 80,000 employees across five continents and is a Fortune 500 company. The Group's vision is to be the world's steel industry benchmark in "Value Creation" and "Corporate Citizenship" through the excellence of its people, its innovative approach and overall conduct. Underpinning this vision is a performance culture committed to aspiration targets, safety and social responsibility, continuous improvement, openness and transparency. In 2008, Tata Steel India became the first integrated steel plant in the world, outside Japan, to be awarded the Deming Application Prize 2008 for excellence in Total Quality Management. In 2012, Tata Steel became the first integrated steel company in the world, outside Japan, to win the Deming Grand Prize 2012 instituted by the Japanese Union of Scientists and Engineers