Tata Steel organises Inter Centre Boxing Tournament 2013
Jamshedpur, June 03, 2013
~Sitaramdera Community Centre emerged as the overall champion~
Urban Services, Tata Steel imparts regular training in various sporting disciplines across all of its twelve community centres. Such trainings help in identifying and nurturing latent sports talents and also provide constructive guidance to the youth.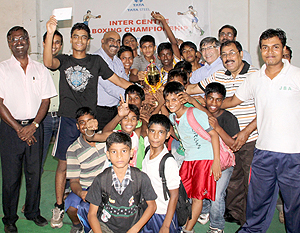 To inculcate a healthy spirit of competitiveness, Urban Services unit organises sports tournaments that help the budding players to prepare for performance at state and national level competition.
Boxing is one of sports for which Urban Services offers training at its Sitaramdera, Baridih, Namda and Tuiladungri community centres.
In its endeavour to encourage young boxers, Urban Services organised Inter- Centre Boxing Tournament at Namda Community Centre, Jamshedpur on 31st May and 1st June, 2013. The tournament served as a platform for 48 trained boxers from the aforesaid four community centres. It helped showcase bouts among 32 untrained boxers identified from various community centres on the basis of their interest and inclination to learn professional boxing. Among the untrained boxers, few will be identified and trained by the Urban Services.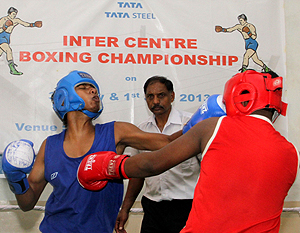 Sitaramdera Community Centre emerged as the overall champion.
Chief Guest for the occasion (Finals) - Mr Sunil Bhaskaran, Dy. VP, Corporate Services, Tata Steel and Mr Suresh Dutt Tripathy, VP, Human Resource Management, Tata Steel, and Guest of Honour - Mr V. Charles Borromeo, Secretary, Jharkhand State Boxing Association felicitated the winners. Mr Biren Ramesh Bhuta, Chief, Corporate Sustainability Services, Mr Sanjay, Head, Urban Services, Mr Basant Singh and Urban Services, Tata Steel team also attended the programme.