Tata Steel celebrates Bharat Ratna JRD Tata's 109th Birth Anniversary
Jamshedpur, July 29, 2013
Events galore across locations to mark the occasion
Tata Steel celebrated the 109th birth anniversary of the finest visionary, Jehangir Ratanji Dadabhai Tata, today across Jamshedpur, Noamundi, Jharia, West Bokaro, and other out locations of Tata Steel
Jehangir Ratanji Dadabhai Tata, the man who gave wings to the nation was extremely passionate about flying and laid the foundation of civil aviation in India through Air India and Indian Airlines. Hosted by Tata Steel's Aviation department, different programmes were organized – a thematic exhibition on JRD Tata's life and times at Sonari Airport to showcase the philosophy of the pioneering Industrialist; Aero-modeling show and static display of Aircrafts. The day's events included annual inter-school quiz, blood donation camp, sit & draw competition, cross country race, inter village football match, seminar on SHG development, distribution of aid and appliances to disabled persons among other such programmes.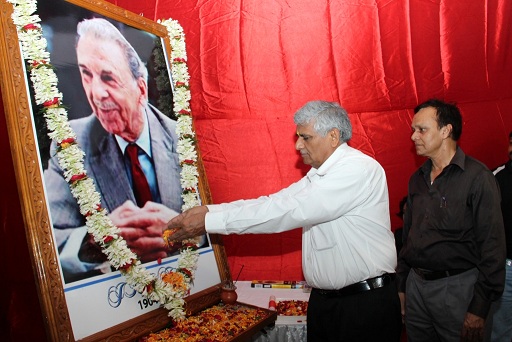 The Sports department of Tata Steel celebrated the occasion by organizing a Cross Country Race. This morning, Mr. P N Singh, President, TWU paid homage to JRD Tata post which he flagged off the first Race. The second race was flagged off by Mr. Anuj, Sr. SDM, Patna, third race by Mr. Rakesh Mohan Sinha, Dy. SP, Traffic, and fourth by Md. Raffique, Chairman, Sports Advisory Committee and Capt. Amitabh, Head, Sports, Tata Steel. More than 2000 children from villages like Kochai, Patamda, Kharsawan, Manoharpur, Adityapur, Dalbhumgarh, Chowka, Chandil, Potka and Jamshedpur Block and from 12 Urban Centers like Kasidih, Sonari, Baridih, Dhatkidih, R D Bhatta, Adityapur, Bagbera, Kitadih, Namda, Bhalubasa, Sitaram Dera and Tula Dugri participated in it. Children from 37 schools in and around Jamshedpur also took part in the race. Participants securing up to 10th position in different categories were given prizes.
From the beginning of his stewardship, JRD Tata emphasized on improving the quality of life of the people and to very aptly underscore his contributions in this area, Tata Steel Family Initiative Foundation (TSFIF) organised various events - a quiz contest on his life for the students of Class VI to VIII at Karimia School, Shastrinagar, Kadma; Family planning road show at four villages in Patamda block, and Adolescent rally.
Tata Steel's Urban Services department organized an Inter-Centre Sit & Draw Competition at Dhatkidih Community Centre. About 200 children from catchment basti areas of the twelve community centres participated to give shapes and colours to their creativity. The competition was themed as per the age-groups. While for Group A the theme was 'Flying kite with family', Group B had to draw on 'Rainy season', Group C had to depict 'Tribal Dance' and Group D had to show 'A village life.'
The celebrations of JRD's birth anniversary also extended to the Raw Material divisions (West Bokaro, Jharia, and Noamundi) and other locations and were marked by various events. 
Across all locations, ceremonial floral tributes to JRD Tata were paid. In Noamundi, a cross country race was organized in which around 100 children from eight local schools and feeder Center at Noamundi participated. Events at West Bokaro division included cross country race for boys and girls, plant sapling drive, painting and speech competition, and Exhibition Football match. The Jharia division too organized an open cross country race for children in the age group of under- 17.
Tata Steel Rural Development Society, Jamadoba organised a footwear mela and aid & appliances distribution programme at SPARSH (a collaborative project of Tata Steel and LEPRA India). On this occasion, wheel chairs, crutches, MCR (Micro Cellular Rubber) footwear (specially designed and manufactured by SPARSH for leprosy patients) etc. were distributed among about 54 disabled patients affected with leprosy and disability.
About Tata Steel
Established in 1907 as Asia's first integrated private sector steel company, Tata Steel Group is among the top-ten global steel companies with an annual crude steel capacity of over 29 million tonnes per annum (mtpa). It is now the world's second-most geographically-diversified steel producer, with operations in 26 countries and a commercial presence in over 50 countries. The Tata Steel Group, with a turnover of US$ 24.82 billion in FY 13, has over 80,000 employees across five continents and is a Fortune 500 company. The Group's vision is to be the world's steel industry benchmark in "Value Creation" and "Corporate Citizenship" through the excellence of its people, its innovative approach and overall conduct. Underpinning this vision is a performance culture committed to aspiration targets, safety and social responsibility, continuous improvement, openness and transparency. In 2008, Tata Steel India became the first integrated steel plant in the world, outside Japan, to be awarded the Deming Application Prize 2008 for excellence in Total Quality Management. In 2012, Tata Steel became the first integrated steel company in the world to win the Deming Grand Prize 2012 instituted by the Japanese Union of Scientists and Engineers.
Head, Corporate Affairs & Communications
Tata Steel