Tata Steel Partners to Provide Healthy Mid-Day Meal and Education to Underprivileged School Children in East Singhbhum
Jamshedpur, April 07, 2012
~ This initiative is the first of its kind in Eastern India ~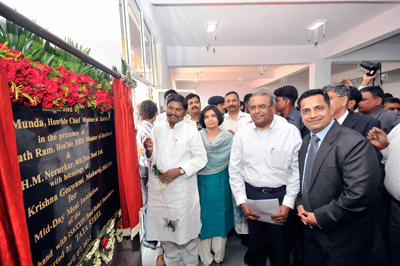 Tata Steel has partnered with the Government of Jharkhand and Iskcon Food Relief Foundation to roll out a Mid-Day Meal scheme for underprivileged school-going children in East Singhbhum districts of Jharkhand, Seraikella and Kharsawan. The programme was inaugurated today by the Hon'ble Chief Minister of Jharkhand, Mr Arjun Munda, at Tata Steel's Community Centre, Jamshedpur.
The scheme will benefit approximately 65,000 students initially and is envisaged to ramp upto 1 lakh students within the next three months. This initiative is the first of its kind in Eastern India. A total of 389 schools will be taken care of under this scheme, out of which 89 are situated in the Gamariah block. 25 vehicles will be plying from Monday for delivering the food to the various locations.
Tata Steel will provide the infrastructure that would be required for the successful rollout of the mid-day meal programme while Iskcon Food Relief Foundation, an NGO that provides top-class mid-day meal services in various towns and cities across the country, will take charge of the day-to-day management of the programme.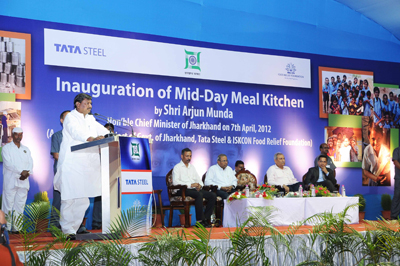 Speaking on the occasion, Mr Arjun Munda appraised the efforts of Tata Steel towards securing a healthy future of Jharkhand. Free mid-day meals can achieve a great deal with regard to child education and health. They promote the participation of the child in school, facilitate the healthy growth of a child and fosters social and gender equality as all children get the same quality food. He expressed his happiness and said that, "with the implementation of this project it is expected that the nutritional status of the school going children in the select districts would improve. We are planning to launch the 'Right to Food Act' in our state, so that every child can have access to safe and food of a superior quality. We look forward to get further help from Tata Steel so that we may be able to spread the initiative in other areas of Jharkhand, once it's successfully launched in Jamshedpur."
In his address, Mr HM Nerurkar, Managing Director, Tata Steel, said: "Tata Steel's association with this Mid-Day Meal Programme for underprivileged school children is in line with the Company's philosophy of serving and empowering communities around it. It is a small but meaningful effort that reaffirms the Company's Vision of Value Creation & Corporate Citizenship. I am sure this Mid-Day Meal Programme will attract more and more young children to schools and, in the long run, facilitate their education and empowerment in society. Tata Steel is grateful to the Government of Jharkhand for being given the opportunity to be part of this Mid-Day Meal Programme for school children."
Earlier while welcoming the hon'ble guests present, Mr Sanjiv Paul, Vice President, Corporate Services, Tata Steel, emphasized that such efforts are in line with the proposed Strategic Corporate Social Responsibility (CSR) program of Tata Steel to address Education in and around Company's area of work. He stated, "When Tata Steel was approached by the Government of Jharkhand for support to implement the Mid-Day Meal Programme for school going children, the Board of Directors of the Company was quick to clear a proposal to create the infrastructure that would be required to provide a healthy meal and facilitate education among children in the region. The move was aimed at providing the necessary fillip to the Government of India's efforts to make education compulsory for children in the age group of 6 to 14 years. Subsequently, a capital expenditure of Rs 4.28 crore was approved by the Board towards this end."
Also present on the occasion were President and Members of Zila Parishad, members of Legislative Assembly, elected members of local bodies, community leaders, members of district administration, members of professional bodies & Chamber of Commerce, officials from Tata Workers' Union and Tata Mazdoor Union and senior officials of Tata Steel Limited.
About Tata Steel:
Established in 1907 as Asia's first integrated private sector steel company, Tata Steel Group is amongst the leading steel manufacturers in the world with an annual crude steel capacity of over 27 million tonnes per annum (mtpa). It is now the world's second-most geographically-diversified steel producer, with operations in 26 countries and a commercial presence in over 50 countries. The Tata Steel Group, with a turnover of US$ 26.64 billion in FY '11, has over 81,000 employees across five continents .The Group's vision is to be the world's steel industry benchmark in "Value Creation" and "Corporate Citizenship" through the excellence of its people, its innovative approach and overall conduct. Underpinning this vision is a performance culture committed to aspiration targets, safety and social responsibility, continuous improvement, openness and transparency. 
About ISKCON:
IFRF (ISKCON Food Relief Foundation) has obtained ISO 9001 and HACCP (Hazard Analysis and Critical Control Point) certificates that ensures food safety management. It partners with many state governments and confirms to the Supreme Court requirement of 450 Kcal and 18 grams protein per child.