Tata Steel nurtures rural football talent
Jamshedpur, May 24, 2012
~Reaches out to local talent ~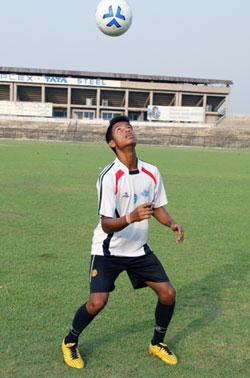 The department of Urban Services, a wing of Tata Steel, started nurturing the talent that is M Rahul Raj two years back, and this coupled with his father's rigorous training, secured him a position among the 11 cadets selected for Tata Football Academy (TFA) this year.
With his exceptionally good skills in football and with all his love and determination to excel in the game, Rahul today stands apart from the rest. It was only after a series of intensive selection trials that he has been selected as a cadet of Tata Football Academy (TFA).
A resident of Baridih bustee, Rahul had been selected for Tata Athletics Academy a few years back. However, he had then chose to spend more time in academics than in sports owing to his brilliant academic performance. His father Mr Ashok Tudu, an ace footballer himself, finally recognized his sporting talent and trained him in football. Ages ago Mr Kaushar Ahmed from Dhakidih bustee had been selected from the erstwhile Community Development and Welfare Society (CD&SW) team for TFA.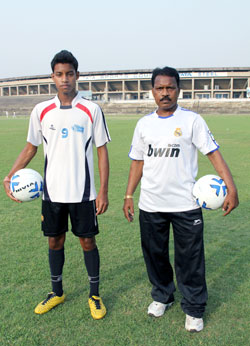 Rahul's dream is to represent the Indian Football team at an international level. The teenager said, "Lack of proper infrastructure is a big hindrance for the budding players in India. However, I am fortunate to be selected for the TFA team where my skills will be groomed and I will be trained, with the necessary equipment, under the right supervision. My next aim is to sport the Indian jersey and make my country proud."
Rahul, a class IX student of Swami Vivekananda High School, Kolabera, realizes that a high action game like football requires relentless practice, determination, grit and passion. Unlike most of his other school friends who invest their energy in regular activities, he has already prepared himself to fit into a system that combines all aspects of the dynamic sport- dedication, focus, practice and technique. Practice, practice and more practice is his mantra for success now.