Tata Steel Endeavors to Educate Children of Ethnic Communities
Jamshedpur, April 11, 2012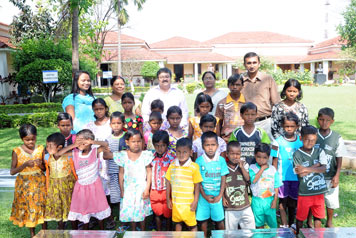 Birhore tribes are one of the primitive tribes of Jharkhand that needs care and a focused approach for the development. Tribal Cultural Society (TCS), Tata Steel, is supporting 30 children belonging to the Sabar and Birhore tribes from the villages of Patamda block, by enrolling them in two schools namely St. Thomas High School, Gandedungri and Loyola School, Chaira.
The support for education happens to be an on-going process. Last year Tata Steel's Tribal Cultural Society had admitted 10 children from Dongagarral and Dhusra villages in Holy Cross School, Chowka for formal education. This year too, 20 girl children will be admitted in the same school and will be sponsored jointly by TCS and Mr Ajay Jain, a Tata Steel vendor.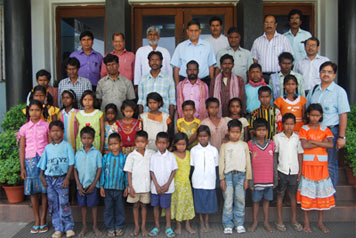 Mr Partha Sengupta, Vice- President, Raw Materials, Tata Steel was present at the venue to appreciate the initiatives taken by TCS for improving the quality of life of the community it serves. Mr Biren Bhuta, Chief, CSS encouraged the children and asked them to study well. Mrs Urmila Ekka, Hony Secretary, TCS said that Tata Steel recognizes the fact that education can be a powerful instrument for societal development and change and hence the focus was to assimilate the primitive tribes into the mainstream development through education.
In another endeavor, Tata Steel has set out to enroll 24 Birhore children, 11 boys and 13 girls in St Roberts Boys and St Roberts Girls school at Hazaribagh. The educational expenditure like boarding and lodging, maintenance, school dress, tuition fee, stationeries to be used by the Birhore children will be borne by TSRDS/Tata Steel funds.
On this occasion Sanjay Rajoria, General Manager, West Bokaro, Mr Mohan Mahato President, RCMS, Mr Sambhu Singh Secretary, RCMS, Mr Surata Das, Chief, KBP, Mr PK Dhal, Chief Q-CB, Mr NK Gupta, Chief ACB, Mr Seth Chief (P&EM), Mr Haidar Ali, Head, Maintenance, Mr Balmiki Kumar, Head, Adminstration present and other members of TSRDS.