Talented Painters of "Shilpiniketan" Exhibit Their Masterpieces
Jamshedpur, May 15, 2012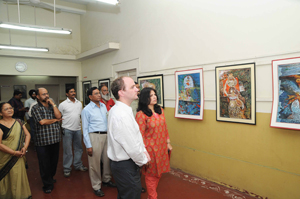 A group of artists from "Shilpiniketan" organized an Art Exhibition at the Jamshedpur School of Art on from May 14 to May 15, 2012.The exhibition was inaugurated by Mr Mark Denys, Chief, R&D and Scientific Services, Tata Steel.
Mr Denys was highly appreciative of the creative efforts of the local artists. The artists had chosen to paint on diverse subjects like nature, women empowerment etc. Mr Denys observed that Jamshedpur was a city of art and artists, and Shilpiniketan was a trust supported by Tata Steel under whose patronage many artists have bloomed. He appreciated the sincere efforts of the trust in exploring challenging horizons in art. He further added that art knows no boundaries; that it is a common language uniting people across the world.
All nine artists from "Shilpiniketan" , who had their paintings on display, will now have the rare opportunity of exhibiting their work in Bangalore. These artists decided to organise an exhibition in Jamshedpur prior to proceeding to Bangalore, as a tribute to the city that has nurtured their talent.