Road Show by Tata Steel on family planning services mark World Population Day
Jamshedpur, July 11, 2012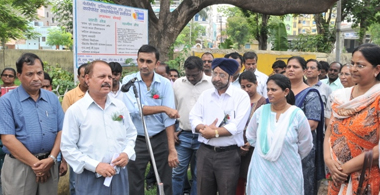 Tata Steel, through its services wing Tata Steel's Family Initiatives Foundation (TSFIF), marked this year's World Population Day with the theme "Universal Access to Reproductive Health Services" today.
TSFIF has observed this day by launching a Road Show to promote family planning services The month-long road show was flagged off by Chief Guest, Dr Jagat Bhushan Prasad, Civil Surgeon, East Singhbhum. The body has also organized a Mega Family Planning Camp which was personally initiated by the Chief Guest. Family Planning camps will also be rolled out in West Singhbhum and Saraikela - Kharsawan districts.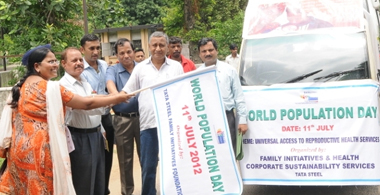 In line with such endeavors, a month long awareness programme has been also initiated to cover all slums and bustees of Jamshedpur. Street plays and Quiz competitions will be hosted to inform and educate the people of community on family planning services provided by TSFIF.
TSFIF conducts family planning camps for East Singhbhum district on Tuesdays and Thursdays. Special initiatives include outreach camps for female sterilisation in West Singhbhum, Saraikela Kharswan districts, as well as areas with mines and collieries like Hazaribagh and Dhanbad districts. Male Sterilisation is also conducted for beneficiaries from East Singhbhum and Saraikela Kharswan districts.
While addressing the audience, Dr Jagat Bhushan Prasad appreciated the initiatives taken up by TSFIF towards stabilizing the population.
Dr Swanrn Singh, Additional Chief Medical Officer, East Singhbhum, Dr Sangeeta Singhal, Sr Specialist (Obstetrics & Gynecology) Tata Main Hospital, Mr Biren Bhuta, Chief, Corporate Sustainability Services, Tata Steel, Dr P C Mahapatra, Head, Family Initiatives & Health, Tata Steel and doctors, managers, officers and staff of TSFIF attended the event.
Every year July 11 is celebrated as World Population Day. The United Nations Population Fund (UNFPA) began observing this day in 1989 as a means to create awareness on the importance of family planning, maternal health, gender equality, poverty, and human rights. Theme for 2012 'Universal Access to Reproductive Health Services' appeals to government, organizations, communities and individuals across the world to increase as a call to increase access to reproductive health services.