HM Nerurkar, Managing Director of Tata Steel, is the new President of the Indian Institute of Metals (IIM)
July 26, 2012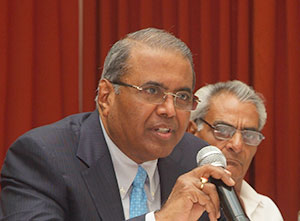 Mr. HM Nerurkar, Managing Director of Tata Steel, is the new President of the Indian Institute of Metals (IIM). He takes over from Mr. M Narayana Rao, CMD, MIDHANI.
Earlier, Mr B Muthuraman, Former Managing Director, Tata Steel, was the president of IIM in 2006-07, followed by Dr Srikumar Banerjee, Director, BARC, in 2007-08, Mr. L Pugazhenthy, Executive Director, ILZDA, in 2008-09, Dr Sanak Mishra, CEO, Arcelor Mittal, in 2009-10, Mr. D Banerjee, Prof, IISc - Bangalore, in 2010-11 and Mr. M Narayana Rao, CMD, MIDHANI, have ably steered the Institute in their respective years of Presidentship.The baton now passes on to Mr. H M Nerurkar, MD, Tata Steel, who will lead the Institute as its President in 2012-13. His tenure begins on August 1, 2012.
Speaking at the occasion, Mr. HM Nerurkar, MD, Tata Steel, said: "I am happy to take over as the President of this illustrious organization that has been active in the field of metallurgy and metallurgical sciences for over six decades. We will intensify our efforts to further the development of metallurgical and materials engineering in the country".
Established in 1947, The Indian Institute of Metals (IIM) held its 66th Annual General Meeting on Thursday, July 26, 2012, at Kolkata when the new team of office bearers and the members of the National Council for the year 2012-13 was formed.
The Institute, through its 48 chapters and 3 divisions with membership of over 10,000 representing the vast canvas of Metals, Materials and Minerals serves the interests of Students, Scientists, Researchers, Industry professionals and the Society as a whole.
The Institute organises activities such as seminars, symposia, conferences, workshops, short term courses, technical meetings, projects technical exhibitions and plant visits through its 48 chapters spread across the country.
National Metallurgists' Day under the aegis of Ministry of Steel, Government of India and the Institute's Annual Technical meeting (NMD-ATM) are organized every year at different places.
The Institute brings out two bi-monthly publications namely: The Transactions & IIM Metal News, besides other publications in book series.
To promote and facilitate education and development of working professionals since 1962, the Institute has been conducting qualifying professional AMIIM examination in Metallurgy as equivalent to graduate in Metallurgy.
On the Global front, the Institute has, over the years, developed co-operative relations with 18 Societies and Institutions spread across 15 nations. International programmesare jointly organized regularly.