'SWATI' – The new face of empowered women at Tata Steel
February 25, 2010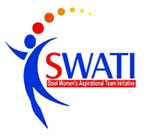 The Women Empowerment Cell of Tata Steel received a new identity today with the unveiling of 'SWATI' – the name ascribed to the Cell in a formal ceremony at Steelenium Hall in Tata Steel Works. SWATI was unveiled in the presence of a large gathering of employees, especially the female cadre, from Jamshedpur as well as other locations of the Company.
Present on the occasion were Mr Anand Sen, Vice President (TQM & Flat Products) and chief guest on the occasion; Mr Raghunath Pandey, President, Tata Workers' Union; Mr Om Narayan, Vice President (Shared Services), Mr H Jha, Vice President (Safety & Long Product), Mr Sanjiv Paul, Managing Director, JUSCO, and others. Prominent women present included Mrs Surekha Nerurkar, Mrs Rekha Seal, Ethics Counsellor and others.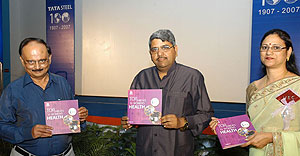 The event took the audience on a visual tour of the journey charted by Tata Steel towards empowering the female employees. SWATI was thereafter unveiled by Mr Sen. The term formally stands for 'Steel Women's Aspirational Team Initiative' – an entity that will not only stand to empathise but also a single window to reach out to all female employees in all areas of the Company's operations. The idea is to create a forward looking and efficient female task force at Tata Steel, cutting across all gender barriers.
The launch of the SWATI logo was followed by the unveiling of a booklet, titled, 'Women's Health Top Threats'. This booklet contains useful information on the various problems a women, working or otherwise, may face and its probable remedies. A website, the brainchild of the IT department of the Company, was also launched on the event by Mr Sen. The site will provide the necessary platform to a woman employee to reach across to any other at all times. This will also serve as a platform for information sharing, counselling and other activities that help a woman employee shed her fears and perform efficiently.
Addressing the gathering, Mr Sen said, "Although we are a progressive nation, we still need to focus deeply on the general, overall development of women in our country. Tata Steel has always been proactive towards the development of its women employees. We need to think beyond the horizon. I am certain SWATI will help in achieving a perspective priority and the way forward for woman." It maybe interesting to note here that some of the benefits laid down by the Company, especially for its female taskforce, have been in place long before they became laws under the Indian Constitution.
Tata Steel has been initiating many empowering programmes for women for many decades now. The Company provides Maternity Benefits, a practice which began in 1928 and was later adapted as law by the Government of India. It has set up a Women Empowerment Cell, a special wing at the IR Division, comprising members from management as well as unionized category women employees, which looks after woman's issues and organize need-based training for them.