Tata Steel Officers Conferred The "YOUNG MATERIALS MANAGER AWARD"
Jamshedpur, December 11, 2004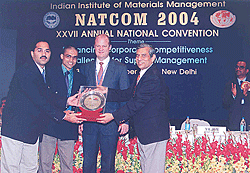 Two managers of Tata Steel's Procurement Division namely, Mr. A Shiva Prakash Rao and Mr. Prashant Kumar conferred the Young Materials Managers (YMM'2004) Award by the Indian Institute of Materials Management (IIMM). This award was presented by IIMM in its annual convention, NATCOM-2004, for their paper titled "Build the Nation through Materials Management" at New
Delhi from December 3 to 4, 2004. The team secured 3rd position in the competition.
YMM award is a prestigious National Award organized through an annual competition amongst sourcing professionals who have written actual and future oriented papers concerning the materials management profession and its development.
IIMM is the premier professional institute of materials management in India, with a mission to promote professional excellence in materials management towards National Prosperity through its national network of 35 branches and 17 chapters spread throughout the country.
Mr Prashant Kumar and Mr A Shiva Prakash Rao of Tata Steel had been declared the winners of this year's Maple Leaf Award earlier this year by the International Federation of Purchasing and Materials Management (IFPMM) for the paper titled "Value Creation through Strategic Sourcing" presented by them. This was for the third time that Tata Steel had won the award and seventh time by an Indian Compan