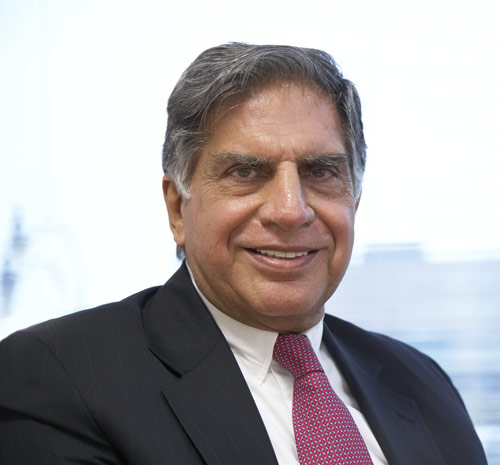 Ratan N Tata
Mr Ratan Naval Tata is the Emeritus Chairman of Tata Sons, Tata Industries, Tata Motors, Tata Steel and Tata Chemicals. He has been the Chairman of Tata Steel, Tata Motors, Tata Consultancy Services, Tata Power, Tata Global Beverages, Tata Chemicals, Taj Group and Tata Teleservices. During his tenure, the Tata Group's revenues grew manifold, totalling over $100 billion in 2011-12.

Mr Tata joined the Tata Group in 1962. After serving in various companies, he was appointed Director-in-Charge of the National Radio Electronics Company Limited in 1971. In 1981, he was named Chairman of Tata Industries and was responsible for transforming it into a group strategy think-tank, and a promoter of new ventures in high technology businesses.

Mr Tata currently serves on the board of directors of Alcoa and is on the international advisory boards of Mitsubishi Corporation, JP Morgan Chase, Rolls Royce and the Monetary Authority of Singapore. He is the Chairman of the Sir Ratan Tata Trust and the Sir Dorabji Tata Trust, two of the largest private sector-promoted philanthropic Trusts in India. He is the chairman of the Council of Management of the Tata Institute of Fundamental Research. He also serves on the board of trustees of Cornell University and the University of Southern California.

Mr Tata has received honorary doctorates from several universities in India and abroad. In 2008, the Government of India honoured Mr Tata with its second-highest civilian award, the Padma Vibhushan.