Padma Bhushan awardee Bachendri Pal to lead a trek to commemorate the Silver Jubilee of 1993 Indo Nepalese Women's Everest Expedition
New Delhi, April 13, 2019
~ A 13-member team, including 11 members from the 1993 expedition, will retrace the route of the original expedition till Khumjung in Nepal ~
~ The expedition team met Hon'ble President Shri Ram Nath Kovind ~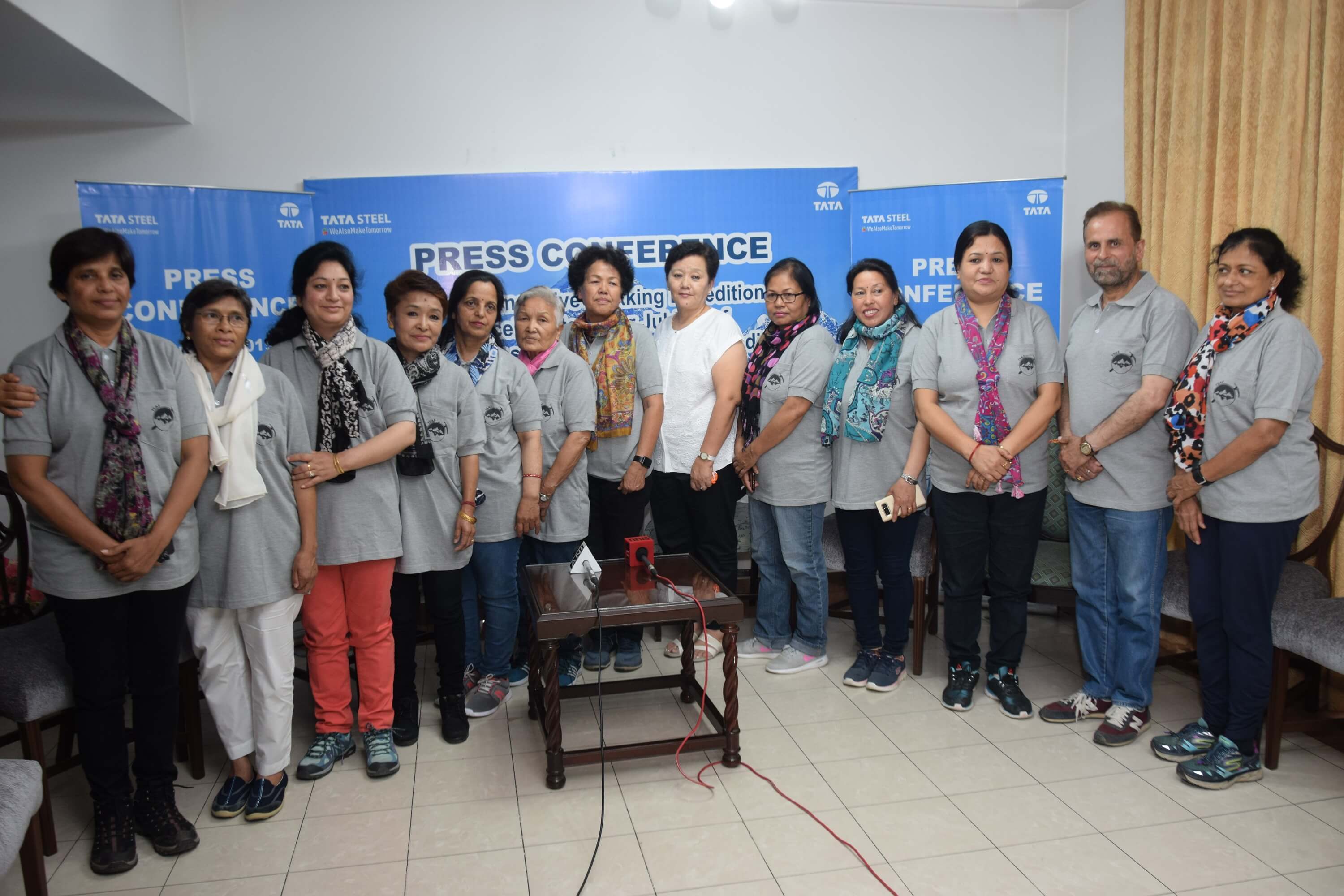 Padma Bhushan awardee Ms. Bachendri Pal, Chief, Adventure Programmes, Tata Steel & Director, Tata Steel Adventure Foundation (TSAF) and the first Indian woman to scale Mt Everest, is leading a trek to commemorative the Silver Jubilee of the 1993 Indo Nepalese Women's Everest Expedition (INWEE 1993). The 1993 expedition was also led by Ms. Pal. 
The 12-day trek, led by Ms. Pal, will cover 3,790 meters (mt) leg of the 8,848 mt stretch of the Mt Everest climb. The trek will include 10 women mountaineers and one technical advisor from the 1993 record breaking expedition (Bachendri Pal, Nimi Sherpa, Chandra Prabha Aitwal, Dicky Dolma, Savita Thapwal, Suman Kutiyal Datal, Radha Devi, Harsha Panwar, G Anita Devi, Dr. Rita Sharad Singh and Rajeev Sharma - Technical Advisor) and two additional members (Shamala Padmanabhan and Chetna Sahoo). Mr Rajeev Sharma was the Technical Advisor of the 1993 expedition team.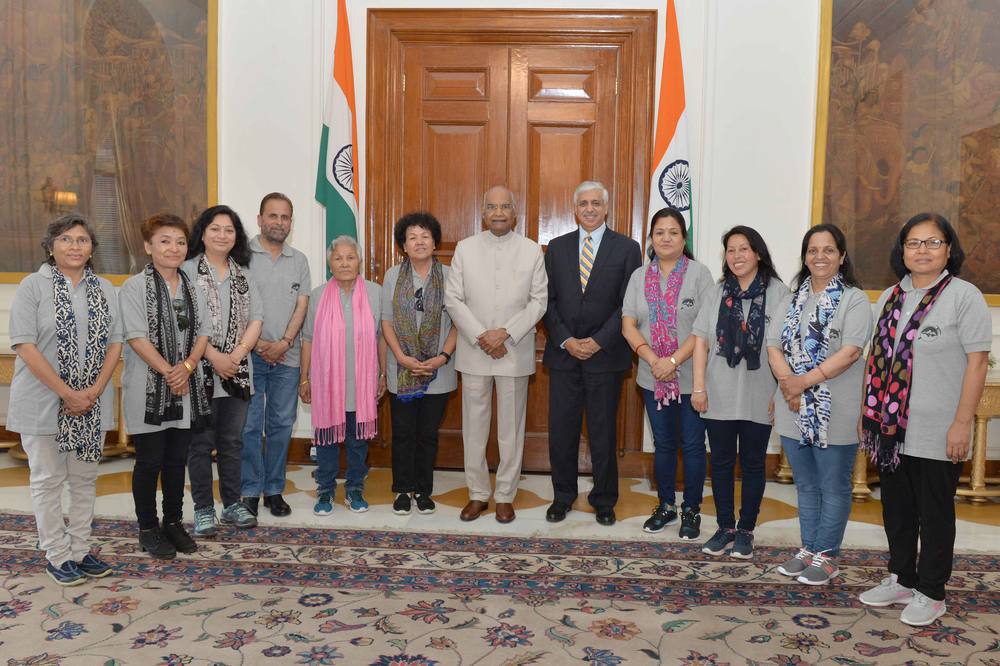 The commemorative expedition will start from Lukla and will retrace the INWEE 1993 route till Khumjung at 3,790 mt above the sea level. The expedition had taken the South-East Ridge route to climb Mt. Everest.
Ms Bachendri Pal along with the expedition team and Mr Chanakya Chaudhary, Vice President, Corporate Services, Tata Steel, met the Hon'ble President of India, Shri Ram Nath Kovind, on Friday (April 12, 2019) at the Rashtrapati Bhavan in New Delhi. The Hon'ble President conveyed his good wishes to the team and remarked on how this team was an inspiration for others.
Ms Bachendri Pal, Chief, Adventure Programmes, Tata Steel & Director, TSAF said, "For me, leading the first-ever international expedition from India to Mt Everest was the ultimate challenge and gave far greater sense of achievement than scaling Mt. Everest in 1984. The 1993 expedition that saw seven women reach the Summit of Mt Everest not only broke several records, but also became an inspiring story for women everywhere to come out with flying colors inspite of the steep challenges, figuratively and literally."
"Through our work at TSAF, several chapters have been added to this inspiring story. This commemorative expedition is not just a trek down the memory lane but a reminder to women in every walk of life that there is nothing that is not within our reach if we are willing to stand up and deliver with guts, grit and gumption," Ms Bachendri Pal added. 
The 1993 Indo-Nepalese Women's Everest Expedition comprising 23 members (Bachendri Pal, Rita Marwah, Santosh Yadav, Nimi Sherpa, Upasana Malla, Chandra Prabha Aitwal, Deepu Sharma, Kunga Bhutia, Dicky Dolma, Radha Devi, Bimla Negi, Savita Mortolia, Suman Kutiyal, Sarla Negi, K Saraswati, Dr. Rita Patel, Harsha Panwar, G Anita Devi, Rajeev Sharma, Nima Norbu, Baldev Kanwar, J N Panwar and Thapa) was led by Ms. Pal. This was the first International all women expedition from India to successfully scale the summit of Mt Everest in its very first attempt. The historic expedition set up several world records at the time which included the largest number of individuals (18) from a single expedition to climb Mount Everest and also the most number of women (7) from a single country to scale Mt Everest. Nimi Sherpa and Upasana Malla were the Nepalese team members.
The 1993 expedition was launched by Indian Mountaineering Foundation and supported by the Ministry of Youth Affairs and Sports, Government of India. All the members of the historic INWEE 1993 expedition were given the first National Adventure Award which is now known as the Tenzing Norgay National Adventure Award.
Ms Pal has personally conducted adventure programmes and motivated thousands of women to participate and develop the 'can do spirit'.  At a National level, she has led several path-breaking expeditions with teams from across the country, providing first such opportunities to several women.
Some of the landmark adventure programmes led by Ms Pal include The Great Indian Women's Rafting Voyage in 1994, The Indian Women's First Trans Himalayan Journey in 1997, Vijay Rally to Kargil in 1999, Indo-African Women Team to Mt Kilimanjaro in Tanzania in 2008 and the Indian Women's first successful expedition to Snowman Trek in Bhutan in 2011.
Expedition Route | Timeline
14th April: Arrival in Kathmandu Transfer to Hotel
15th April: Trek Preparation and Breifing.
16th April: Fly to Lukla
17th April: Lukla to Phakding 2610 m
18th April: Phakding to Namche 3440 m
19th April: Namche to Khumjung 3790 m (highest point)
20th April: Another day at Khumjung.
21st April: Khumjum to Phakding.
22nd April: Phakding to Lukla.
23rd April: Lukla to Kathmandu
24th April: Kathmandu Stay, Buffer day for flight.
25th April: Depart from Kathmandu
Records set by the 1993 Indo-Nepalese Women's Everest Expedition
This was the first all-women international expedition of India to Mt. Everest led by a woman Everest summiteer.
A total of 18 individuals reached the summit in a single expedition, a record which stands till today.
India became the first country to boast of eight women Everest summiteers.
Santosh Yadav became the first woman in the world to summit Mt. Everest twice.
Dicky Dolma became the youngest woman to scale Mt. Everest. She was 19 years of age at the time.
Deepu Sharma after returning from South Summit (28,704 ft) close to Everest Summit, again made the attempt and reached the Summit within a week, becoming the first woman to have performed this feat.
A Sherpa and his wife became the first Nepalese couple to reach the South Summit of Mt. Everest. Sherpa's wife was a member of the expedition and was a part of the support team.
About Tata Steel                  
Tata Steel Group is among the top global steel companies with an annual crude steel capacity of 33 million tonnes per annum (MTPA). It is one of the world's most geographically-diversified steel producers, with operations and commercial presence across the world. The Group recorded a consolidated turnover of US $20.41 billion (INR 133,016 crore) in FY18. In 2018, Tata Steel acquired Bhushan Steel Ltd (now renamed as Tata Steel BSL Ltd). Currently, Tata Steel's consolidated India crude steel production capacity stands at 18.6 MnTPA.
A Great Place to Work-CertifiedTM organisation, Tata Steel Ltd., together with its subsidiaries, associates and joint ventures, is spread across five continents with an employee base of over 65,000.
Tata Steel retained the Industry Leader position in FY18 and ranked second overall in the DJSI assessment, 2017. The Company has been recognised as the Climate Disclosure Leader in 'Steel category' by CDP (2017). Besides being a member of the World Steel Climate Action Programme, Tata Steel has won several awards including the Prime Minister's Trophy for the best performing integrated steel plant for 2016-17, 'Corporate Strategy Award' by Mint (2018), Golden Peacock Award for Risk Management (2018) and Best Risk Management Framework & Systems Award (2019) by CNBC TV18. The Company also received the 'Most Ethical Company' award from Ethisphere Institute for the eight time (2019), Steel Sustainability Champions (2017) by the World Steel Association, Dun & Bradstreet Corporate Awards (2018), Golden Peacock HR Excellence Award by Institute of Directors (2018), 'Best Companies To Work For' recognition by Business Today, 'Asia's Best Integrated Report' award by the Asia Sustainability Reporting Awards (2017), among several others.
In 2018, the Company launched a corporate brand campaign #WeAlsoMakeTomorrow www.wealsomaketomorrow.com
For corporate information, visit www.tatasteel.com and follow us on





Disclaimer
Statements in this press release describing the Company's performance may be "forward looking statements" within the meaning of applicable securities laws and regulations. Actual results may differ materially from those directly or indirectly expressed, inferred or implied. Important factors that could make a difference to the Company's operations include, among others, economic conditions affecting demand/ supply and price conditions in the domestic and overseas markets in which the Company operates, changes in or due to the environment, Government regulations, laws, statutes, judicial pronouncements and/ or other incidental factors.