Magnus Carlsen wins Tata Steel Chess India - Rapid & Blitz 2019
Kolkata, November 26, 2019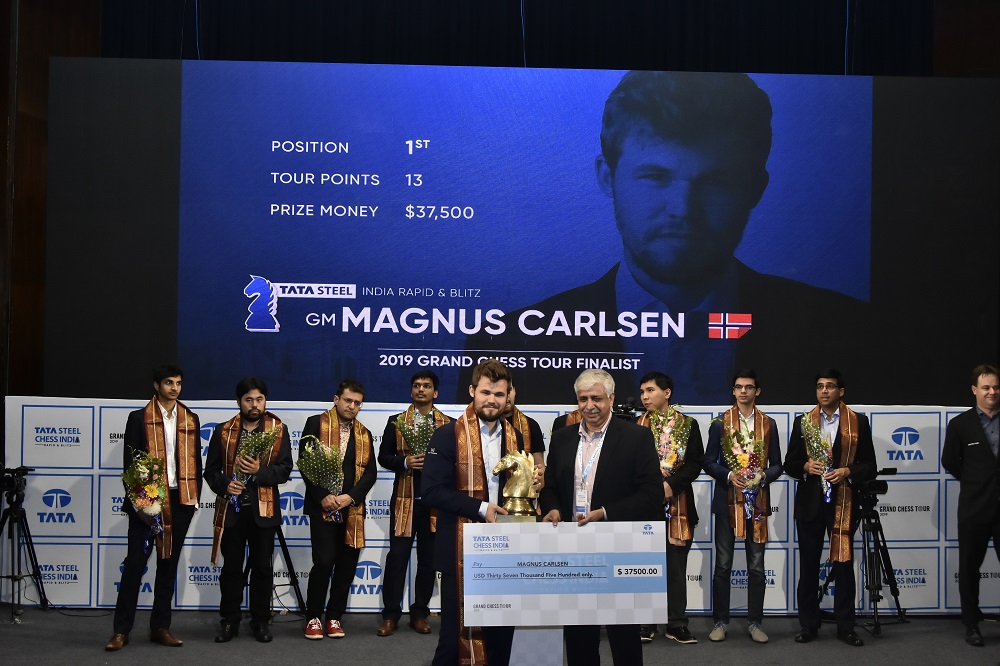 ~ The tournament concludes with a resounding success ~
World Chess Champion Magnus Carlsen scored an impressive 27/36 to win the Tata Steel Chess India Rapid & Blitz 2019, taking home $37,500 and a glittering trophy. He also regains the world number one spot in Rapid Chess and is the world number two spot in Blitz Chess.
Carlsen's showing is also a Grand Chess Tour for the highest number of points scored at a single tour event as Carlsen surpassed his own high score of 26.5 /36 that he achieved in Abidjan, Cote D'Ivoire.
Held at the iconic National Library in Kolkata, the five-day (Nov 22-26) Tata Steel Chess India tournament concluded today. Mr. Chanakya Chaudhary, Vice President, Corporate Services, Tata Steel, presented the trophy and the winner's prize. 
Defending champion of the Rapid, Hikaru Nakamura scored 23 /36 to finish second and earns $25,000 for his exploits. Anish Giri of the Netherlands and Wesley So of the USA finish joint third with 18.5 /36 to earn $17,500 each. Indian superstar Viswanathan Anand finished seventh with 16 /36 and goes back home richer by $7500. Indian wildcards finished with an identical score of 14.5 /36 and take home $7500 each.
The exciting finale of the 2019 Grand Chess Tour will once again be fought out as part of the London Chess Classic. The semi-finals will feature the four top players from the seven regular season tour events with each match consisting of classical, rapid and blitz games. The players will be competing for an enhanced prize fund totaling USD 350,000 this year with the winner taking home an impressive purse of USD 150,000.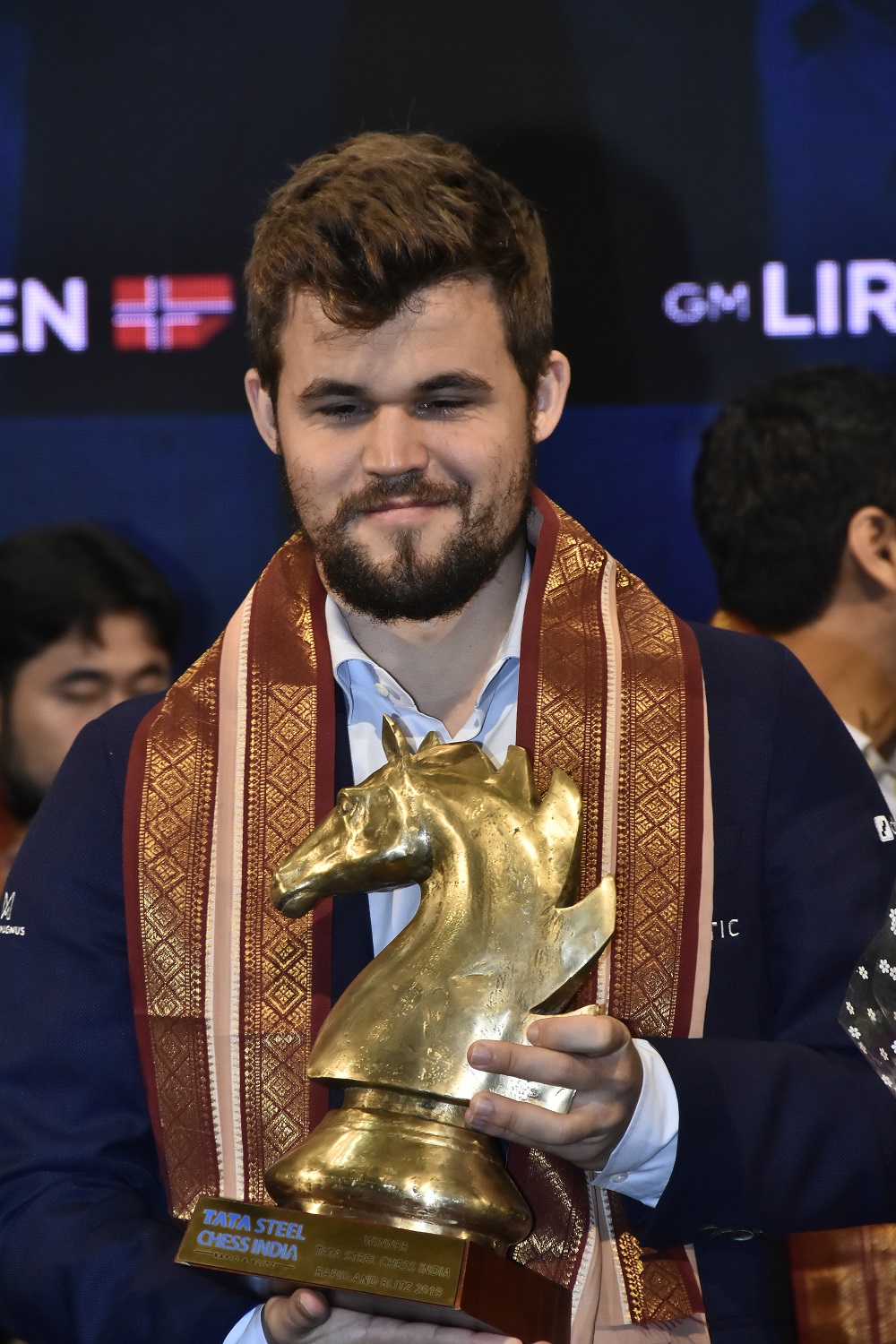 Tata Steel Chess India tournament, Asia's first-ever GCT tour, witnessed eight of the world's top 15 Grandmasters and three top Indian players in action. Participating Grandmasters include world champion Magnus Carlsen, Viswanathan Anand, Ding Liren, Ian Nepomniachtchi, Levon Aronian, Anish Giri, Wesley So, Hikaru Nakamura, Pentala Harikrishna and Vidit Gujrathi.
The tournament is a 10-player field, high-level, all-play-all tournament. The Tata Steel Chess India - Rapid & Blitz 2019 is a part of the Grand Chess Tour (GCT). The Grand Chess Tour is a circuit of international events, each demonstrating the highest level of organisation for the world's best players. The tour was created in partnership between the Saint Louis Chess Club and Chess Promotions, Ltd.
The Grand Chess Tour, inspired by chess legend Garry Kasparov, and launched in 2015, includes two classical and five rapid and blitz tournaments. The Kolkata leg, from November 22-26, 2019, was the penultimate event of the eight-leg Tour which has expanded this time to four continents - Africa, Asia, Europe and America. TSCI 2019 is the first GCT tournament ever to be held in Asia.
Tata Steel has a long-standing association with chess, having been the main sponsor of the famous chess tournament at Wijkaan Zee, The Netherlands, which is one of the most prestigious events in the international chess calendar. In India, too, Tata Steel supports inter-school, district and State-level competitions in Jharkhand. Tata Steel intends to make Tata Steel Chess India a world-class and most sought-after event in professional chess in the years to come.
Annexure:
Standings: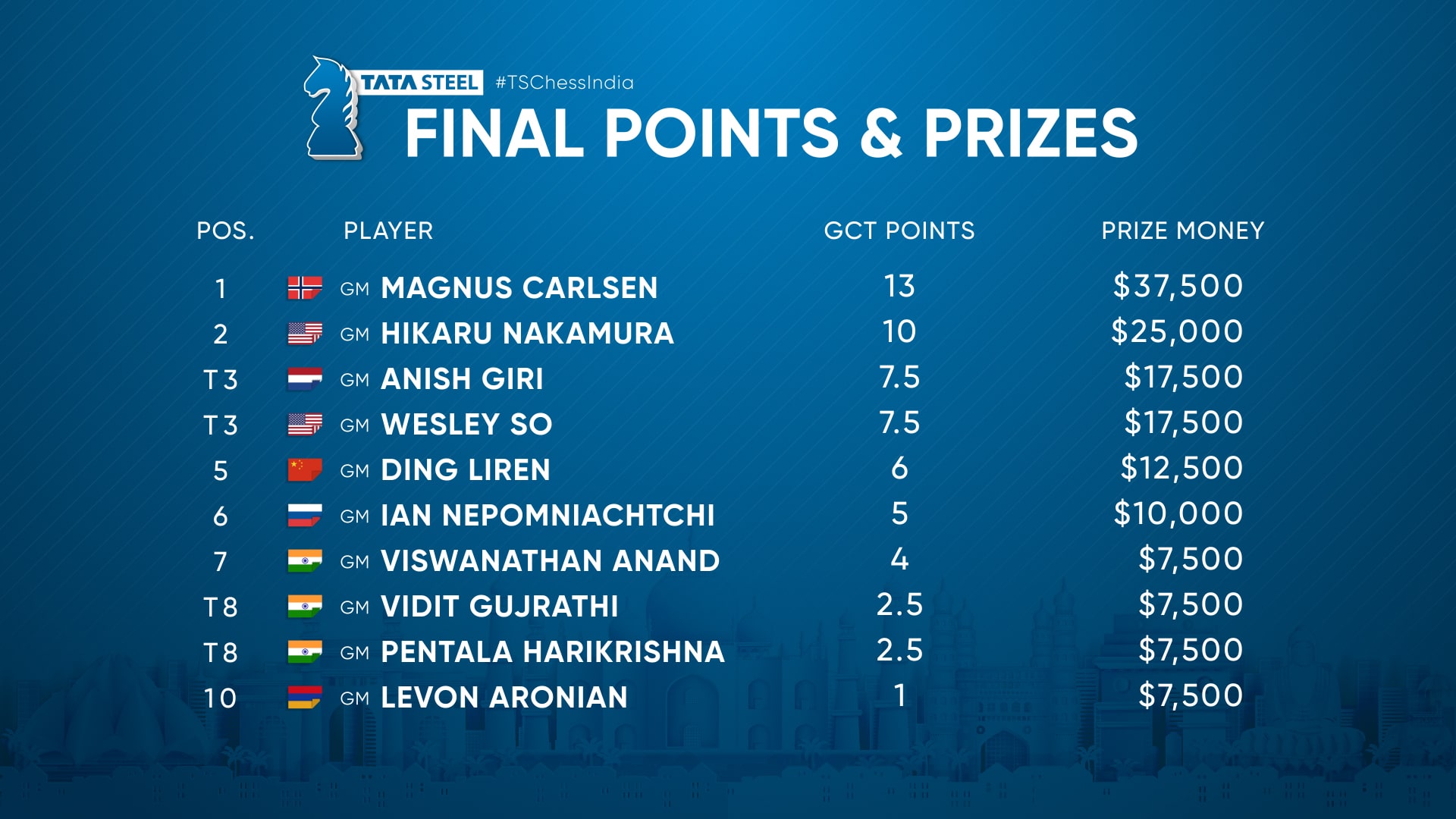 All Results
http://chess-results.com/tnr491101.aspx?lan=1&art=2
Day 5 Results: November 26, 2019
Round 10
Round 10 began very strangely as World Champion Magnus Carlsen offered a draw to Indian wildcard Vidit Gujrathi in only five moves as he is unwell.
Vishy Anand lost again against Ian Nepomniachtchi of Russia. He has lost all three games against the Russian in this event. This defeat was a huge dent in Anand's qualifying campaign for the GCT finals in London next week.
Round 11
World Champion Magnus Carlsen made another draw against Anish Giri as he is still under the weather. Indian star Vishy Anand had a good position but had to agree to a draw after Levon Aronian found a nice Rook sacrifice to force a draw by perpetual checks.
World Blitz number one Hikaru Nakamura of the US won a fine game against Indian wildcard Harikrishna Pentala in the king-pawn opening. Nakamura won a pawn and then duly converted in 36 moves in the Rook and Bishop endgame.
Round 12
Indian superstar Vishy Anand made a great comeback by beating compatriot Harikrishna Pentala with the Black pieces in a Queen-pawn opening. Anand played beautifully in the middlegame to win one pawn and then another. Later on, Anand simply pushed his 'b' pawn to a queen and forced Hari's resignation in 33 moves.
Elsewhere, World Champion Magnus Carlsen continued his draw fest today as he coasts to the title at this event. In this game, he drew against second placed Hikaru Nakamura.
Elsewhere, So Wesley kept pace with Anand in the fight for third place as he beat tail-ender Levon Aronian who is having a regrettable event.
Round 13
Vishy Anand continued his comeback with another classic win against Wesley So of the USA. Anand showed glimpses of his younger self as he played fast, actively and energetic chess. His passed pawn on the 'h' line forced Wesley to give up material. Anand soon captured all of white's pawns and coasted to victory in 58 moves.
Magnus Carlsen took a big step towards his title as he crushed local hope Pentala Harikrishna for his first win of the day.
Vidit Gujrathi rubbed salt into the wounds of Levon Aronian and beat the tail-ender. This win also helped Vidit to jump and overtake Aronian in the overall standings.
Round 14
This was one of the most shocking rounds of the day that featured several upsets!
Firstly, Ding Liren one again defeated Magnus Carlsen in a thrilling game. This was Carlsen's second defeat on Indian soil and in this event and co-incidentally against Ding again.
Indian superstar Viswanathan Anand who had won two consecutive games looked in red hot form against the Indian wildcard Vidit Gujrathi. In the Ruy Lopez opening, Anand's 20th move, Knight to d2 was a howler that allowed Vidit to gain material and the youngster soon converted for his first ever win over his idol and the India number one.
Hikaru Nakamura took a huge step to almost confirm his second place as he beat Ian Nepomniachtchi in an Italian Opening game that was marred with blunders.
Round 15 Five-time World Champion Viswanathan Anand suffered a heart-breaking loss against Dutch number one, Anish Giri in a game where he lost on time in a completely lost position. The former Blitz king, Vishy Anand squandered a winning position and saw his flag fall in-front of the crest-fallen spectators gathered at the auditorium at the National Library in Kolkata.
Second placed Hikaru Nakamura took a giant step towards winning the 'Blitz' event as he won again against tail-ender Levon Aronian while World Champion continued his off-day with another draw against Ian Nepomniachtchi.
But, thanks to this draw, Carlsen managed to win the overall Kolkata GCT event with three games left to play.
Elsewhere, Indian wildcard Harikrishna Pentala gave the local crowd something to cheer as he beat Chinese GM Ding Liren in a pulsating game where both players had only seconds to play for the last twenty moves and played with trembling fingers. Harikrishna's three pieces proved too much for Ding's queen as he resigned on the 96th move in the longest game of the day.
Round 16
Vishy Anand finally managed to stop the bleeding and held Hikaru Nakamura to a draw after losing two games consecutively. Anand was happy to accept Black's draw offer on move 21 after his Italian opening went somewhat wrong.
World Champion Magnus Carlsen simply destroyed Levon Aronian who has had the worst tournament of his life here. In a game that had little impact on the standings, the number one simply crushed the man in last place.
Elsewhere, Ding Liren gave Anand's qualifying chances a huge lifeline by beating Ian Nepomniachtchi in a tense game as Black. Ding's win stops Nepomniachtchi from going ahead.
Round 17
The penultimate game of the event saw Magnus Carlsen face off Vishy Anand in an all-important clash for Anand's qualifying chances for the Grand Chess Tour finals in London. Ironically, Carlsen chose the London System and forced Anand into a defensive setup from the start. Anand defended tenaciously and was back in the game as Carlsen just had seconds left on his clock. Suddenly, Carlsen blundered in time-trouble, Anand missed a golden opportunity to win the game with a Rook sacrifice on h6. Anand played hurriedly inspite of having a minute on his clock and blundered in return only to resign on the next move.
With this loss, Anand has no chance to qualify for the GCT finals in London starting next week.
Ian Nepomniachtchi destroyed local hope Harikrishna Pentala and has raced ahead of Anand in the standings. This win was instrumental for the overall standings in the event.
Ding Liren continued the tradition of beating tail-ender Levon Aronian, who has now lost three games in a row.
Round 18
Indian star Vishy Anand and Levon Aronian both drew quickly to Ding Liren and Ian Nepomniachtchi respectively to end their campaigns in Kolkata on an overall sad day for both the players. Anand missed the GCT final qualification spot while Aronian had a miserable blitz event in probably his worst showing ever as a Chess professional.
World Champion Magnus Carlsen ended his campaign with a draw in a very complicated position against Wesley So. He wins the event with clear first place and four points ahead of his nearest rival.
All the games ended in a draw except Vidit vs Nakamura where the latter managed to win the game and just the Blitz event. Vidit tried hard to defend and also made an illegal move but Nakamura won a game thanks to his extra pawn in the King and Pawn endgame.
About Tata Steel
Tata Steel group is among the top global steel companies with an annual crude steel capacity of 33 million tonnes per annum. It is one of the world's most geographically-diversified steel producers, with operations and commercial presence across the world. The group (excluding SEA operations) recorded a consolidated turnover of US $22.67 billion in the financial year ending March 31, 2019. In 2018, Tata Steel acquired Bhushan Steel Ltd (now renamed as Tata Steel BSL Ltd).
A Great Place to Work-Certified organisation, Tata Steel Ltd., together with its subsidiaries, associates and joint ventures, is spread across five continents with an employee base of over 65,000. Tata Steel retained the 'Global Steel Industry Leader' position in the DJSI 2018. The Company has been recognised as the Climate Disclosure Leader in 'Steel category' by CDP (2017). Besides being a member of the World Steel Climate Action Programme, Tata Steel has won several awards including the Lighthouse recognition for its Kalinganagar Plant – a first in India, Prime Minister's Trophy for the best performing integrated steel plant for 2016-17, 'GreenPro' certification for products (Tata Pravesh Steel Doors, Tata Structura, Tata Pipes) by CII, Authorized Economic Operator  (AEO) status (Tier 2) by the Directorate of International Customs (Ministry of Finance, Govt. of India), 'Corporate Strategy Award' by Mint (2018), Golden Peacock Award for Risk Management (2018) and Best Risk Management Framework & Systems Award (2019) by CNBC TV18. The Company also received the 'Most Ethical Company' award from Ethisphere Institute for the eight time (2019), Steel Sustainability Champion (2018) by the World Steel Association, Dun & Bradstreet Corporate Awards (2019), Golden Peacock HR Excellence Award by Institute of Directors (2018), 'Best Companies To Work For' recognition by Business Today, 'Asia's Best Integrated Report' award by the Asia Sustainability Reporting Awards (2017), among several others.
Last year, the Company launched a corporate brand campaign #WeAlsoMakeTomorrow.
To know more, visit www.tatasteel.com | Follow us on





Disclaimer:
Statements in this press release describing the Company's performance may be "forward looking statements" within the meaning of applicable securities laws and regulations. Actual results may differ materially from those directly or indirectly expressed, inferred or implied. Important factors that could make a difference to the Company's operations include, among others, economic conditions affecting demand/supply and price conditions in the domestic and overseas markets in which the Company operates, changes in or due to the environment, Government regulations, laws, statutes, judicial pronouncements and/or other incidental factors.