Tata Steel launches 'The Green School Project – Phase II' in Jajpur district
Bhubaneswar, August 20, 2018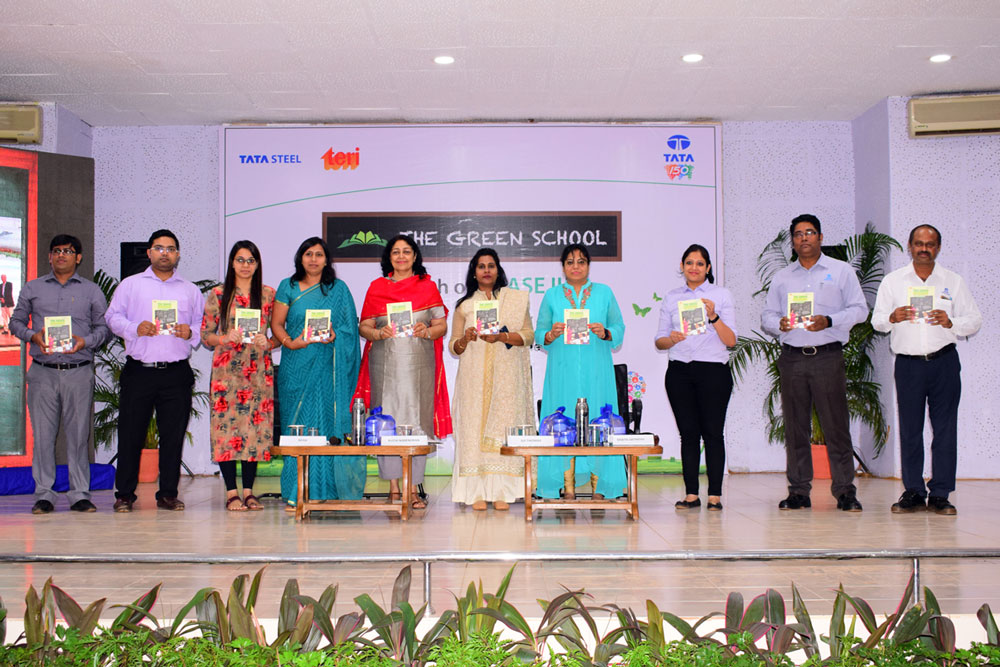 Aimed at creating awareness and understanding about environmental issues in school campuses, Tata Steel today launched 'The Green School Project – Phase II' in association with 'The Energy and Resources Institute' (TERI) in ten select schools across Sukinda, Kalinganagar and Vyasanagar in Jajpur district.
The Phase II of the project was launched at Kate Purty Auditorium, Sukinda by Ms Ruchi Narendran followed by the unveiling of 'Teachers' Green Handbook'. The Green School Project aims to create awareness and sensitize students, teachers and community on issues related to environment for which TERI has been actively promoting environment awareness through classroom teaching and outdoor activities. The project focusses on empowering the next generation through distinct pedagogy, green curricula and project-based learning.
Addressing the students on the occasion, Ms Narendran said: "Green School Project is a movement to create awareness on climate change." Terming it as a way of life for the survival of humanity, she urged the students to work towards environmental sustainability which will help in transforming lives of future generations.
While Phase I of the project was implemented in 10 schools located in operational areas of Tata Steel, Phase II is being extended to 30 schools spread across Tata Steel operational areas in the eastern states of Jharkhand and Odisha including Jharia, West Bokaro, Joda, Kalinganagar, Noamundi and Sukinda. The schools where the Phase II of the project would be implemented include Feeder Model School, Mt. Litera Zee School, St. Mary's School, Vysanagar Public School, Glorious English Medium School, St. Xavier's High School, Sharama Shakti Nodal Uchha Vidyalaya (Sukinda Chromite Mine), Stewart School (Sukinda), Yubashakti Nodal UP School (Sukinda) and Saraswati Sishu VidyaMandir (Kalarangiata).
The project will encompass year-round activities related to environment in schools for 15 months where 'Whole school' approach is being adopted with emphasis on students of Class 6 to 8 in the formal schools for capacity building initiatives. More than 150 school students along with teachers from select schools across Sukinda and Kalinganagar participated in the event. After the inaugural ceremony, a need assessment survey for the students and a team building workshop was organized for the students of various schools. Teachers training for teachers from Sukinda and Jajpur was also organised along with student's session for Feeder Model School students.
Among those present on the occasion were Mr Sabyasachy Mishra, Head (Mine & Production Planning, Ferro Alloys & Minerals Division, Tata Steel, Ms Neha Agarwal, Project Coordinator, TERI along with other senior officials of Tata Steel.
About Tata Steel
Tata Steel Group is among the top global steel companies with an annual crude steel capacity of 27 million tonnes per annum (MTPA) as on March 31, 2018. It is the one of world's most geographically-diversified steel producers, with operations in 26 countries and a commercial presence in over 50 countries. The Group recorded a consolidated turnover of US $20.41 billion (INR 133,016 crore) in FY18. Tata Steel Group is spread across five continents with an employee base of nearly 74,000. Tata Steel retained Industry Leader position in FY18 and ranked second overall in the DJSI assessment, 2017. The Company has been recognised as the Climate Disclosure Leader in 'Steel category' by CDP (2017). Besides being a member of the World Steel Climate Action Programme, Tata Steel was felicitated with several awards including the Prime Minister's Trophy for the best performing integrated steel plant for 2014-15 and 2015-16, Best Risk Management by CNBC TV18 (2018) and 'Corporate Strategy Award' by Mint (2018). The Company also received the 'Most Ethical Company' award from Ethisphere Institute for the sixth time (2018), Steel Sustainability Champions (2017) by the World Steel Association, Dun & Bradstreet Corporate Awards (2017 & 2018), Golden Peacock HR Excellence Award by Institute of Directors (2017) as well as 'Asia's Best Integrated Report' award by the Asia Sustainability Reporting Awards (2017), among several others.