Tata Steel announces the advent of Jamshedpur Carnival 2018
Jamshedpur , December 12, 2018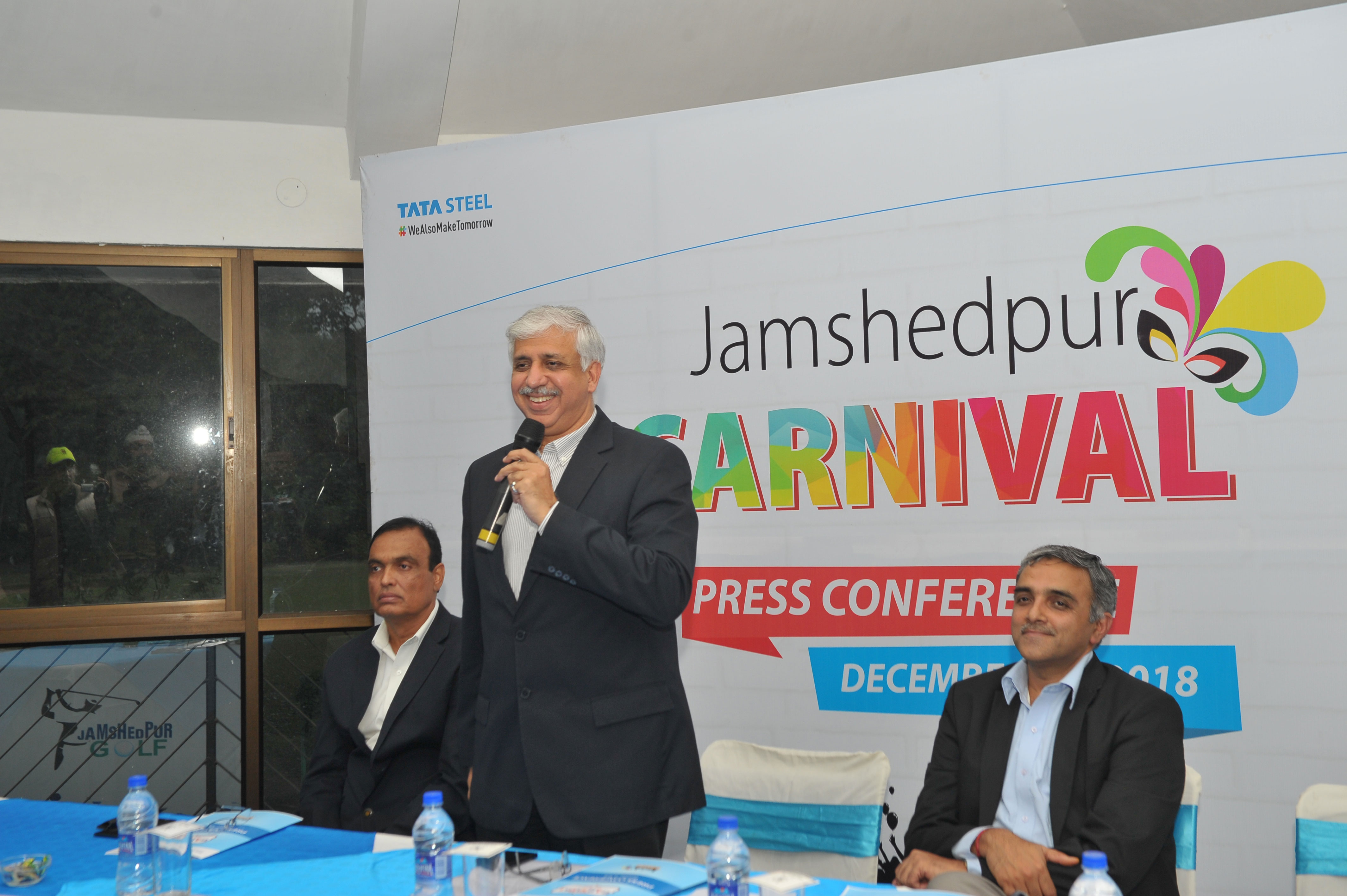 The month of December brings the most eagerly anticipated event every year, the centerpiece of the Jamshedpur Winter Fest, the Jamshedpur Carnival. Complete with a Carnival Parade with floats and live bands that winds through the heart of the town and ends in Jamshedpur's largest open space, Gopal Maidan, this year's Jamshedpur Carnival is a four- day music, dance, games and food fete where the city truly comes together.
The Jamshedpur Carnival started in 2013 with the objective to connect with the communities and at the same time provide a platform to showcase talent of local artists. The central venue of the Carnival is Gopal Maidan. In 2013, the Carnival was funded entirely by Tata Steel and JUSCO. But over the years we have been able to get support from local industries, communities and TIS Group Companies.
Vice-President, Corporate Services Tata Steel Mr. Chanakya Chaudhary while chairing the press conference said "It is a very good initiative started initially by Tata Steel and now also has other partners. It is a reflection of our community engagement thought process. The event is relevant to all age groups and I hope people participate in this with their families,"
JUSCO MD Mr. Tarun Daga said "This year the celebrity performer is Jubin Nautiyal, Bollywood playback singer, who will perform during the finale of the Jamshedpur Carnival on December 18, 2018. Apart from him, Smart Steps Dance Troupe from Bengaluru is a special invitee."
GROWTH OF JAMSHEDPUR CARNIVAL
2013: The idea of Jamshedpur Carnival was conceived, spanning one and half day. The Carnival began with the Parade from Jubilee Park, followed by performances by local talents. The 2nd day was the Kite Festival.
2014: The response during 2013 was very encouraging and it was decided to make the Carnival more elaborate. Accordingly, XLRI, Jamshedpur Hoteliers Association, Singhbhum Chamber of Commerce & Industry, Social Organizations, and TIS Group Companies extended their support and became partners.
2015 onwards: Local industrialists and business communities became partners and financially supported the Carnival. District Administration and Press/ Media actively took part. It is now a 4 – day event.
Over the years we have had many celebrity performers, namely, Lesley Lewis, Astad Daboo, Tanushree Shankar, Pandit Shyamal Maharaj & Geetanjali Basu, Jeet Ganguly, Javed Ali. This year the celebrity performer is Jubin Nautiyal, Bollywood playback singer, who will perform during the finale of the Jamshedpur Carnival on December 18, 2018. Apart from him, Smart Steps Dance Troupe from Bengaluru, TRAP Rock Band from Kolkata and Orient Express Band from Kolkata will also perform during the Jamshedpur Carnival from December 15 – 18, 2018 at the Gopal Maidan. A special attraction this year is that for the first time in Jamshedpur Carnival - Bollywood Stars - Jimmy Shergil and Yuvika Choudhary will perform with Jubin Nautiyal Band on December 18, 2018.
The carnival itself is chock-a block with events. One of its biggest draws is the Dance Competition, where local dance academies and schools vie for a prize with performances on a theme that must combine various genres as different as Bharatnatyam, Chau, Salsa and Hip Hop! Aspiring singers participate in the local Sa Re Ga Ma competition. Each competition culminates in a celebrity performance, including a Mega Musical Night! The Four-day Carnival (December 15 – 18, 2018) is dotted with a whole number of other colourful events.
Jamshedpur Carnival 2018 Events at Gopal Maidan
The signature Carnival Parade will take place on Dec 15th. (Starts at 2:00 pm from Jubilee Park to Gopal Maidan)
Launch of Carnival with a foot-tapping Dance Festival on Dec 15th and Celebrity performance by top rated Indian Troupe 'Smart Steps' (5:30 pm onwards)
The musical extravaganza - Sa Re Ga Ma will take place on Dec 16th followed by a special Musical Performance (i.e. the VIP Singing Nite) - 8:30 pm onwards)
Master Chef Competition on Dec 16th (11:30 am onwards)
Painting Competition at Gopal Maidan on Dec 16th. (10:30 am onwards)
Finals of the Rock Band Competition and performance by celebrity band 'TRAP' on Dec 17th (5:30 pm onwards)
Mega Bollywood Musical Night by Jubin Nautiyal with a special performance by Jimmy Sheirgill and Yuvika Chaudhary
Food Festival and Game Zone on all days from 15 to 18 December, 5:30 pm onwards at Gopal Maidan.
WEBSITE
The Jamshedpur Winterfest 2018 website has been recently revamped to give it a fresh, energetic and vibrant look, to reflect the spirit of Jamshedpur during the event. The new website is highly informative, with a countdown on the latest events and their respective locations, on the landing page itself. The users can also subscribe to the website, and pop-ups of the latest events would automatically be sent to them. The event schedule has been laid out in map view and calendar view, on the website, for the viewers to easily navigate to the event locations via Google Maps or mark their calendars. The website also highlights the best of Jamshedpur and presents a brief yet comprehensive guide to the city. It is also a repository of photos and videos of the events taking place this year, as part of Winterfest 2018 and the media coverage of the same. A key feature is also that visitors can directly purchase tickets for Indian Super League matches from the website.
VISITORS TO JAMSHEDPUR
Out station visitors coming to Jamshedpur during this period can also experience Jamshedpur's more permanent charms, best experienced in winter! A trip to the Jamshedpur Zoological Park located in Jubilee Park, the 'green lungs' of the city,for a glimpse of the zebras or lions. Those into trekking can take a trip to the Dalma Wildlife Sanctuary or drive up to the hilltop, and one may even spot some wild elephants and flying squirrels! Dimna and Chandil lakes offer rafting and boating on placid waters. If a waterfront picnic is preferred, then its best to savour some snacks and hot tea from local vendors, near Dimna Dam, as lake waters lap at the shore.
And while in Jamshedpur, a visit to the Tata Steel Centre for Excellence is a must, for a look at the Archives, to get a feel of how this unique town came about. As for all selfie buffs, a simple drive around Jamshedpur's many parks, scenic walkways, and the riverside should provide more than ample opportunities for clicks!
What's more, the short distances in Jamshedpur make it perfectly possible to pack in multiple activities in one day. Golfers can start the day with a round at the greens, take the kids for a visit to the zoo later in the morning, or even a trip through the highway, to one of the lakes.
Visitors can stay in the numerous hotels that have sprung up, that cater to different budgets, and the local Hoteliers' Association, one of the partners in the Fest, is here to accommodate visitors who come in at this time. There's an entire season's worth of fun, packed and waiting in the Winter Fest 2018 in Jamshedpur.
About Tata Steel
Tata Steel Group is among the top global steel companies with an annual crude steel capacity of 27.5 million tonnes per annum (MTPA) as on March 31, 2018. It is one of the world's most geographically-diversified steel producers, with operations in 26 countries and a commercial presence in over 50 countries. The Group recorded a consolidated turnover of US $20.41 billion (INR 133,016 crore) in FY18. Tata Steel Group is spread across five continents with an employee base of over 65,000. Tata Steel retained Industry Leader position in FY18 and ranked second overall in the DJSI assessment, 2017. The Company has been recognised as the Climate Disclosure Leader in 'Steel category' by CDP (2017). Besides being a member of the World Steel Climate Action Programme, Tata Steel was felicitated with several awards including the Prime Minister's Trophy for the best performing integrated steel plant for 2014-15 and 2015-16, Best Risk Management by CNBC TV18 (2018) and 'Corporate Strategy Award' by Mint (2018). The Company also received the 'Most Ethical Company' award from Ethisphere Institute for the sixth time (2018), Steel Sustainability Champions (2017) by the World Steel Association, Dun & Bradstreet Corporate Awards (2017 & 2018), Golden Peacock HR Excellence Award by Institute of Directors (2017) as well as 'Asia's Best Integrated Report' award by the Asia Sustainability Reporting Awards (2017), among several others.
Disclaimer
Statements in this press release describing the Company's performance may be "forward looking statements" within the meaning of applicable securities laws and regulations. Actual results may differ materially from those directly or indirectly expressed, inferred or implied. Important factors that could make a difference to the Company's operations include, among others, economic conditions affecting demand/ supply and price conditions in the domestic and overseas markets in which the Company operates, changes in or due to the environment, Government regulations, laws, statutes, judicial pronouncements and/ or other incidental factors.