Bhelatand Colliery of Tata Steel conferred with FIMI award for Health & Safety
Jamshedpur, August 17, 2018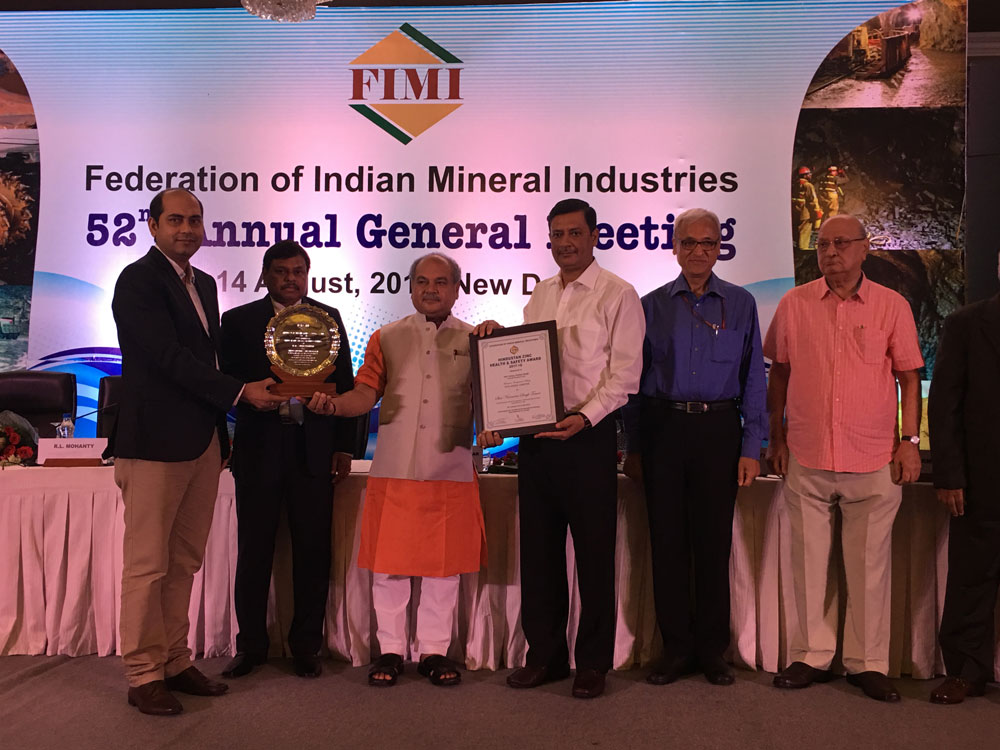 The Bhelatand Colliery of Jharia Division of Tata Steel has been conferred with Hindustan Zinc Health & Safety Award for the year 2017-18 from Federation of Indian Mineral Industries (FIMI).
The award was received by Mr Sanjay Kumar Singh, General Manager (Coal), Tata Steel and Mr Rajeev Raman, Head (Safety), Jharia Division, Tata Steel from Mr Narendra Singh Tomar, Minister of Rural Development, Panchayati Raj and Mines and Mr Anil Mukim, Secretary, Ministry of Mines at New Delhi on August 14, 2018.
Expressing happiness on receiving the award, Mr Sanjay Kumar Singh said: "This is another feather in the cap of Jharia Division. We are committed to providing a safe and healthy working environment in Tata Steel.  Health & Safety being the integral part of our mining operations, our efforts have always been towards achieving an injury and illness free workplace."
Health & Safety of workers engaged in mining activities and communities around mines has been getting increasing attention of societies and stakeholders. To specifically attract attention and focused efforts of mining industry towards this important area, FIMI introduced this award in 2010-11 to recognize good efforts and initiatives made by the mining industry in taking care of Health & Safety of their employees and to inspire others to do the same. The ultimate objective of this award is to create awareness and implement strategies for improving occupational Health & Safety management standards so as to focus on development, management and awareness of occupational Health & Safety by minimizing adverse hazards and risks.
Besides other conditions, mines with no fatalities in last three years (since 2015-16), having overall good health conditions of mine workers and not having any report of worker suffering from notifiable disease were eligible to apply for the award. Bhelatand Colliery is the oldest colliery of Tata Steel acquired in the year 1910. The hallmark of this colliery has been its sustained growth, efficiency and production capabilities. In the years gone by, Jharia Division has pioneered several technological innovations which have revolutionized underground coal mining in India.
About Tata Steel
Tata Steel Group is among the top global steel companies with an annual crude steel capacity of 27 million tonnes per annum (MTPA) as on March 31, 2018. It is the world's second-most geographically-diversified steel producer, with operations in 26 countries and a commercial presence in over 50 countries. The Group recorded a consolidated turnover of US $20.41 billion (INR 133,016 crore) in FY18. Tata Steel Group is spread across five continents with an employee base of nearly 74,000. Tata Steel retained Industry Leader position in FY18 and ranked second overall in the DJSI assessment, 2017. The Company has been recognised as the Climate Disclosure Leader in 'Steel category' by CDP (2017). Besides being a member of the World Steel Climate Action Programme, Tata Steel was felicitated with several awards including the Prime Minister's Trophy for the best performing integrated steel plant for 2014-15 and 2015-16, Best Risk Management by CNBC TV18 (2018) and 'Corporate Strategy Award' by Mint (2018). The Company also received the 'Most Ethical Company' award from Ethisphere Institute for the sixth time (2018), Steel Sustainability Champions (2017) by the World Steel Association, Dun & Bradstreet Corporate Awards (2017 & 2018), Golden Peacock HR Excellence Award by Institute of Directors (2017) as well as 'Asia's Best Integrated Report' award by the Asia Sustainability Reporting Awards (2017), among several others.