Tata Steel's Sukinda Chromite Mine Organises Fest to Spread Awareness on Biodiversity
Sukinda, January 24, 2017
Around 700 school students participated in the art competition on biodiversity themes organized on the occasion of JAIBAKALA VIVIDHATA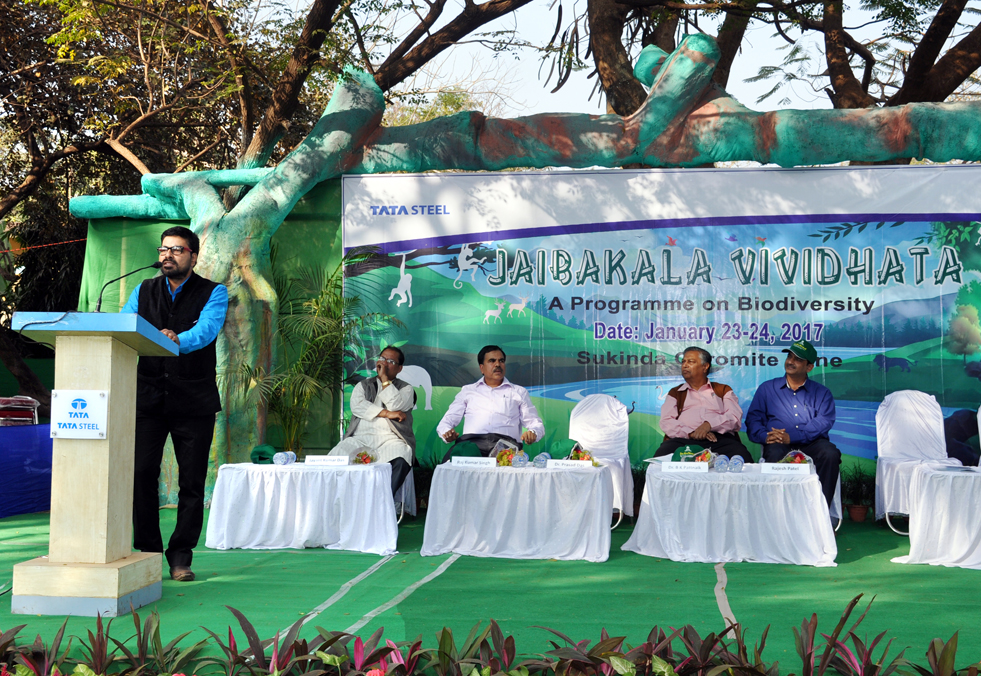 Sukinda Chromite Mine( SCM) of Tata Steel, in Jajpur district of Odisha organized a two day long festival "JAIBAKALA VIVIDHATA", a programme on biodiversity. This initiative was organized with an aim to sensitize the students and the community about the importance of preserving and protecting biodiversity through this unique initiative of art and painting.
Around 700 students, from SCM campus and nearby panchayats of Sukinda block including Ransaol, Chingudipal, Kaliapani, Dolapada, Birasal, etc., participated in the competition held during the occasion on paintings of animals and birds from any one of the categories like Extinct, Contemporary and Species they believe willcontinue to exist in future.  Apart from the school students, some village youth and women from the locality also participated in the competition.There was also a mimicry competition on various sounds of animals and birds for the students.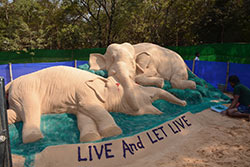 Dr. B K Pattnaik, Chairman, State Expert Appraisal Committee, Ministry of Environment, Forest & Climate Change,  Dr Prasad Das, Sr. Scientist, Odisha State Bio-Diversity Board, Mr. Jayant Kumar Das,  Sr Lecturer, B K College of Art and Crafts, Mr Raj Kumar Singh, Chief, Procurement, Tata Steel, Mr. Rajesh Patel, Chief, Mining, SCM addressed the gathering during the concluding ceremony and gave away prizes to the winners.
Commending Tata Steel for the initiative,Dr Pattnaik said that, such events would instill a feeling of love and belongingness towards nature and biodiversity in the minds of school children. Reinforcing Tata Steel's commitment towards environment while formally launching the programme on January 23, 2017 Mr R R Satpathy, General Manager, Operations, Ferro Alloys and Minerals Division, Tata Steel said this is a part of a series of initiatives SCM is undertaking to create awareness on protection and preservation of biodiversity among the community particularly youngsters.

Noted artist Mr Badal Pramanik and his team from Jamshedpur and Mr Asis Saran, lecturer, B K College of Art and Crafts, Bhubaneswar and his team conducted workshop on sketch, drawing, clay making, art working on thermocol, etc. where more than 700 students participated.This is the second year in a row when the Jaibakala Vividhata programme is being organized in SCM. To spread awareness on man-animal conflict, particularly on death of elephants, a sand art was also made at the venue which was appreciated by the dignitaries and visitors.Among others present on the occasion,were Tata Steel officers, SCM Union Members, students, teachers and representatives from media.
As part of its commitment towards environment Tata Steel as a Company adopted the company-wide Biodiversity Policy in April 2016 which aims to achieve No Net Loss on biodiversity. For all its mines and collieries in the state of Jharkhand and Odisha, it has  developed Biodiversity Management Plans.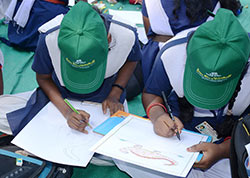 About Tata Steel
Tata Steel Group stands among the top global steel companies with an annual crude steel capacity of 28 million tonnes per annum (MnTPA) and a turnover of US $17.69 billion in FY16. It is the world's second-most geographically-diversified steel producer, with operations in 26 countries and commercial presence in over 50 countries. Established in 1907, the Group's vision is to be the world steel industry benchmark in "Value Creation" and "Corporate Citizenship" through the excellence of its people, its innovative approach and overall conduct. Underpinning this vision is a performance culture committed to aspiration targets, safety and social responsibility, continuous improvement, openness and transparency. Having bagged the Deming Application Prize and Deming Grand Prize for continuous improvement in 2008 and 2012 respectively, Tata Steel has now been recognised as the global 'Industry Leader' in 'Steel category' by Dow Jones Sustainability Index. Besides being one of 'worldsteel's' Climate Action members, it has also been awarded the CII ITC Sustainability Prize, the 'Best-in-class Manufacturing' by TIME Award, the Prime Minister's Trophy for the best performing integrated steel plant, among several others.

Chief, Corporate Communications, India & SEA
Tata Steel