Tata Steel releases updates on two expeditions
Jamshedpur, April 28, 2017
 
Gokyo Everest Grand Circle Expedition led by Bachendri Pal climbs the highest peak at 18500 ft.
And
Mt. Everest Expedition 2017…the journey has begun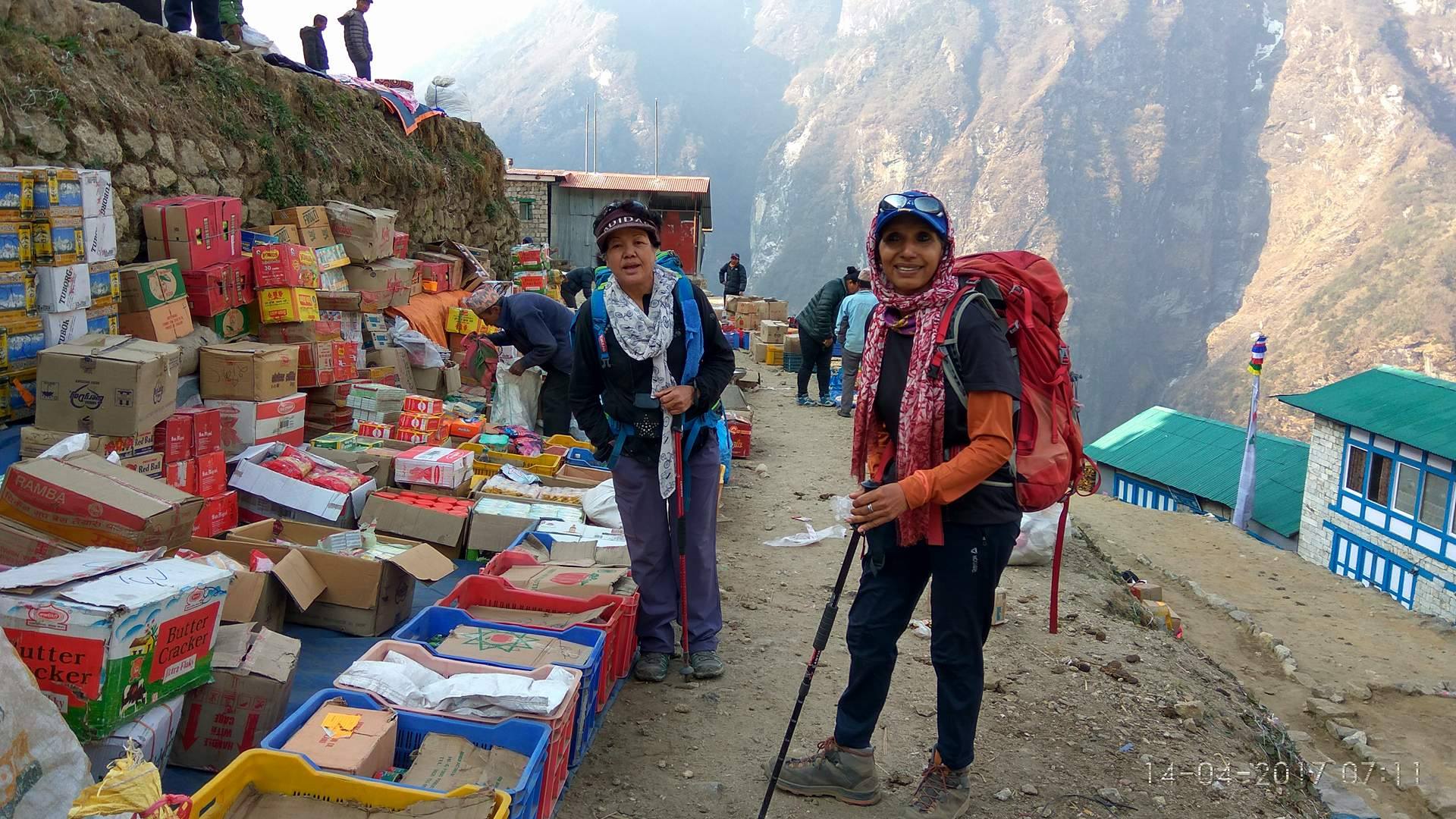 Gokyo Everest Grand Circle Expedition
The Women's Expedition to Gokyo Everest Grand Circle led by Ms.Bachendri Pal , Chief Adventure Programme, Tata Steel, was successfully completed when all 6 members of the Expedition reached Everest Base Camp via Gokyo RI.  The team comprised of Premlata Agrawal (Officer in Tata Steel who has climbed all the 7 highest summits of 7 continents), Swarnalata Darai from Orissa, Shanti Hembrum from Noamundi Jharkhand, Poonam Rana from Uttarakhand, V Saraswati from Border Security Force Delhi   and Amla Rawat from Dehradun. Sandeep Tolia a TSAF staff also participated to get valuable experience on leading expeditions. Hemant Gupta and Payo Murmu were also part of this expedition to acclimatise themselves before they commenced their climb to Mt Everest.
Ms Bachendri Pal with years of leading behind her, coached the members during the journey on various matters of expeditioning. From eating food (for providing calories/energy) to drinking fluids to maintain the physiological changes in the internal body systems to high altitude travel taking all precautions including the protection of eyes from the deadly ultra violet rays.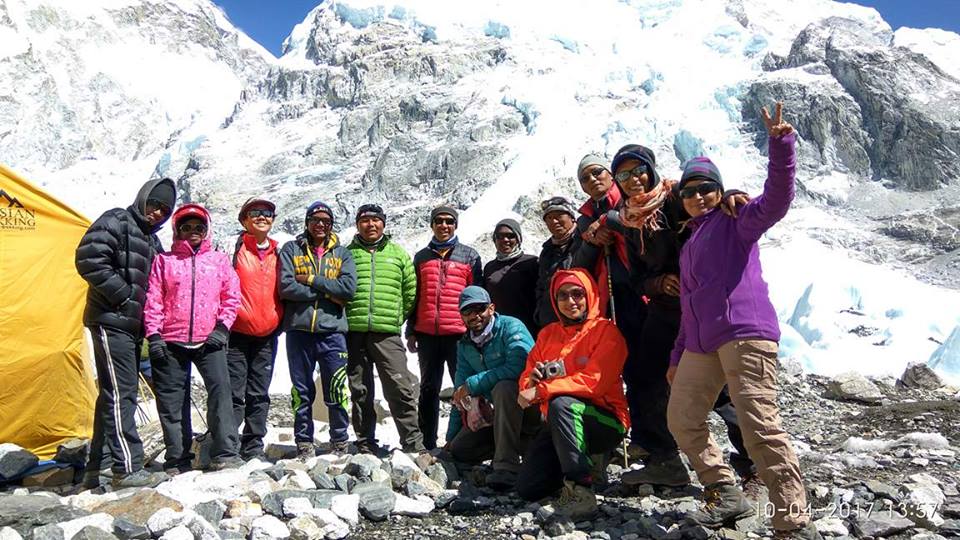 The following are excerpts from Ms. Bachendri Pal's daily notings during the expedition:
"Every day I used to share my experiences and teach the team members why people climb mountains. What is the learning from it? It's a journey of workshops where every day is different with new tasks. Two girls (Saraswati & Shanti) were in the mountains for first time. I used to share with them about psycology in high altitude, high altitude sickness, Ultra violet rays and its effects on eyes and skin; Flora & Fauna i.e. about pine trees junipers, rhododendron, Magnolia, Primula.
The trek from Shivalaya was a great help in acclimatization. We crossed Langura pass, Takshola pass and reached Namche on 1st April. From Namche we crossed Dole, Macherma and Gokyo Lakes. It is for the first time that I had taken this route.  From Gokyo we hiked upto Gokyo Ri and from the top view was amazing. We were able to see four 8000 'ers --- Mt. Everest, Lhotse, Cho oyu & Makalu. Next Challenge was to cross Chola-la. Hike up the pass was steep and on the other side there was ice and snow. All the members did really well, especially Saraswati & Shanti who had no experience of travelling on snow. We also had crampons (iron spikes worn under climbing shoes) in case of any emergency. After crossing Chola – La we stayed at Dzongla. Along the way I was remembering my own expedition in 1984 and the all women Everest Expedition which I led in 1993. With change in time, facilities had also changed tremendously. I was getting emotional going through the same route. Blurred images were coming in front of me. In our time there were very few lodges with absolutely no facilities. Now all the villages are big with newly constructed lodges and facilities to make you comfortable as if you are at home. Hike hard during the day and by evening you are in comfort Zone. The unique thing about all the lodges was the dining area with Its warmth, space, delicious food, and the very friendly and educated staff. People from across the world were sitting and sharing experiences and we also learning from them. I was very particular about giving respect to others, respecting culture of others. I would  always tell the members to say hello or  Namaste, Greet Everyone with a smile whoever we meet on the way.
We reached base camp on 10th April. I was amazed by the facilities now climbers have in the camp. In our time we used to sit on stones, no heaters or cozy tents. I got emotional and tears come to my eyes. Poonam was so excited that she didn't want to go back from base camp. We had delicious lunch at base camp at 02.00 pm we started from base camp to Gorakhshep, when we reached Gorakhshep, weather was clear. I told Hemant, Payo, Sandeep, Poonam to Climb Kalapatthar that very evening. They did the climb and came down which was beyond my expectations.
We climbed Kalapathar on 11th morning & came to Lobuche. Hemant & Payo will continue their journey. Today they will go to Lobuche high camp to climb Lobuche East. We all are feeling very emotional in leaving them. It was like family. We wish them good luck. Lots of times, I was getting sad and remembering my Mother. Earlier, when I would go to expeditions, I would call her and tell her that I am fine and doing well. Now, I feel void/emptiness. You always feel like a kid when she was around.  This Expedition was also to get a hold on myself coming as it did after the passing away of my dear Mother. In the mountain I find my happiness, I feel alive and try to teach as much as possible to younger generation so they can learn from my experience and become good human beings."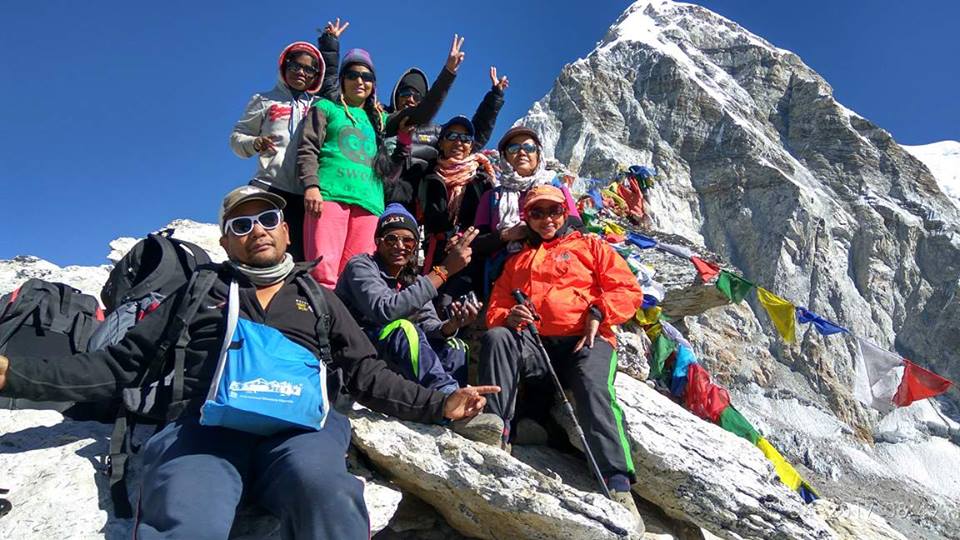 Mount Everest Expedition
Hemant Gupta and Payo Murmu with their focus on Mt. Everest reached Everest Base Camp on April 10, 2017.  The same day they trekked to Gorakshep and climbed KalaPatthar (18500ft).  After resting for a day as part of the acclimatization exercise they climbed Mt Lobuche (20075 ft) on April 12.  Thereafter they reached Everest Base Camp alongwith other Everest climbing members on April 13, 2017.
Hemant from the Everest Base Camp (EBC) has sent his report on the expedition as follows:
April 14, 2017 was rest day at Everest Base Camp.  Thereafter they were put through the Basics of Ice Craft and Snow Craft training including anchoring ropes on ice and climbing up through the the help of 'Ascenders' called JUMMARS.
Puja was performed at the Base Camp on April 17th , paying respects and homage to Sagarmatha as Nepalese people call it.  From April 18th  onwards the acclimitization programme commenced i.e. trekking from EBC to Camp 1 and beyond upto Camp 3 and returning back EBC after reaching each of the higher camps. This process of climbing is going to continue till May 5, 2017.  After the climbers get acclimatised fully for the climb they will wait for the SUMMIT WINDOW and plan further for their ascent to Mt.Everest accordingly.
Expressing her satisfaction on the progress of the expedition, Ms.Bachendri Pal said " both Hemant and Payo have acclimatised very well with the high altitudes. In particular, Payo is in much better shape than she was in 2015".
About Tata Steel
Tata Steel Group stands among the top global steel companies with an annual crude steel capacity of 28 million tonnes per annum (MnTPA) and a turnover of US $17.69 billion in FY16. It is the world's second-most geographically-diversified steel producer, with operations in 26 countries and commercial presence in over 50 countries. Established in 1907, the Group's vision is to be the world steel industry benchmark in "Value Creation" and "Corporate Citizenship" through the excellence of its people, approach and overall conduct. Underpinning this vision is a performance culture committed to aspiration targets, safety and social responsibility, continuous improvement, openness and transparency. Having bagged the Deming Application Prize and Deming Grand Prize for continuous improvement in 2008 and 2012 respectively, Tata Steel has now been recognised as the global 'Industry Leader' in 'Steel category' by Dow Jones Sustainability Index. Besides being one of 'worldsteel's' Climate Action members, it has also been awarded the CII ITC Sustainability Prize, the 'Best-in-class Manufacturing' by TIME Award, the Prime Minister's Trophy for the best performing integrated steel plant, among several others.
Disclaimer
Statements in this press release describing the Company's performance may be "forward looking statements" within the meaning of applicable securities laws and regulations. Actual results may differ materially from those directly or indirectly expressed, inferred or implied. Important factors that could make a difference to the Company's operations include, among others, economic conditions affecting demand/ supply and price conditions in the domestic and overseas markets in which the Company operates, changes in or due to the environment, Government regulations, laws, statutes, judicial pronouncements and/ or other incidental factors.
Kulvin Suri
Chief, Corporate Communications, India & SEA
Tata Steel
E-mail: kulvinsuri@tatasteel.com