Tata Main Hospital inaugurates workshop on Vertigo
Jamshedpur, May 20, 2017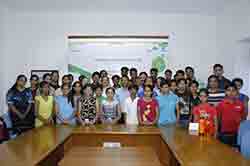 The Environment Management and Sports Divisions of Tata Steel today organised a Painting & Debate Competition based on the United Nations Environment Programme (UNEP) theme "Connecting People to Nature - in the city and on the land, from the poles to the equator". The tag line of this year is "I'm with Nature". The event was organised at JRD Tata Sports Complex for the students of Jamshedpur. Mr Suresh Paswan, Regional Officer, Jharkhand State Pollution Control Board (JSPCB) graced the occasion as Chief Guest.
Nearly 300 children participated in various categories of painting competition and 38 children participated in debate competition. The competitions were evaluated by a panel of judges namely Mr Rajesh Bajpai and Mr Jaspal Singh from Jamshedpur School of Arts and Mr Siddhartha Bortamuli & Ms Prity Jha from Corporate Communications, Tata Steel.
Mr Shubhanand Mukesh, Mr Shibojyoti Dutta, Mr Raju Agrawal, Mr Anoop Srivastava, Mr Satish Choudhary from Environment Management Department and Mr Avinash Kumar from Sports department of Tata Steel were present on the occasion.
Winners of the painting & debate competitions will be awarded on World Environment Day -  June 5, 2017