Tata Steel aims to empower youth
Jamshedpur, May 15, 2013
~Hardware and Networking programme launched in collaboration with IIHT ~
Tata Steel, West Bokaro in collaboration with Indian Institute of Hardware Technology (IIHT) today launched a Hardware and Networking programmme in West Bokaro. The programme was inaugurated by Mr. Partha Sengupta, Vice President, RM & CSI, Tata Steel. Speaking on the occasion he said "This is a unique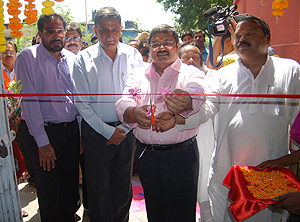 CSR initiative by Tata Steel to help improve employability of our educated youths. IT sector has assumed a lot of significance and contributes significantly to our GDP. At West Bokaro we are launching this programme for the first time to empower our youth and help them get employment in the IT sector. I wish a great success to this initiative"

A total of 120 students (17 girls and 103 boys) from poor & marginal families belonging to project affected areas have been enrolled in the programme. The students hail from villages namely laiyo, Ichakdih, hurdag, Kedla, Rahwan, pachmo, basantpur, banjee, Fakodih, Bahdwa, Duni, pundi, Parsabera, mukandabera, Parej,Bongahara, Heasgara, Sarubera, Atna, Sondih chainpur etc. After this training program the students will be able to find jobs in the areas of hardware & PC support engineering, technical support specialist, desk top support technician, network engineering, desktop management & client support.

Mr. Sanjay Rajoria, General Manager, Tata Steel West Bokaro, Mr. Mahesh Prasad, President, RCMS, West Bokaro, chiefs & Heads from West Bokaro and Jamshedpur were also present on the occasion.

The problem of unemployment is serious in the interior part of Tata Steel project area. Majority of the villagers spend most of their time in activities yielding low productivity and income. Majority of the youths are unemployed due to lack of suitable training and experience. The objective of the programme is to therefore skill and train youth for suitable professions. The boom in the Information Technology (IT), hardware and networking sector has opened a plethora of opportunities for the youth.
About IIHT
Established in 1993, Indian Institute of Hardware Technology (IIHT) is one of the oldest IT Training Brands in India and has grown to become one of India's biggest Hardware & Networking Training companies. IIHT has recognized the potential of Infrastructure Management Services & concentrated its efforts on providing latest Job related courses in the IT Field. Since its inception, IIHT has trained more than 3800 students & proudly placed around 3000 students across the Globe in various Companies. IIHT Jamshedpur center has been operational since 1993.