All credit goes to Tata Steel and Ms Bachendri Pal: Premlata Agrawal
Jamshedpur, June 07, 2013
The height of the spirit for adventure reached crescendo as ace woman mountaineer Premlata Agrawal marked her imprint atop Alaska's McKinley Peak and planted the Indian Tricolor as completion to scaling the Seven Continental Peaks on 23rd May 2013. She also became the first Indian woman to step on the highest peak of North America.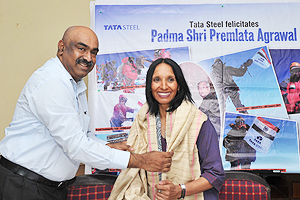 Tata Steel today felicitated the champion mountaineer on achieving her rare feat and honoured her for the coveted 'Padma Shri' conferred to her by the Government of India. The ace mountaineer gave all credit to her mentor Ms Bachendri Pal, Chief, Tata Steel Adventure Foundation for her success and expressed her heartfelt gratitude to Tata Steel for supporting her expeditions.
Mr Sunil Bhaskaran, Dy. VP, Corporate Services, Tata Steel felicitated the champion mountaineer. Speaking on the occasion, Mr Bhaskaran said, "It's a great honour for us to be associated with such a great achievement of Ms Premlata Agrawal. We congratulate Ms Agrawal for this amazing feat." He further added, "You are an icon for the country and will remain a role model for present and the future generations to come. Millions across the country will derive inspiration from your zeal, grit and determination." Speaking on the role of Tata Steel Adventure Foundation, Mr Bhaskaran added, "Tata Steel Adventure Foundation has done a tremendous job and has established itself as an Institution to help spread the culture of excellence in Adventure Sports."
After scaling Mt. Everest (8848 mt), Ms. Agrawal continued her expedition and successfully climbed Mt. Killimanjaro (5895 mt), Mt. Aconcagua (6962 mt), Mount Elbrus (5642 mt) Europe, Mt. Carstensz Pyramid (4884 mt) Indonesia, Mt. Vinson Massif (4892 mt), Antarctica and Mt. Mount McKinley (6194 mt), North America. Tata Steel has been the proud sponsor of her expeditions and is humbled by this opportunity of being able to be part of such a momentous journey.
Post completion of her challenge of the "Seven Summits", Ms Agrawal is now the first Indian woman and one of the oldest women in the world to conquer all the seven summits. Summiting all of them is regarded as a big mountaineering challenge. Seven Summits has been the dream of many climbers, but only an elite few have succeeded.