Tata Steel Launches India's First Silico Manganese Brand
Durgapur, August 22, 2012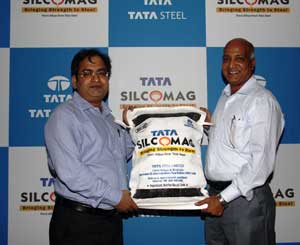 Tata Steel's Ferro Alloys & Minerals Division (FAMD) launched TATA SILCOMAG, India's first branded Silico Manganese at Durgapur, a major consumption centre of the product.
Silico Manganese is a ferro alloy widely used as an alloying agent in the manufacture of steel (especially long products). It provides the necessary toughness and hardness to steel and, hence, is a critical ingredient for steel making. Currently, no branded Silico Manganese is available in the market through the distribution route and Tata Steel is the pioneer in introducing Silico Manganese as a branded product.
Speaking on this occasion, a Senior. Official from Tata Steel said: "As a part of the brand promise, TATA SILCOMAG fulfills the long-felt market need of consistency and guaranteed chemistry, weight and size. It comes with the guarantee of restricted carbon, sulphur and phosphorus, thus reducing the cost of refining and achieving the desired specifications".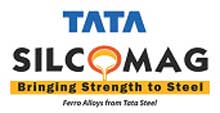 TATA SILCOMAG offers a 6-fold advantage to users over existing products:
The Tata Assurance of Quality

Guaranteed Weight

Consistent Size

Customised Order Size

Priority Replenishment

On-Site Delivery
The product will initially be sold in branded 50 kg HDPE bags. Soon, 25kg HDPE bags will also be introduced in the market.
Market Size
The annual domestic demand for Silico Manganese is around close to 3 lakh tonnes from the secondary carbon steel segment. This demand is clustered in select pockets across the country viz. Raipur, Durgapur, Mandi, Ludhiana etc. The secondary steel producers make ingots/ billets, which is further rolled into Rebars, Wire Rods & Structurals. Tata Steel expects to dominate the Silico Manganese market in and around Durgapur.
"In the months ahead, the product will also be launched in Raipur and Mandi/Ludhiana, which are also major consumption centers", said the spokesperson.
Ferro Alloys & Minerals Division
Tata Steel Limited pioneered manganese alloy making in India by setting up one of India's first Ferro Alloy Plants in 1958 at Joda, Odisha. The plant, which was subsequently modernised and expanded, is the oldest continuously operating Ferro Alloy unit in India.
Tata Steel's Ferro Alloys & Minerals Division (FAMD) is the leading Manganese Alloy producer in India and the 6th largest Chrome Alloy producer in the world, with production units in India and South Africa. It has an integrated value chain - starting from mining, beneficiation, Ferro Alloy production to marketing & sales.
FAMD enjoys long term relationships with most reputed world players in premium geographies viz. Japan, South Korea, Europe etc. FAMD is also known for its focus on service reliability, customized offerings and consistent quality.
Backed by state-of-the-art quality control laboratories and a full-fledged R & D unit, FAMD has been at the forefront of Ferro Alloys development in India.
Now, Tata Steel's Ferro Alloys & Minerals Division creates another first with the launch of TATA SILCOMAG, India's first branded Ferro Alloy.
About Tata Steel
Established in 1907 as Asia's first integrated private sector steel company, Tata Steel Group is among the top-ten global steel companies with an annual crude steel capacity of over 26.5 million tonnes per annum (mtpa). It is now the world's second-most geographically-diversified steel producer, with operations in 26 countries and a commercial presence in over 50 countries. The Tata Steel Group, with a turnover of US$ 26.13 billion in FY 12, has over 80,000 employees across five continents and is a Fortune
500 company. The Group's vision is to be the world's steel industry benchmark in "Value Creation" and "Corporate Citizenship" through the excellence of its people, its innovative approach and overall conduct. Underpinning this vision is a performance culture committed to aspiration targets, safety and social responsibility, continuous improvement, openness and transparency. In 2008, Tata Steel India became the first integrated steel plant in the world, outside Japan, to be awarded the Deming Application Prize 2008 for excellence in Total Quality Management.