Team from Tata Steel wins the regional round of 'Tata Crucible Business Quiz 2012' in Jamshedpur
Jamshedpur, August 05, 2012
Mohit Ranjan Bhatt & Nirmal Tenneti from Tata Steel will now compete with the winners from 19 other cities on October 7 in Mumbai
E G Khan & Sourav Das declared the runner-up of the quiz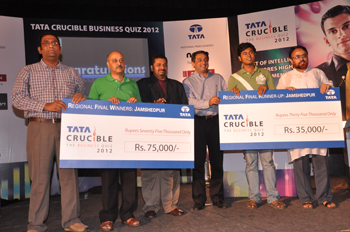 Tata Crucible Business Quiz 2012 - a knowledge initiative from the Tata Group, was held today at Jamshedpur amidst some exciting and enthralling battle of wits. After challenging and competing with some of the sharpest minds around, the team from Tata Steel comprising of Mohit Ranjan Bhatt and Nirmal Tenneti emerged as winners and successfully made it to the national finals to be held in Mumbai on October 7, 2012.
The runner up position was bagged by E G Khan and Sourav Das from Tata Steel again. The chief guest Mr T V Narendran, Vice President (Safety & Flat Products), Tata Steel awarded the cash prize of Rs. 75,000* to the winning team and Rs. 35,000* to the runner-up team.
Mr Narendran said, "Tata Crucible has been one of the most anticipated events among young corporates in Jamshedpur. I am glad to be here as part of Tata Crucible Business Corporate Quiz, a concept that has now gone global and have reached places like Singapore among others."
The Jamshedpur regional round of Tata Crucible Business Quiz 2012 saw participation from fifty eight teams consisting of corporates from some of the leading companies. The top 6 teams of the quiz were selected after a written round. The other four teams that qualified for top 6 lists included two teams from Tata Steel, one from Tata Steel Processing and Distribution Limited and one from TML Driveline.
The quiz was hosted by ace quizmaster Giri Balasubramaniam a.k.a. Pickbrain who through his distinctive style got the best out of the contestants and kept the audience captivated with the high-voltage action on stage.
The main strengths of the quiz are the exciting format and high infotainment and along with this it provides ample opportunity for all sections of quizzers to participate. This ensures a greater diversity in the participant profile as they come from across sectors including media and entertainment, banking and financial institutions, pharma and healthcare, IT industries, and public sector institutions to name a few.
This year, Tata Crucible Business Quiz is going to be conducted in 20 cities for non-Tata track and 8 cities for Tata track. The two new cities added this year are Trivandrum and Gurgaon.
After beginning at Ranchi (August 4), the quiz has now moved on to the cities of Jamshedpur (August 5), Indore (August 12), Coimbatore (August 23), Ahmedabad (August 25), Hyderabad (August 26), Nagpur (August 30), Bengaluru (September 1), Delhi (September 2), Bhubaneswar (September 8), Goa (September 13), Pune (September 15), Mumbai (September 16), Lucknow (September 22), Gurgaon (September 23), Chandigarh (September 24), Cochin (September 26), Thiruvananthapuram (September 27), Kolkata (September 29) and Chennai (September 30) and Guwahati.
Prizes Courtesy
The prizes for Tata Crucible Business Quiz this year are being co-supported by Tata Docomo, Titan and Tata Nano.
*Conditions apply
Notes for the editor:
About Tata Crucible Business Quiz
'Tata Crucible - The Business Quiz' seeks to bring together sharpest minds in India to take on the heat of the toughest business quiz in India. Youth is a key audience cluster which the Tata Group is focusing its communication at and Tata Crucible is one of the key knowledge initiatives towards this engagement.
Tata Crucible was started as a key initiative in 2004, a year which was christened as the 'Century of Trust' year to commemorate the death centenary of the Founder of the Group - J.N. Tata and the birth centenaries of two of its illustrious leaders - J.R.D. Tata and Naval H. Tata. It generated huge response as a high quality business quiz in the very first year and has now become an annual event. In a commissioned research Tata Crucible Campus Quiz has been judged highest rated ground quiz among the associates working in companies.
The Tata Crucible Business Quiz is a team-based contest (2 participants per team) and is held separately for employees of Tata companies, Non-Tata Corporates and for Campus students. Eight editions of the Corporate Crucible and eight editions of the Campus Crucible quiz have been held successfully in India so far.
Check out Tata Crucible Business Quiz videos on http://www.youtube.com/user/TataCrucible and updates on http://www.facebook.com/TataCrucible
About Tata group of companies:
The Tata group comprises over 100 operating companies in seven business sectors: communications and information technology, engineering, materials, services, energy, consumer products and chemicals. The group has operations in more than 80 countries across six continents, and its companies export products and services to 85 countries. 
The total revenue of Tata companies, taken together, was $83.3 billion (around Rs 3,796.75 billion) in 2010-11, with 58 per cent of this coming from business outside India. Tata companies employ over 425,000 people worldwide. The Tata name has been respected in India for more than 140 years for its adherence to strong values and business ethics.
Every Tata company or enterprise operates independently. Each of these companies has its own board of directors and shareholders, to whom it is answerable. There are 31 publicly listed Tata enterprises and they have a combined market capitalisation of about $76.76 billion (as on July 26, 2012), and a shareholder base of 3.6 million. The major Tata companies are Tata Steel, Tata Motors, Tata Consultancy Services (TCS), Tata Power, Tata Chemicals, Tata Global Beverages, Tata Teleservices, Titan, Tata Communications and Indian Hotels.