Tata Steel's 4QFY23 Financial Results
Mumbai, May 02, 2023
Tata Steel reports Consolidated EBITDA of Rs 32,698 crores for FY2023;
Net debt stands at Rs 67,810 crores
Highlights:
Consolidated Revenues for FY2023 stood at Rs 2,43,353 crores and were broadly similar on YoY basis despite volatile operating environment across geographies.
Consolidated EBITDA stood at Rs 32,698 crores, with an EBITDA margin of ~13%. Consolidated Profit after Tax stood at Rs 8,075 crores.
During the quarter, Consolidated Revenues stood at Rs 62,962 crores and EBITDA was at Rs 7,225 crores, with an EBITDA margin of ~11%. Profitability improved primarily on India performance.
Neelachal Ispat Nigam Limited has steadily ramped up during the last two quarters and is presently operating with a run rate of ~1 million tons (crude steel plus pig iron) on annualised basis.
The company has spent Rs 4,396 crores on capital expenditure during the quarter and Rs 14,142 crores for the full year. Work on 5 MTPA expansion at Kalinganagar and setting up an EAF mill of 0.75 MTPA in Punjab is progressing.
Net debt decreased by ~Rs.3,900 crores to Rs.67,810 crores. Our liquidity remains strong at Rs 28,688 crores. Net debt to EBITDA was 2.07x.
India1 achieved highest ever annual crude steel production of 19.88 million tons and highest ever deliveries of 18.87 mn tons.

Automotive was up 5% YoY, Branded Products and Retail was up 11% YoY while Industrial products & projects was up 14% YoY.
EBITDA stood at Rs.27,561 crores, translates to an EBITDA per ton of Rs 14,606

Europe revenues were £9,293 million and EBITDA was £477 million, translating to an EBITDA per ton of £58. Product mix has been affected due to ongoing upgradation of Cold Mill in Ijmuiden (CM21). The relining of one of the blast furnaces at Ijmuiden has commenced in early April.
The Board of Directors recommends a dividend of Rs. 3.60 per fully paid-up equity share of face value of Re 1/- each.
Financial Highlights: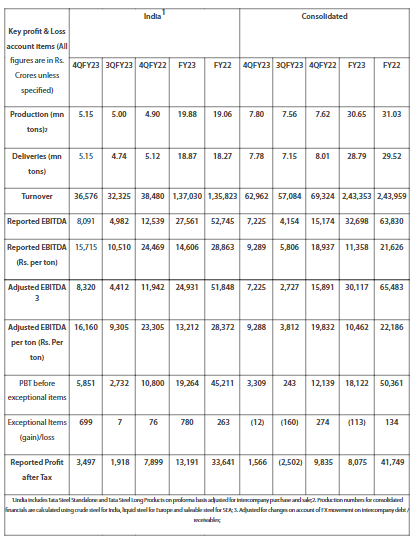 Key profit & Loss account items (All figures are in Rs. Crores unless specified)

India1

Consolidated

4QFY23

3QFY23

4QFY22

FY23

FY22

4QFY23

3QFY23

4QFY22

FY23

FY22

Production (mn tons)2

5.15

5.00

4.90

19.88

19.06

7.80

7.56

7.62

30.65

31.03

Deliveries (mn tons)

5.15

4.74

5.12

18.87

18.27

7.78

7.15

8.01

28.79

29.52

Turnover

36,576

32,325

38,480

1,37,030

1,35,823

62,962
57,084
69,324
2,43,353
2,43,959

Reported EBITDA

8,091

4,982

12,539

27,561

52,745

7,225

4,154

15,174

32,698

63,830

Reported EBITDA (Rs. per ton)

15,715

10,510

24,469

14,606

28,863

9,289

5,806

18,937

11,358

21,626

Adjusted EBITDA 3

8,320

4,412

24,931

51,848

7,225

2,727

15,891

30,117

65,483

Adjusted EBITDA per ton (Rs. Per ton)

16,160

9,305

23,305

13,212

28,372

9,288

3,812

19,832

10,462

22,186

PBT before exceptional items

5,851

2,732

10,800

19,264

45,211

3,309

243

12,139

18,122

50,361

Exceptional Items (gain)/loss

699

 7

 76

780

 263

 (12)

(160)

274

(113)

134

Reported Profit after Tax

3,497

 1,918

 7,899

13,191

 33,641

 1,566

 (2,502)

 9,835

 8,075

 41,749

1.India includes Tata Steel Standalone and Tata Steel Long Products on proforma basis adjusted for intercompany purchase and sale;2. Production numbers for consolidated financials are calculated using crude steel for India, liquid steel for Europe and saleable steel for SEA; 3. Adjusted for changes on account of FX movement on intercompany debt / receivables;
Management Comments:
Mr. T V Narendran, Chief Executive Officer & Managing Director:
"FY2023 saw our India crude steel production growing to around 19.9 million tons, with a 65% share of our overall volumes. Deliveries were in line with production with domestic deliveries growing 11% YoY and driving product mix improvement. The quarter also saw strong momentum with deliveries growing by 9% QoQ to 5.15 million tons.  We have multiple projects ongoing at various locations in India as we work towards 40 MTPA by 2030. The phased commissioning of our expansion at Kalinganagar continues with FHCR coils now being produced at the CRM complex.  Within 9 months of acquisition, we have successfully ramped up Neelachal Ispat Nigam Limited to ~1 million tons on annualised basis. We have also progressed on our plans to set up our first EAF mill in Punjab. During the quarter, Europe deliveries were up 9% QoQ. The Cold Mill upgrade at Ijmuiden is progressing and we have commenced the relining of BF6 in early April.
Sustainability is at the core of our strategy and Tata Steel has committed to Net Zero by 2045. Our route and pace of decarbonisation across geographies will be calibrated for each location based on the local regulatory framework, government support and willingness of customers to pay for higher cost green steel.  We continue to pursue multiple initiatives to reduce our emissions including a recently initiated trial for injecting large quantity of hydrogen into one of our blast furnaces at Jamshedpur, a global first.  I am also happy to share that Tata Steel has been recognised by worldsteel as Sustainability champion for the sixth time in a row and by World Economic Forum as Global Diversity, Equity & Inclusion Lighthouse."
Mr. Koushik Chatterjee, Executive Director and Chief Financial Officer:
"Our Consolidated revenues for the financial year were ~$30 billion. Revenues were broadly stable on YoY basis despite the heightened volatility in the operating environment. Consolidated EBITDA stood at Rs 32,698 crores, which translates to an EBITDA margin of 13% and EBITDA per ton of Rs 11,358. The India business generated a margin of 20% while Europe was at 5% with higher input costs affecting margins. The consolidated ROIC was 15% for the full year.
During the quarter, our consolidated revenues stood at Rs 62,962 crores while EBITDA was Rs 7,225 crores. India business witnessed a margin improvement from 15% to 22% driven by improved realisations QoQ. In Europe, margins were broadly similar on QoQ basis as improvement in costs was offset by drop in revenues, in part due to delay in ramp up of cold mill at Ijmuiden. Cash flow from operations before interest stood at Rs 11,260 crores driven by favourable working capital movement. Our capital expenditure was Rs 4,396 crores for the quarter as we prioritise completion of the 5 MTPA Kalinganagar expansion and free cash flow was Rs 4,809 crores. We reduced our leverage by ~Rs 3,900 crores this quarter and our Net debt stands at Rs 67,810 crores. We were successful in maintaining our interest cost despite the 250bps increase in benchmark interest rates. Our financial metrices continue to be within our medium-term targets, with Net debt to EBITDA at 2.07x and Net debt to equity at 0.61x. We remain focused on cost optimisation, operational improvements and working capital management to maximise cashflows and will aim to resume our deleveraging journey in FY2024. The Board has recommended dividend of Rs 3.60 per share."
Disclaimer:
Statements in this press release describing the Company's performance may be "forward looking statements" within the meaning of applicable securities laws and regulations. Actual results may differ materially from those directly or indirectly expressed, inferred or implied. Important factors that could make a difference to the Company's operations include, among others, economic conditions affecting demand/ supply and price conditions in the domestic and overseas markets in which the Company operates, changes in or due to the environment, Government regulations, laws, statutes, judicial pronouncements and/ or other incidental factors.
For media enquiries contact:
Sarvesh Kumar
Tel: +91 98301 71705
E-mail: sarvesh.kumar@tatasteel.com
About Tata Steel
Tata Steel group is among the top global steel companies with an annual crude steel capacity of 35 million tonnes per annum
It is one of the world's most geographically diversified steel producers, with operations and commercial presence across the world
The group recorded a consolidated turnover of ~US$30.3 billion in the financial year ending March 31, 2023
A Great Place to Work-CertifiedTM organisation, Tata Steel Limited, together with its subsidiaries, associates, and joint ventures, is spread across five continents with an employee base of over 65,000
Tata Steel has announced its major sustainability objectives including Net Zero Carbon by 2045, Net Zero Water consumption by 2030, improving Ambient Air Quality and No Net loss in Biodiversity by 2030.
The Company has been on a multi-year digital-enabled business transformation journey intending to be the leader in 'Digital Steel making by 2025'. The Company has received the World Economic Forum's Global Lighthouse recognition for its Jamshedpur, Kalinganagar and IJmuiden Plants.
Tata Steel aspires to have 25% diverse workforce by 2025. The Company has been recognised with the World Economic Forum's Global Diversity Equity & Inclusion Lighthouse 2023
The Company has been a part of the DJSI Emerging Markets Index since 2012 and has been consistently ranked amongst top 10 steel companies in the DJSI Corporate Sustainability Assessment since 2016
Tata Steel's Jamshedpur Plant is India's first site to receive ResponsibleSteelTM Certification
Received Prime Minister's Trophy for the best performing integrated steel plant for 2016-17, 2023 Steel Sustainability Champion recognition from worldsteel for six years in a row, 2022 'Supplier Engagement Leader' recognition by CDP, Top performer in Iron and Steel sector in Dun & Bradstreet's India's top 500 companies 2022, No. 1 brand in India in the Mining and Metals industry in Top 100 brand rankings for 2022 by Brand Finance, and 'Most Ethical Company' award 2021 from Ethisphere Institute
Recognised with 2022 ERM Global Award of Distinction, 'Masters of Risk' - Metals & Mining Sector recognition at The India Risk Management Awards for the sixth consecutive year, and Award for Excellence in Financial Reporting FY20 from ICAI, among several others
Photographs: Management and Plant facilities

Logos: Files and usage guidelines 
Website: www.tatasteel.com and www.wealsomaketomorrow.com