Bokaro River Drinking Water Project based on Rainwater Harvesting inaugurated
Jharkhand, June 03, 2016
Project is catering to over 8000 people in eight villages in the Ramgarh district of Jharkhand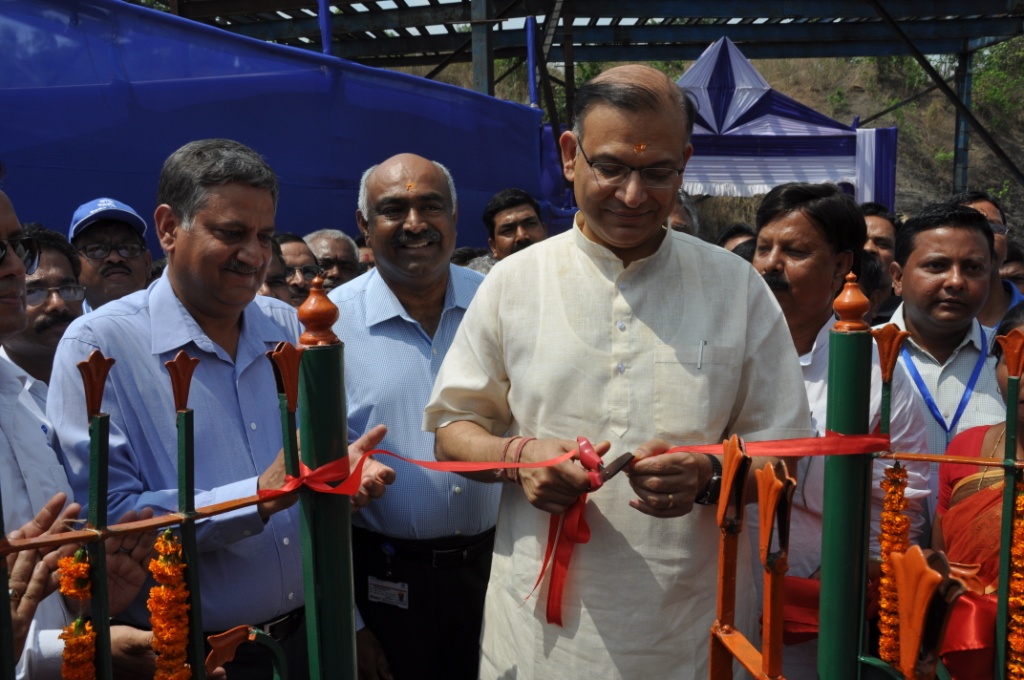 The first-of- its-kind Bokaro River Drinking Water Project based on Rainwater Harvesting in the State of Jharkhand was inaugurated today at West Bokaro. The project was dedicated to the community by Shri Jayant Sinha, Hon`ble Minister of State for Finance, Government of India.

While inaugurating the project Mr Sinha said that the people of Jharkhand have suffered due to scarcity of water in the state. I feel very proud that we have come up with such a sustainable way for supplying water in the region.

A check dam has been constructed along with an intake well that is located by the side of the Bokaro River.This recharge structure is utilising water from the sub-surface of the river, without disturbing the main flow of the river water. The water gathered into intake well is then filtered, chlorinated and distributed to the villages through the robust piping network of almost 14 kilometres.

The project is catering to over 8000 people in eight villages in the Ramgarh district of Jharkhand namely Jharnabasti, Jongragora, Latungri, Parsabera Ravidastola, Duni, Mukundbera and Choratand. This initiative has also enabled the supply of perennial water during summer when the river is almost dry. It is capable of supplying approximately 1000 kilo litres of water per day, which will adequately meet the drinking water requirement of these villages. The potable water being supplied to villages will reduce the cases of waterborne diseases in the area.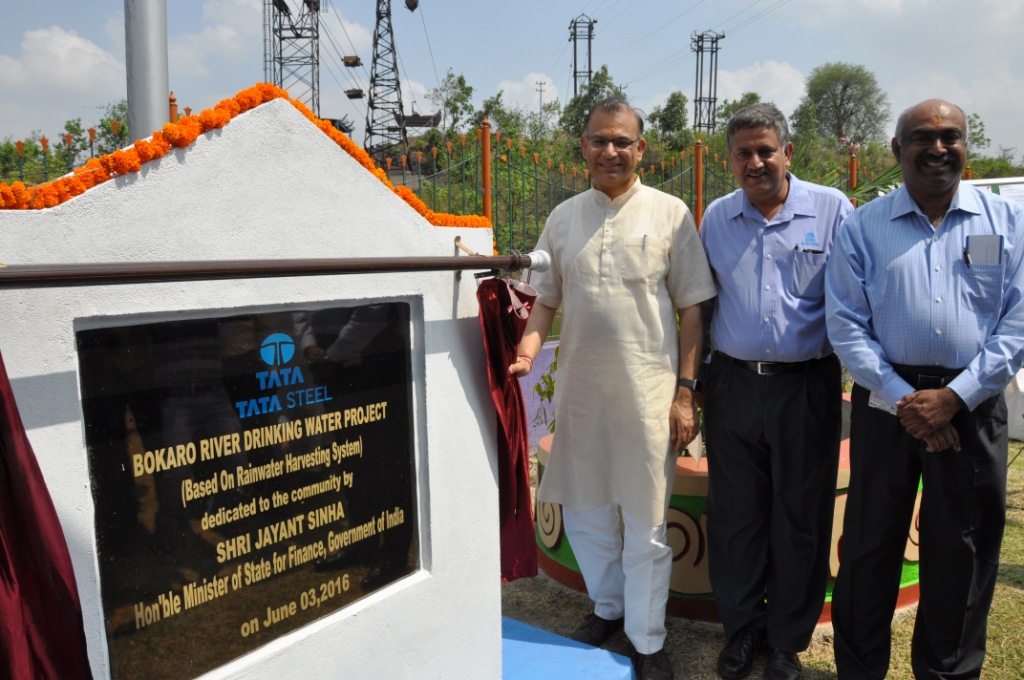 Speaking on the occasion Mr Sunil Bhaskaran, Vice President, Corporate Services, Tata Steel said 'I know Mr.Sinha has a long term plan for the region of Ramgarh and Hazaribagh. I believe this region will set a benchmark for rest of the Jharkhand State. Tata Steel has been working for the development of the community around West Bokaro. I would also like to thank Mr A Dodde, DC, Ramgarh and Mr Tamilvanan, SP, Ramgarh for providing his support in the successful completion of the project'

Mr Sanjay Rajoria, General Manager, West Bokaro Division, Tata Steel said: "Scarcity of water for household usage is a big concern in the villages surrounding the West Bokaro Division, since the aquifer level in these villages is generally very poor. This is one of the focus areas for the CSR activities of Tata Steel. The company has invested Rs. 4.19 crore in this project to provide safe drinking water to the people."

A tall retaining wall has also been constructed on the banks of the river to protect the project area from recurring flash floods. An attractively made waterfall and clean and green beautiful park add more charm and grace to the entire drinking water project. Also, the rain water flowing through the river, which is otherwise wasted, is judiciously used to recharge the artificial aquifer to maintain a reasonable water level in the Recovery Well.

Mr A Dodde, DC, Ramgarh, Mr M Tamilvanan , SP, Ramgarh, Mr JP Patel, MLA, Mandu, JMM along with Mr Sunil Bhaskaran, Vice President , Corporate Services, Tata Steel and Mr Biren Bhuta, Chief, CSR, Tata Steel were present on the occasion

For over a century, Tata Steel has focused on responsible business practices with community-centric interventions. Tata Steel's CSR interventions are aimed as an 'enabler' focusing on building community capacity, providing technical support and emphasise on 'sustainable development' to enhance the quality of life of people.

About Tata Steel
Established in 1907 as Asia's first integrated private sector steel company, Tata Steel Group is among the top global steel companies with an annual crude steel capacity of nearly 30 million tonnes per annum (MnTPA). It is now the world's second-most geographically-diversified steel producer, with operations in 26 countries and a commercial presence in over 50 countries. The Tata Steel Group, with a turnover of US$ 22.32 billion in FY15, has over 80,000 employees across five continents and is a Fortune 500 company. The Group's vision is to be the world's steel industry benchmark in "Value Creation" and "Corporate Citizenship" through the excellence of its people, its innovative approach and overall conduct. Underpinning this vision is a performance culture committed to aspiration targets, safety and social responsibility, continuous improvement, openness and transparency. In 2008, Tata Steel India became the first integrated steel plant in the world, outside Japan, to be awarded the Deming Application Prize 2008 for excellence in Total Quality Management. In 2012, Tata Steel became the first integrated steel company in the world, outside Japan, to win the Deming Grand Prize 2012 instituted by the Japanese Union of Scientists and Engineers.

Chief, Corporate Communications, India & SEA
Tata Steel