10th Edition of Young Astronomer Talent Search (YATS) Launched
Bhubaneswar, July 19, 2016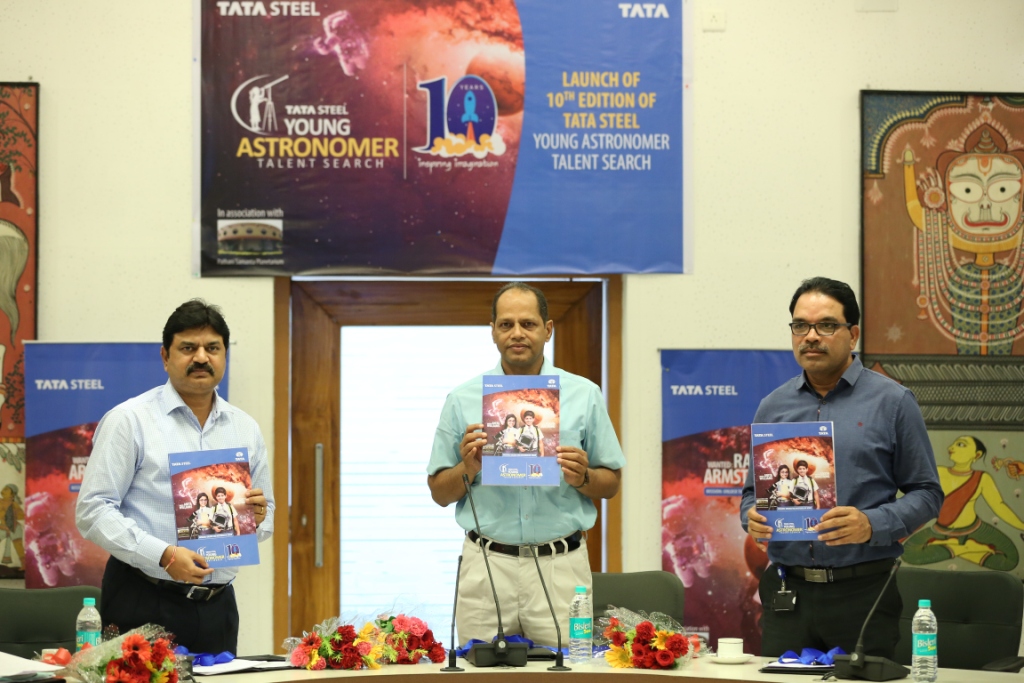 The 10th edition of the Young Astronomer Talent Search (YATS) was launched by Dr Pradeep Kumar Panigrahy, Minister of Higher Education, Science and Technology and Rural Development (Rural Water Supply), Government of Odisha at the State Secretariat today. Shri C J Venugopal, Principal Secretary of the department of Science and Technology, Shri. Kailash Chandra Sahoo, Director of Pathani Samanta Planetarium and Shri Arun Misra, Vice President, Project Gopalpur, Tata Steel and Managing Director, Tata Steel SEZ were also present on the occasion.

While unveiling the Information Docket on YATS 2016-17, Dr Panigrahy commended Tata Steel for the initiative and corroborated that Science and Technology will be key in bringing about exponential development in society. Fostering the intellect of students through educational initiatives like these will help build scientific temper among students across the state.

Reinforcing Tata Steel's commitment for development of Odisha, Mr Misra said, "Tata steel is committed to bring about a positive transformation in key areas of education, healthcare and community development in the state. While celebrating 10th edition of YATS this year, we have revised the format to ensure much more participation from students and to take it to the next level."

Organised by Tata Steel in collaboration with Pathani Samanta Planetarium, Young Astronomer Talent Search (YATS) aims to promote the contribution of Pathani Samanta, the legendary astronomer of Odisha in the field of astronomy since its inception in 2007. YATS seeks to identify and promote the talent of high school students in Odisha in the field of space science by providing platforms to express and test their knowledge.

In this edition of YATS, an on-the-spot essay writing competition and objective type questions on astronomy will be conducted for the students of classes 9th-10th at identified examination centres across the state. There will also be an open quiz competition on astronomy for the students of classes 7th- 8th at those centres.

For the essay competition, the participants will be required to write an essay on any one of the following topics.
Building the next generation International Space Station


Space tourism: Human space-flights and their future,


The future of the Indian Space Programme: The next frontier


New generation telescopes: How to see the unseen.

The top two participants from each district will then be invited for the Grand Finale ceremony to be held on December 13, 2016 at Bhubaneswar. The top 20 winners of the finals will be subsequently taken on a unique exposure visit to one of the facilities of Indian Space Research Organisation.

Chief, Corporate Communications, India & SEA
Tata Steel